Hour of Code: Build The Next DevOps Generation
This week is Hour of Code, a worldwide initiative to introduce kids to coding. We need more than one hour a year, though, and initiatives that start in kindergarten, to ensure we have enough programmers for the future.
Conversations about DevOps often start with a focus on the transformative impact it can have on the business, but sooner or later the discussion turns from the visionary to the pragmatic.
How do IT leaders actually make the transition to a DevOps-driven organization? Where will we find the programming talent to fill out our DevOps ranks? What can businesses do today to seed the DevOps culture we want to build in our industry?
It all comes down to education. If we're not cultivating a new generation of coders from the ground up, we'll never see the promise of DevOps come to fruition.
College programs and internships don't go back nearly far enough. By then, people have identified their interests, and if they don't see themselves as software engineers, it's too late to persuade them otherwise.
[Find out how to make DevOps a reality in your organization. Register for the workshop Achieving Operational Excellence Through DevOps at Interop Las Vegas 2015.]
We need to start sooner so that everyone graduates from college with at least some programming knowledge, and those who do go into IT will arrive ready to code. That means investing in a pipeline that stretches all the way back to kindergarten.
For all the talk about digital natives, how many kids today have any idea what's going on inside their smartphones and gaming devices? Their vaunted digital literacy is strictly screen deep, and we need to help them take it deeper and establish the fundamentals, such as how logical thinking works.
A good starting point for our industry is to support the Hour of Code, an initiative "designed to demystify code and show that anybody can learn the basics."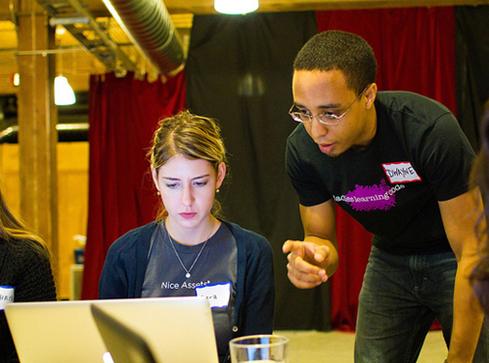 During the week of Dec. 8, millions of students around the world will participate in a one-hour introduction to computer science in classrooms, private homes, or anywhere else someone wants to host a session. Corporate conference rooms should be part of that effort. How many kids from your community can you bring in and introduce to the world of coding?
Hour of Code is a great initiative, but it's only once a year, and we'll need to devote many more hours -- and dollars -- along the way. Helping schools buy technology is only part of the solution.
We need to support STEM programs of all shapes and sizes. If your child's school doesn't already have an after-school coding or engineering class, can you raise your hand to help start and lead one? What about a hackathon to add a jolt of excitement to programming, as well as fitting a highly concentrated experience into a short period of time to fit crowded school calendars?
Are there other programs in your community similar to Hour of Code that could benefit from your organization's expertise and resources? We're used to thinking of corporate public service in terms of soup kitchens and park cleanups; coding for kids should be on that list, as well.
Sometimes, all it takes is a spark of community among colleagues to make a difference. In Raleigh, N.C., one engineer with a passion for coding joined forces with a sales representative who wanted to give back to the community. Individually, they could have made a small contribution using their different strengths. But by working together, with the help of a dedicated team of engineering colleagues, they were able to create a five-week pilot program, Project Code, with the Boys & Girls Clubs.
This project introduced kids to the basics of computer coding and encouraged them to consider technology as a calling. Through the weekly course, boys and girls aged 9-12 learned the fundamentals of basic computer science through a web-based video game.
The program was so successful that the Boys & Girls Clubs of Raleigh is hoping to expand Project Code into a full-year program next year, all thanks to one engineer's love of coding and a sales representative's desire to give back. That's the kind of thing we need to see more.
It's time for corporate America to step up and take the lead in developing the coding talent of the future. We don't need to start from scratch. We can build on programs like Hour of Code, leverage the ample open source training materials already available, and partner with schools and organizations in our communities and across the nation.
By approaching coding education in a large-scale, systematic way, we can build the talent pipeline we need now -- and into the future.
Employers see a talent shortage. Job hunters see a broken hiring process. In the rush to complete projects, the industry risks rushing to an IT talent failure. Get the Talent Shortage Debate issue of InformationWeek today.
Steve Shah is Vice President of Product Management in the NetScaler Product Group, where he drives product direction and go-to-market strategy. Before returning to Citrix, he was Principal of RisingEdge Consulting, a boutique consulting firm that specialized in strategic ... View Full Bio
We welcome your comments on this topic on our social media channels, or
[contact us directly]
with questions about the site.