Apple's Mac Surge: 4 Observations
Apple's record-breaking Mac sales last quarter were a surprise -- but 2015 could be even bigger.
"I usually go through a few updates," Apple CEO Tim Cook said a few minutes into last month's iPhone event. "But we have so much to cover today, I'm dispensing with those, other than to tell you, everything's great."
No kidding. The massive iPhone sales that Apple announced this week as part of its quarterly earnings are impressive but not shocking. But best-ever Mac sales? In a quarter in which the PC market shrank overall? That was a surprise.
Macs supplanted iPads to move up to number two, behind iPhones, in Apple's revenue chain. Granted, iPad sales slid 12.5% relative to last year -- but Apple still sold 12.32 million tablets during the quarter, a sum that exceeds the quarterly PC sales of all but the top two vendors, Lenovo and HP. Even with iPad revenue down, it's no small feat for Macs to have pulled ahead.
Moreover, Apple achieved its record Mac sales despite playing an outsider's role in the Windows XP upgrade frenzy that benefited many Windows OEMs. Viewed from any angle, it was indeed a "great" quarter for Macs.
[Tablet shopping? See iPad Air 2 Vs. Surface Pro 3: No Comparison.]
But what caused this uptick, and is it more than a short-term swing? What does this OS X momentum mean for Windows PCs and their perennial 90%-plus market share? Are rising Mac sales related to sliding iPad sales? Here are four observations about Apple's record-setting Mac sales.
1. Apple outclassed the rest of the PC industry.
According to research firm IDC, the overall PC industry shrank slightly in the most recent quarter -- which makes Apple's big 21% jump in units sold all the more impressive.
Smaller PC makers were responsible for most of the industry's quarterly losses, with the top five PC vendors all increasing shipments compared to the year-ago period. But Apple's 21% increase was almost twice that of any competitor.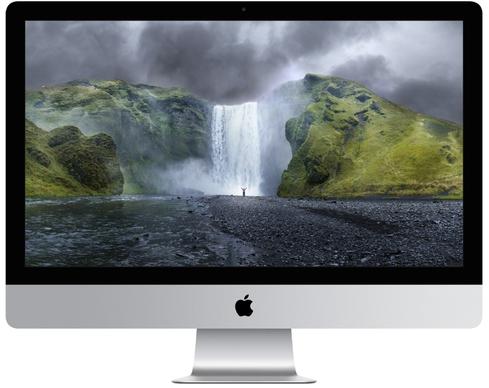 What's more, top Windows PCs vendors improved only compared to last year's disastrous sales benchmarks -- not exactly a high bar. Apple, in contrast, earned its best Mac numbers against any historical comparison.
Businesses propelled much of the PC growth during the quarter, with Windows XP's end-of-life deadline driving an obvious uptick in demand for Windows 7 PCs. But Windows 8 and 8.1 PCs continue to post uninspiring sales. In an effort to stimulate consumer interest, Microsoft and its partners have started pushing ultra-cheap devices.
Apple's computers, on the other hand, still cost more than $1,200 on average. Macs have traditionally been more profitable than PCs on a per-unit basis, and if Mac sales volume continues to climb in 2015, Apple will lead the PC industry in profit by a truly epic margin.
Overall, Apple sold 5.52 million Macs, generating more than $6.6 billion in revenue. CFO Luca Maestri attributed the record-setting performance to strong back-to-school sales, particularly for Macbooks. Mac sales also enjoyed double-digit growth across most markets. Sales in emerging markets, where Apple has traditionally been a smaller player, were up 46%.
Apple claims its PC market share is higher than it's been since 1995, though it did not claim to possess a particular share of the market. According to IDC estimates released earlier this month, Apple was the fifth-largest PC vendor during the quarter, with a bit more than 6% market share. IDC underestimated Mac sales by several hundred thousand units,
however, so Apple's actual share is likely somewhat higher. A recent US survey concluded Macs accounted for nearly 27% of consumer PC sales during the back-to-school period.
2. Mac sales validate Apple's recent product strategy.
Earlier this month, Apple released its eye-popping 5K iMac, but other 2014 Mac refreshes have been much more modest, limited somewhat by Intel's manufacturing problems and the subsequent delay of next-generation processors.
The incremental Mac updates might seem uninspiring, but Apple wisely cut prices when it announced this year's refreshed models, effectively giving customers more power for less money compared to last year's offerings. The company also introduced a lower-cost iMac.
Because of the new prices, Macs' average selling price dropped by about $50 compared to the previous quarter. But the tactic led to a 25% quarter-over-quarter increase in sales. Macs also, as mentioned, still cost hundreds of dollars more than Windows PCs. For Apple, a loss of $50 per sale must seem pretty trivial, given that the tradeoff has been utter domination of the high-end, high-profit PC market.
3. Apple's momentum will probably continue.
As strong as Mac sales have been in 2014, 2015 could be even bigger. Apple will continue to enjoy the benefits of its new pricing strategy throughout the holidays. Then, sometime in the first half of 2015, the company will likely introduce its long-rumored MacBook Air with Retina Display. Unless Apple goes truly gonzo with pricing, strong sales will surely follow. MacBook Pros are also due for a more substantial refresh, having received relatively mild spec bumps in 2014.

With a $2,500 base price, the 27-inch 5K iMac isn't exactly a mass-market item, but it's still destined to become a favorite among creative professionals and resolution fetishists. Retina-level versions of Apple's smaller iMac will likely arrive late next year with a more affordable price. The Mac Pro, meanwhile, will probably get an upgrade, too, with new Xeon chips that support DDR4 RAM and next-gen Thunderbolt ports. It might arrive with a 5K Cinema Display based on the iMac's screen.
This potentially becomes interesting for Windows and its base of business customers. Windows will remain a major enterprise force for a variety of reasons, but Macs have become more common in the enterprise over time, with BYOD efforts accelerating Mac growth in recent years. In a recent InformationWeek survey of 330 business technology professionals, 32% of respondents indicated their organizations support OS X. Windows PCs still outnumber Macs in many of these environments, but with Windows 10 still many months away, the conditions might be right for Macs to expand even more.
4. Apple probably won't release any touchscreen Macs in 2015. Probably.
Windows OEMs continue to embrace touch-enabled PCs, but Apple has remained resistant to the concept. Don't expect that to change, according to Apple senior VP of software Craig Federighi.
Federighi told CNET this month that Apple has experimented with touchscreen Macs, but execs concluded "it just wasn't any good." He said Apple remains focused on building industry-leading trackpads, and that OS X and iOS should remain related but distinct. Apple execs have frequently argued that touchscreens are awkward for desktop use and that PC gesture input is best left to trackpads.
Then again, what Apple likes today isn't always what Apple likes tomorrow. Steve Jobs famously bashed both large phones and small tablets, but Apple now makes both. Federighi said touch won't come to OS X, but perhaps a little bit of Mac-style productivity could come to iPads. Apple is expected to release the so-called "iPad Pro" with a 12.9-inch screen sometime in 2015.
Avoiding audits and vendor fines isn't enough. Take control of licensing to exact deeper software discounts and match purchasing to actual employee needs. Get the Software Licensing issue of InformationWeek today.
Michael Endler joined InformationWeek as an associate editor in 2012. He previously worked in talent representation in the entertainment industry, as a freelance copywriter and photojournalist, and as a teacher. Michael earned a BA in English from Stanford University in 2005 ... View Full Bio
We welcome your comments on this topic on our social media channels, or
[contact us directly]
with questions about the site.