Nurturing IT's Next Generation, Chicago-Style
There's plenty of talk about IT talent gaps and developing the next generation of tech pros. Here's how several Chicago companies walk the walk -- locally.
It's easy to moan and groan about a lack of available IT talent. It's another matter to actually do something about it, especially when the reward is unguaranteed and requires a healthy supply of patience.
The task can be even tougher when you're located in an area that's not necessarily known as a technology hotbed (even if that perception is off target). Yet when we spoke with a couple of companies in the Chicago area recently about how they recruit and retain IT pros, there was a common denominator: They invest in their community.
"Invest in the community" sounds like a lot of well-intentioned hot air, doesn't it? But if you dig a little, you'll find real work done -- and dollars spent -- to improve STEM education, professional development, career opportunities, and related areas. It's particularly compelling given that the return on investment is a long-term proposition at best; the tech industry, and especially the startup world, has a bit of a now-NOW-NOW! mentality that doesn't favor such thinking.
[To attract and retain tech talent, these Chicago firms got creative. Read IT Jobs: Hiring Strategies For Sweet Home, Chicago.]
"We get really connected into the community here," says Chris Jenkins, HR director at e-discovery software firm kCura. Among its current and recent initiatives: kCura will host Chicago's instance of the upcoming National Day of Civic Hacking; kCura employees can give $2,500 "geek grants" to organizations or schools to improve educational programs or provide children with access to technology; the company hosted 75 technology, innovation, and entrepreneurship students as part of Mayor Rahm Emanuel's ThinkChicago event; and kCura works with YearUp, a one-year program that connects low-income adults with area firms for internships -- a former intern is now a full-time employee.
And that's an incomplete list.
Zest Health, a mobile health startup, also spends a lot of time working on improving the local technology and entrepreneurship scene, aligning with area universities, startup incubators, and other programs to encourage talent development and innovation. It will hire four Metcalf interns from the University of Chicago this summer, for example. It also plans to increase its involvement with Future Founders, a youth entrepreneurship program for low-income children in the Chicago area, according to VP of product Jonathan Ozeran.
There's no short-term reward for such efforts, other than perhaps some PR and the satisfaction of doing good. A narrower organizational mindset would focus on strictly today's bottom line, next quarter's earnings, the next funding round -- that now-NOW-NOW! mindset most IT pros have probably witnessed (or been guilty of themselves) at some point in their careers. But that kind of tunnel vision fails to address real questions, such as: Where are the next generations of talent going to come from? Why don't more people and organizations stay in their local communities instead of flocking to Silicon Valley or New York? And so on.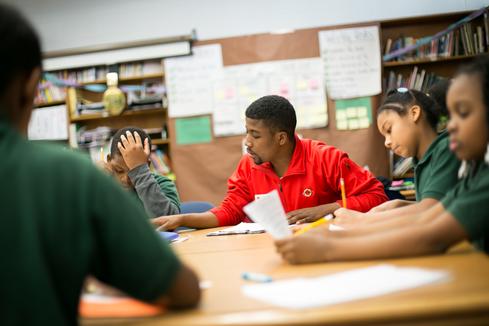 Here are a few key takeaways from kCura, Zest Health, and other firms on how to better invest in your local tech community:
Empower employees to make the investment decisions. Investing in local talent and local communities becomes more powerful when employees get hands-on -- it's less effective when the CEO simply hands over a fat check to her personal pet cause. Recipients of kCura's Geek Grants, for example, are discovered and championed by individual employees -- not just by a select few in the C suite.
Reinvest in areas that enabled your company's success. You've heard the expression "pay it forward," right? For startups especially, consider what elements of the local community have fostered your success and reinvest in them. Big data storage firm Cleversafe, for example, spent its first three years on the campus of the Illinois Institute of Technology. It has since graduated to its own offices in the heart of Chicago, with another location in Denver, but the company stays involved with IIT and other
startup-friendly programs. It launched the Academic dsNET program for fostering data scientists, engineers, and designers, for example, and is active with the startup incubator 1871. Zest Health also works with 1871, holding office hours there at least once a quarter.
Do it because you care. Don't look for instant payoffs, and don't do it just for the PR. The return on community investment is long-term; particularly in areas with fledgling technology scenes, the reward will come down the road, in the form of a thriving community with abundant talent that doesn't immediately flee for greener pastures. Ozeran points to the Chicago chapter of Girl Develop It, which offers software development education and mentoring to women -- he notes that the organizations that donate instruction and other resources don't get much, if anything, in return. "They do it because they care," Ozeran says. "They do it because they want to bring more people in [to the technology field] who absolutely want to do it, no matter what challenges or roadblocks are in their way. I think that's good for Chicago."
Look for underserved people and places. Like the Girl Develop It program, smart community investment often arises out of identifying people who haven't been offered ample chances or places that have suffered from an opportunity gap. The kCura Gives, One School At A Time program partners with the Chicago Public Schools to make major investments in area schools, with a heavy emphasis on STEM programs. As the name suggests, each year the company selects a school with a visible need for technology resources. In the 2011 through 2012 school year, for instance, it picked Gale Science & Math in Rogers Park; the school previously had 30 cranky old PCs and zero technology curriculum for its 550 students. kCura spent $250,000 on a complete IT upgrade: new desktops, mobile laptop stations, LCD projectors, ELMO scanners, science lab tables, and other equipment. More than 30 employees spent a Saturday installing and setting everything up.
"We're not just looking at the tech talent today; we're looking at the future tech talent," Jenkins says, adding that the public school system isn't a level playing field, and some schools need more help than others. And it's not just a matter of philanthropy -- kCura ultimately hopes it's investing in its next cloud architect or software engineer and giving them reasons to stay in Chicago when they finish school. "We're hoping that by doing so, we'll get them invested in the Chicago community and hopefully keep more tech talent here by getting them at an earlier age. We're hoping that other tech companies join us in that initiative and will continue to help fund the STEM community here."
Trying to meet today's business technology needs with yesterday's IT organizational structure is like driving a Model T at the Indy 500. Time for a reset. Read our Transformative CIOs Organize For Success report today. (Free registration required.)
Kevin Casey is a writer based in North Carolina who writes about technology for small and mid-size businesses. View Full Bio
We welcome your comments on this topic on our social media channels, or
[contact us directly]
with questions about the site.