HP's Baez: We're No Longer 'Built For Slow'
HP CIO discusses changing the company culture, spending more time with customers, and moving to cloud platforms to execute faster.
Hewlett-Packard likes to remind people that it does things on a massive scale. Its global supply chain? The largest on the planet, it says. Its deployments of SAP ERP, Salesforce.com CRM, Workday HR, and Microsoft Lync unified communications software? Also the largest. Its $120 billion in annual revenue? World's biggest among IT vendors.
How about its big-company bureaucracy? You can't bait HP executives into any planetary references there, though new global CIO Ramon Baez concedes that lots of company processes before he arrived in August 2012 "were built for slow."
Part of Baez's job, working with boss John Hinshaw, executive VP of technology & operations, and the rest of the HP leadership team, is to focus "on creating a model that's more flexible and agile. How can we move at the speed of business?" Baez said in a wide-ranging interview with InformationWeek. After losing its way under former CEO Leo Apotheker, HP is now heading into year three of CEO Meg Whitman's five-year turnaround plan. Last year the company focused on diagnosing problems and shoring up its processes and infrastructure, and this year it has focused on rebuilding, before it heads into the recovery and expansion parts of Whitman's grand strategy.
[ Want to know more about the CEO's strategy? See HP's Whitman: Microsoft Now Our Rival . ]
Progress has been slow. Following an analyst meeting in October, where Whitman reversed her earlier statement that company revenue would likely grow next year, the company released a statement saying its revenue decline will "moderate" from last year's.
In an interview I conducted earlier this year with Hinshaw, he said HP's customers want to see three main things from the company right now: stability and a consistent strategy; renewed product innovation; and "one HP face" as they buy from multiple company units. I asked Baez about progress on that last front in particular, as most CIOs I meet with say what frustrates them most about HP is its inability to give them a single point of contact/throat to choke.
Baez responded by talking about Whitman's emphasis on building customer relationships, the fact that she has met with more than 1,000 customers in her two years as HP chief. He talked about the new "HP Way Now," about reemphasizing the principles Bill Hewlett and David Packard established more than 70 years ago.
"That being said, this is a very large company. It takes time to change the culture. It's my responsibility as a leader to show what that 'One HP' actually means," Baez said, noting that he's an executive sponsor of five large customer accounts. "When I meet with the CIOs of those businesses, I want them to think that they're the only customer I ever think about. I'm not in sales. I'm an IT practitioner, and I know what I expect from my suppliers, and I want to treat them how I want to be treated. I try to demonstrate that among our leadership teams, the deal teams, the account teams, and so forth. This is how you work with a customer."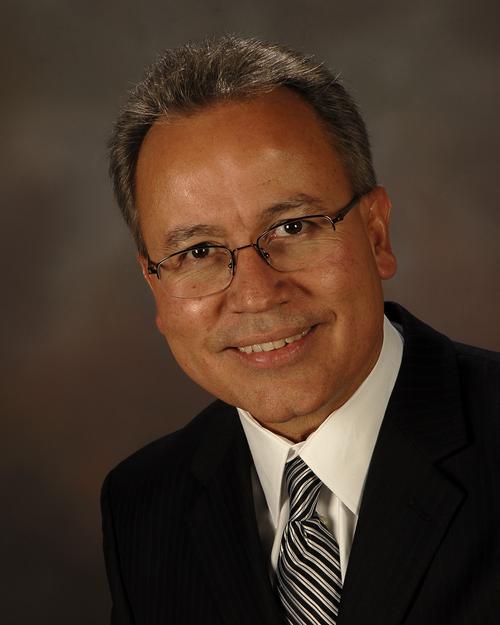 Baez: "I don't want us viewed just as a service provider."
HP is training a few hundred executives as sponsors to augment the standard account GMs. "People are a little frustrated because we went through some changes in that structure," Baez acknowledged. "But these account GMs now know who to reach out to."
I asked Baez about his overall philosophy on IT leadership and strategy, and how his charter at HP differs from the one of former HP CIO Randy Mott, who led an "IT transformation" at the company between 2005 and 2008, under which it consolidated 85 datacenters to six and 6,000 applications to about 1,200, while requiring a rigorous cost-benefit analysis of every new IT project.
"What I can do is articulate how my leadership team views IT and changes in the operating model," Baez said. "I tell my team that I don't want us viewed just as a service provider. I want us viewed as a value creator and a knowledge center. That's extremely important here, especially when account teams say, 'Hey, Ramon, can you come to talk to one of my customers about so and so.' I'd love to, but you know what, I have someone within my organization who's an expert in that area, and they do a great job, they can present to that individual. If all they want to do is see me, that's one thing. But if they really want the knowledge of how to do something, let's bring [that expert] in.
"First, we changed the organization from being very inward-focused to being very outward-focused. We're thinking of that customer all the time. How does this make the experience for the customer working with us better? The second thing, we're not optimizing for IT; we're optimizing for the business. ... We've gone from a cost-cutting view of the world to one of investing in innovation. ... We're not looking at consolidation. Those days are over. We're focused on creating a model that's more flexible and agile. How can we move at the speed of business?"
I asked Baez how his work at HP differs from his work at consumer packaged-goods company Kimberly-Clark, where he was CIO for five years. Now that he's working for an IT vendor, is he meeting with customers more?
"That's probably a fair statement compared with K-C," he said, "but I worked at Northrup Grumman for 25 years. I worked on the B-2 bomber program for 15 years of those 25. I met with generals, light colonels, full bird colonels, GS-15s, and all those folks for years. So my working with customers is not new. At K-C, on my very first day on the job they said they wanted me to meet with our largest customers within the first month. My boss, thank God, he protected me. I didn't know where the bathrooms were. I was new to [consumer packaged goods]. But once I did understand the business and understand how to have the right kind of dialog with customers, it was powerful to have the CIO meet with the other customer CIOs."
At Kimberly-Clark, Baez estimates, he spent about 10 percent of his time with customers, "up to 20 percent during some months." At HP it's more like 20 percent to 25 percent. "That may grow, but the problem is I have a large organization to run, and when there's something that doesn't work well, guess who gets pulled back?"
Was the learning curve flatter at HP, given that he didn't have to learn a new industry? Not necessarily. "There's a whole different language here. People wanted to talk to me in acronyms. I'd say to them: 'I haven't a clue what you just said.' I forced people to speak English here. It's kinda weird being a Puerto Rican telling them they have to speak English," he said with a laugh. "The fun part is they sometimes didn't even know what the acronym meant. That's not just here. That's been in every company I've worked for. When I worked at Northrup Grumman, ACS meant air combat systems. When I went to Honeywell, ACS stood for automated control solutions.
"People always told me, 'Wow, you're going to work for a tech company. It's like working for 300,000 CIOs. No it's not. It's working for very, very bright people."
I asked Baez about the HP IT organization's leadership structure, including the fact that four business unit CIOs report to him as well as to the heads of their respective business units (company veteran Tami Mallett is CIO of the Enterprise group, former Palm CIO Naresh Shanker is CIO at Personal and Printing Systems, former Avaya exec Steve Bandrowczak is at Enterprise Services, and company veteran Saum Mathur is at Software).
"If I can, I like to promote from within, but I do like to bring in people from outside -- I like to be able to do both," he said. "The reason I like that is that I don't want to lose the heritage and the legacy knowledge that the really good people of the company can bring. But I love to bring some fresh eyes in to look at doing things differently than we've always done here. I like that kind of dynamic tension."
I asked Baez about the attributes and limitations of software-as-a-service, which Hinshaw, his boss, had described to me as almost the default software model now at the company. HP completed an 18-month, 30,000-seat deployment of Salesforce.com to its sales reps in the third quarter, for example, and it's on track to complete a 330,000-seat deployment of Workday's HR SaaS by the end of this year. Would HP ever consider replacing its SAP on-premises financial software with a SaaS version from SAP, Workday, or some other vendor?
"Not at this time. Our financials are too complex," Baez said. "The complexity and the volume and scale here are tremendous." How about the company's supply chain and material requirements planning software? There, it uses SaaS at the edges: Steelwedge for demand planning and sales and operations planning; GTNexus for connecting with logistics service providers; e2Open for partner integration and supplier collaboration. But HP won't be moving off on-prem ERP for at least a few years, again because of the complexity of its supply chain, "though we've been talking about that," Baez said.
Whenever HP is looking to replace existing applications or bring in new ones, Baez said, it considers three options: adopting vendor SaaS, adopting vendor on-premises software, or "developing it ourselves, because we have brilliant engineers in the organization. I love to have that flexibility. I hate to have a playbook that's only one way of doing things. That's nuts. I like to give the organization options on how to make things happen.
"What I love about SaaS is that I can go to market much faster, and I can keep that technology, that application modern forever, because they update it every three months. The change management isn't that difficult to deal with. But we still need to ensure that our data is going to be secure. I want to know that that's a reputable company, a company that thinks about security more than anything else. Because if they fail, we fail."
Baez said HP is migrating more software to its own private cloud. For example, it can now provision Microsoft SQL Server database-as-a-service from its private cloud in minutes, a process that used to take employees two weeks. "I tell you, our processes were built for slow," Baez said. "It was amazing. But now when an engineer needs a database, he or she literally can request the database and have it within two to five minutes. It's all about speed here at HP. When you think about our turnaround, everything here has to do with velocity, how to continue to increase velocity."
HP's experience is something that the IT team can impart to customers as well, Baez said. "What I've asked my team to do, as we do this stuff, I go, 'Please, document our lessons learned. What went well and what didn't.' So when we meet with our customers and are selling them cloud system automation, as an example, we can tell them what we went through, the watch-outs. So they don't have to go through those lessons learned."
Want to relegate cloud software to edge apps or smaller businesses? No way. Also in the new, all-digital Cloud Software: Where Next? special issue of InformationWeek: The tech industry is rife with over-the-top, groundless predictions and estimates. (Free registration required.)
We welcome your comments on this topic on our social media channels, or
[contact us directly]
with questions about the site.