Goodbye PBX, Hello IT Architecture
It's time to embrace a new enterprise communications model and ditch the old one. Here's why, in the first of a multi-part series.
Let's face facts: The PBX is obsolete. The time has come to move on to higher-function, lower-cost business communications.
For the past 50 years, the PBX was a way for companies to avoid costly telephone company facilities or optimize their use. It was proprietary; PBX phones connected only to each vendor's branded system. Vendors rationalized that proprietary approach by claiming that it assured reliability and enabled them to deliver a rich set of voice communication features. That rationale is no longer valid.
Today, PBX vendors offer the illusion of aggressive innovation by using Internet Protocol, but for the most part they have simply replaced one digital communication protocol (time division multiplexing) with another (IP) and rebranded their systems. The new "IP PBXs" remain proprietary, and they're still saddled with costly recurring maintenance fees closely controlled by the vendor and its distributors.
[Revamping your communications? Read Unified Communications Plans: 6 Ways To Derail Disaster.]
To stay relevant, the PBX vendors have tried to embrace non-real-time communications such as instant messaging, email, collaborative workspaces, and social media, under the banner of unified communications and collaboration. But these applications were already well developed by leading software vendors. Adding them to PBX configurations turned out to be a fruitless strategy.
PBX vendors also added video and online conferencing to their product suites, but again their efforts were limited by proprietary system architectures and proprietary non-video desktop phones. Even as the PBX vendors scrambled to catch up, users were already enjoying videoconferencing services over the Internet via their companies' non-PBX video systems, PCs, laptops, tablets, and recently even smartphones.
A new IT architecture for enterprise communications has disrupted the old PBX model, similar to the evolution in computing systems. Here's what it looks like:
Voice media streams are now digitized with standards-based Internet Protocol. Conversations flow between devices over any Internet connection, using LAN/WAN bandwidth management to maintain voice quality, and using media encryption to assure security.
User devices can be any computing product -- desktop PCs, laptops, tablets, smartphones, IP phones.
Calls are set up using standards-based directories.
Services such as telephony features, conferencing, and recording are provided by software modules running on general-purpose servers or virtual machines.
Voice media streams flow to users on the wired and cellular public telephone networks via IP gateways.
Internet (Ethernet) bandwidth commonly exceeds the requirements for real-time communications, so dedicated voice telephony networks are no longer necessary.
The new architecture is modular and standards based, so it can be distributed on-premises or in the cloud to deliver high performance, economy, and reliability.
The chart below depicts this evolution to the new enterprise communications architecture. The conventional PBX architecture is shown on the left as a vertically integrated stack -- produced, sold, and serviced by single vendors and their distributors.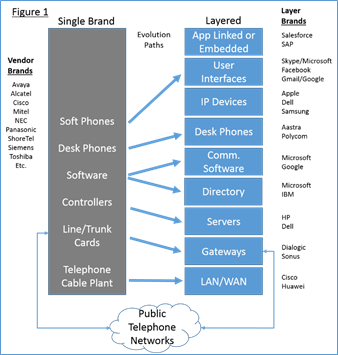 The new layered communications system model is shown on the right as a stack of capabilities, similar to how most enterprise software applications are deployed. For each layer, only two or three typical vendors are listed, but competition is fierce, lowering costs and driving innovation. The layered model also benefits from economies of scale because each layer serves the entire communications and IT market, not just the customers for a single PBX brand. For example, any app can use IP devices (PCs, tablets, smartphones), servers, and LANs/WANs.
The arrows in the chart map the evolution from the single-brand PBX model to
apps embedded in business applications. This capability has limited availability in the PBX model but is richly enabled in the open layered model. Similarly, there's no map from the PBX model to IP devices. Why? No PBX maker has been able to successfully produce one that has gained any market traction.
Like its computing counterpart, the layered communications system model requires integration and management. The same approaches available to companies for managing layered computing -- in-house IT operations, systems integrators, hosted or cloud-based services -- apply to layered communications. In fact, most of the PBX vendors are acting as system integrators for their own products, using commercially available LAN/WAN, gateways, servers, and operating system software. However, they're selling and servicing the resulting package as proprietary PBX brands and models.
So what does this evolution in communications architecture mean for your company? In this continuing series of articles, you will learn how to:
Identify opportunities made possible by this new communications model to streamline workflows and business processes so the enterprise can move faster, use fewer resources, or differentiate itself from competitors.
Create communications usage profiles that depict how users communicate and where communications bottlenecks occur.
Analyze those communications usage profiles to select the minimum, essential technology set for each profile from the layered communications stack.
Deliver communications tools directly in business applications and web portals. Users just connect from their apps and web pages, not from a PBX desk phone or softphone.
Adjust communications topologies to match the organization's operational model. Support mobile, customer-facing users from the cloud; let collaboration-intensive users communicate from their docs and workstations. Connect fax machines and similar devices directly to gateways.
Evolve the IT organization to capture the benefits of this new communications model. Merge the PBX team into the IT department.
Harvest savings by reducing capital outlays and maintenance costs to fund the communications-enabled applications of the future.
Enterprises in all industries have started embracing this new communications model to cut costs and improve their businesses. It can be a breakthrough for you, too. Stay tuned.
Join Enterprise Connect for an intensive day-long series of sessions in a free event being held in New York focused on helping you design strategies for successful adoption and implementation of Microsoft's Lync. During this free program, we will help you evaluate Lync as a voice solution, address the challenges of integrating Lync into your existing UC architecture, and analyze total cost of ownership. Join your peers and leading vendor companies making Lync adoption possible in New York on June 24. Register for the Enterprise Connect Lync Tour today.
Marty Parker, Principal and co-founder of UniComm Consulting, has more than three decades of experience with computing and communications technologies. He has been a leader in strategic planning and product line management for IBM, AT&T, Lucent, and Avaya. Now, as ... View Full Bio
We welcome your comments on this topic on our social media channels, or
[contact us directly]
with questions about the site.