Pedal to the Pavement: Chinese VCs Take on Ride Hailing
Chinese giants Alibaba and Tencent to challenge the world in bicycle rentals, while spiffing up their digital services.
It's an Uber-versus-Lyft type of competition in the emerging digital economy, only this time with pedals. It's also a lesson in how the transformation of the economy is going to be as much an international undertaking as a national one. What can be done with digital applications and communications in one country can also be easily exported.
Two suppliers of ride-hailing are facing off in what Edison Investment Research calls "a blood-soaked" competition. Both are Chinese companies and their transport of choice is the bicycle, but neither intends to be limited to China in the world's market for bike rentals.
"The fact that it is bicycles rather than cars will make no difference to the blood-letting that is likely to ensue," wrote Richard Windsor, analyst at Edison Investment.
One of the contenders is Mobike of Beijing, backed by Tencent Holdings Ltd., the Chinese giant holding company, and Sequoia Capital China, the venture capital firm backing startups in China. The other is the combination of Ofo, and Didi Kuadi, Uber's biggest ride-hailing competitor in China valued at $16.5 billion. Didi Kuadi is experienced in offering third parties access to its applications through open APIs.
Want to learn more about how Alibaba is competing in cloud services around world? See Alibaba Edges in as Microsoft, Amazon Grow Stronger.
If competing over bicycle rentals sounds like a playground competition, keep in mind that Mobike just raised $600 million from its supporters to expand into cities around the world, while Ofo topped that a month later with $700 million.
If this kind of capital is available in pursuit of the bicycle market, perhaps venture capitalists in the US and other nations should realize that the digital transformation will not be played out only on their terms. In the US as recently as 2015, megadeal consisted of an investment that topped $100 million. There were 74 that year, according to the National Venture Capital Association.
"Both of these companies are going to use the money raised to expand overseas in what is likely to become a brutal battle to become the go-to place to rent a bicycle," wrote Windsor in his July 6 investment note, Another Battle Brewing Over Ride Hailing.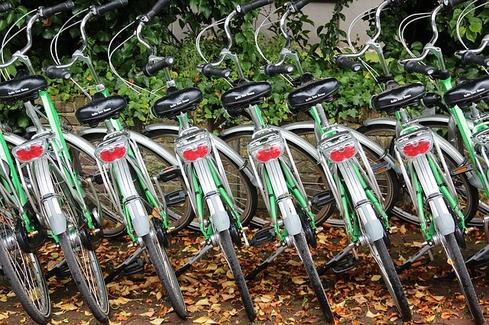 Both Ofo and Mobike are different from major US bike rental agencies like CityBike in San Francisco, which requires its riders to pick up bike at one docking station and drop it off at another. The Chinese approach is much more convenient for users because they can go where they want and leave the bike where they choose. Mobike offers rentals in 100 Chinese cities, has 100 million registered users, and sees 25 million trips taken on high activity days.
Ofo is in 150 cities but spreads its bicycle inventory more than thinly than Mobike, according to Windsor.
Windsor points out that for Ofo to get to the same level of usage per bike as Mobike it would need to see each of its bicycles rented four time a day. Both services are available in Singapore but Mobike's bikes are easier to find than Ofo's, "indicating a much thinner spread across more locations," Windsor noted.
Unlike Mobike, the app the guides Ofo bike users can't tell them where their next bike can be found, a sign of how important smart phone apps are to the next round of competition in the digital economy. The lack of a bike locator in the app "is something that needs to be rapidly fixed if Ofo wants to have a chance of competing successfully," he wrote.
One thing to watch will be how successfully both Mobike and Ofo make their bicycles more robust and theft proof as they enter the competition in Western societies. The Chinese bicycles are believed to be much less expensive to build than their competition in Western cities. "This means that they are far more prone to vandalism and theft, which Ofo has particularly suffered from to date with poor locks and no GPS tracking," Windsor observed.
"Mobike and Ofo bikes have been found in trees, blocking pedestrian paths and clogging up parks when the weather is nice," a point that causes the companies few problems in China but "municipalities in the West are unlikely to allow it to happen," Windsor continued. In a previous trial, the Chinese bike-sharing startup Bluegogo rented bikes out of parking spaces in San Francisco, a practice that drew the attention of the authorities that noted its lack of permits to do so, according to the San Francisco Examiner on March 30.
With their investment treasure troves, both Mobike and Ofo will have ample resources with which to improve their apps and their acts. Paying for permits should be the least of their problem as they enter new city economies and drive the price of a bike rental down toward more of a commodity service.
The extent to which they're able to mobilize digital services behind their physical rental service will indicate how effectively they will compete in this sector of the economy. And if they recover from early mistakes, learn the ways of the West and match their initiatives to the mores and culture in which they find themselves, they may prove pivotal players in the emerging digital economy. On their way to that goal, they are likely to teach the world, including sophisticated Western settings, about the conveniences of cheap transport for the first and last mile of many journeys, whether the daily commute to work or the launch of a world-trotting vacation.
"This battle is effectively Tencent vs. Alibaba," noted Windsor. Amazon, Microsoft, Google and IBM might watch and learn what the future nature of their world competition in the digital economy might entail.
Charles Babcock is an editor-at-large for InformationWeek and author of Management Strategies for the Cloud Revolution, a McGraw-Hill book. He is the former editor-in-chief of Digital News, former software editor of Computerworld and former technology editor of Interactive ... View Full Bio
We welcome your comments on this topic on our social media channels, or
[contact us directly]
with questions about the site.