Microsoft Surface Hub Is Big On Collaboration
Microsoft's Surface Hub aims to do for collaboration what the Surface does for personal productivity.
First things first: A Microsoft Surface is a small, handheld tablet. A Microsoft Surface Hub is not. Not small, not handheld, and a "tablet" only in the sense that it's flat. What the Surface is to an individual, though, Microsoft would very much like the Surface Hub to become for a group. And it might just get there.
One of the words heard most often at this year's Enterprise Connect conference was "transparency."
In general, this means that the product or technology should disappear as users simply get on with the business of collaboration. A whiteboard in a conference room, for example, doesn't come with a user manual. Most of us are pretty clear on the concept of grabbing a marker and starting to write. That's the model that the Microsoft development team had in mind with the Surface Hub, and the pre-production model I saw and used comes very close to meeting that spec.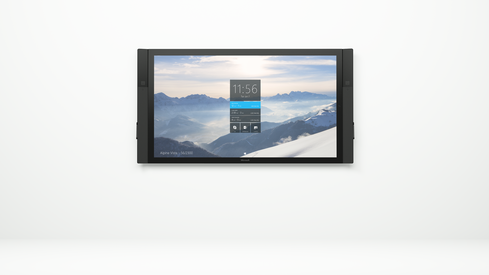 The Surface Hub is intended to be the multi-purpose display that sits at the middle of a meeting. It does that by trying to be as "transparent" as possible in what it does. The designers began by making it a rare no-authentication device in the enterprise. Their thinking is that data doesn't really live on the Surface Hub, so there's no need for a user to go through authentication before they pick up a pen and start writing. The device can act as a group display for individual computers or tablets, but in those cases the user has already authenticated to the computer, so there's no need for a second step.
The Surface Hub can, as I mentioned, serve as a digital whiteboard and group display. It can combine those functions so that meeting participants can write on or annotate images from the computer or tablet. A Surface Hub can also make (or receive) Skype for Business calls, so remote users can participate in the meeting. It does all of this through a Windows 10 interface, with meeting controls on the side of the display and the main information in the middle.
[ Want to know more about unified communications? Read UC: Still a Work in Progress. ]
In one rather nifty bit of user interface, the Surface Hub knows the difference between digital markers and fingers: If you rest your palm on the screen, it doesn't leave a digital mark. This also allows fingers to be used for navigation and display manipulation while markers are used for annotation. In use, I found it a very natural separation of tasks that required little to no coaching from the Microsoft developers.
Another rather neat feature is the Surface Hub's ability to store the results from a meeting in a Microsoft OneNote page shared with meeting participants or to automatically email the meeting results to each participant of a meeting set up in Microsoft Exchange. The information is stored or emailed at the close, and then the Surface Hub goes back to a blank state. No one who didn't attend will be able to see the random scribblings or highly sensitive information produced.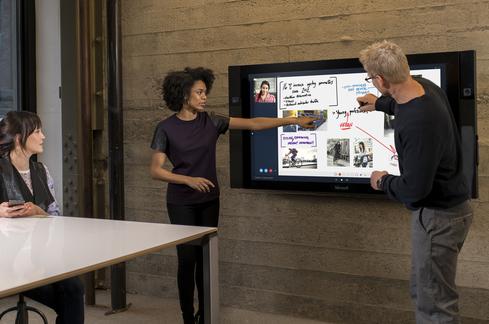 While the Surface Hub is able to make use of some special functions if you bring a Windows-based device to the meeting (sharing screens wirelessly, for example) the team was eager to point out that it will share screens from any device running any operating system and will share data from the meeting via email with any system. There's the clear recognition that organizations today tend to be heterogeneous technology environments: Any device that wants to be transparent must remove the requirement that employees limit themselves to a single platform or operating system.
The Surface Hub will come in two sizes, 55" and 80", and will be available in this calendar year, according to the team I met with during the show. While the version I saw was pre-production, with all the rough spots and functionality gaps that implies, it struck me as one of the most seamless (and yes, transparent) of this type of device that I've yet seen. Though I have no doubt that it will come with premium pricing (no pricing has been announced), I can imagine it becoming a "must" accessory in meeting rooms and on the office walls for key executives. I can, I must admit, also imagine epic games of cross-country "Pictionary" -- played for legitimate team-building purposes, of course.
Microsoft released a short video showing a Surface Hub in use. While I caution you that this is a Microsoft-produced video, I used many of the features shown and believe that it's an accurate (if flattering) portrayal of the device's functions.
I saw systems pointing in this same direction from several companies while I was at Enterprise Connect. The basic functions aren't new: What is new is the more complete integration with other business communication systems and the assumption that business life is about collaboration more than individual effort. Microsoft has joined the collaboration integration race with an entry that could, when it finally comes to market, prove to be a leading contender.
Attend Interop Las Vegas, the leading independent technology conference and expo series designed to inspire, inform, and connect the world's IT community. In 2015, look for all new programs, networking opportunities, and classes that will help you set your organization's IT action plan. It happens April 27 to May 1. Register with Discount Code MPOIWK for $200 off Total Access & Conference Passes.
Curtis Franklin Jr. is Senior Editor at Dark Reading. In this role he focuses on product and technology coverage for the publication. In addition he works on audio and video programming for Dark Reading and contributes to activities at Interop ITX, Black Hat, INsecurity, and ... View Full Bio
We welcome your comments on this topic on our social media channels, or
[contact us directly]
with questions about the site.