Microsoft Office On Android: How To Install
Microsoft is looking to expand its Office suite beyond its traditional base. Here's a look at how to install and use Office on Android smartphones and tablet.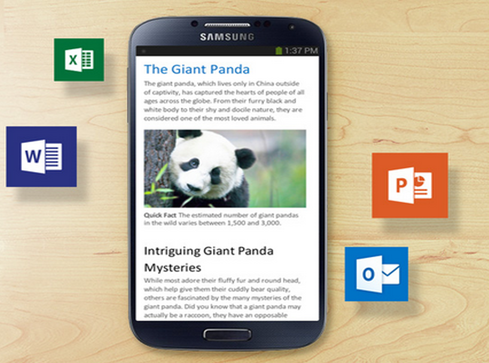 For years, Microsoft wanted all of its users -- business or otherwise -- to remain within the company's ecosystem.
Times have changed and, with more choices available to all kinds of users, Microsoft is trying to change as well. In his first year, CEO Satya Nadella has made cloud computing and mobility key priorities as the company works toward releasing Windows 10.
These changes have made their way to Microsoft's signature software suite: Office. Specifically, Microsoft is now allowing users to load versions of Office to a number of mobile devices, including those from rival platforms -- Apple's iOS and Google's Android.
On the following pages, we'll explore how to get Microsoft Office up and running on an Android smartphone or tablet. Whether you're looking to use Office on your own Android device or trying to help your enterprise users access the new offerings on their mobile devices, our step-by-step guide should help.
Microsoft Office Mobile for Android apps include Word, Excel, and PowerPoint. These give users access to Microsoft's three most popular productivity applications.
Microsoft offers two plans for access to Microsoft Office apps: Users can use the app with Microsoft's free account for home or personal use, or they can use an Office 365 subscription for business use. Either way, users gain abilities including:
Create new Word documents and Excel spreadsheets from the mobile device.
Edit Word, Excel, and PowerPoint documents on-the-go, and even change basic formatting in Word and Excel.
Review documents while traveling.
Sync and share documents easily with OneDrive and Dropbox integration to access, save, and share documents in the cloud.
We hope you find this guide useful. Let us know in the comments section below what you hope to gain with Office on your Android device, as well as any useful tips that we missed.
We welcome your comments on this topic on our social media channels, or
[contact us directly]
with questions about the site.