Microsoft is done releasing Windows 10 previews until at least January, but details about the new operating system continue to leak.
Last month, shortly after releasing the third iteration of its Windows 10 Technical Preview, Microsoft officials announced that users shouldn't expect any more updates, aside from bug fixes, until 2015. Additional details about the OS have continued to emerge via a series of leaks and rumors, including more information about the consumer version. So far, the company has focused most of its Windows 10 announcements on the desktop UI and various enterprise features.
The new information touches on a range of subjects, including how well Microsoft is managing its new rapid-update model for Windows, upcoming desktop UI refinements, app compatibility notes for developers, and when Windows 10 will appear on smartphones. The variety speaks to the huge audience Microsoft is trying to satisfy: mobile users who've so far preferred Android devices and iPhones; longtime desktop users annoyed by Windows 8's missing Start button; IT admins who need to manage the exploding diversity of devices; and so on. How is Microsoft juggling these challenges? Here are five recent Windows 10 developments.
1. An unofficial Windows 10 Build has leaked.
The latest official Windows 10 Preview release is Build 9879, which debuted last month in a buggy version for Microsoft's "fast" ring of Preview users, and then a few weeks later as a more stable release for the "slow" ring.
Since then, a newer, unofficial release, called Build 9888, has appeared on file-sharing sites. Build 9888 isn't that different from Build 9879 -- not surprising because it's an iteration not meant for public release -- but it does introduce some interesting new features.
For instance, it includes new animations that make windows seem to zoom into or out of view when minimized or maximized. Smaller tweaks include half-completed organizational changes to the PC settings interface, and the activation of a feature that allows users to manage battery use.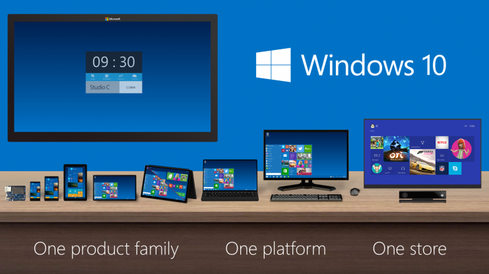 More significant for mobile users, Build 9888 adds the ability to download maps for offline use. This feature probably won't interest most desktop users, but for on-the-go tablet owners who don't have LTE plans, downloadable maps could be useful.
Build 9888 also marks the appearance of a new NT version number, which represents the edition of base code underneath the OS. Windows Vista was the last major number revision at version 6, for example, with Windows 7 using version 6.1, Windows 8 using 6.2, and so forth. Official Preview builds have also been based on version 6, but the leaked build jumps to version 10. The shift is an indication of Microsoft's attempts to unify its code base across different devices, though the company has already advised developers they might need to update their code. That said, because of the way Windows now handles apps, the leap to version 10 is unlikely to break apps the way Windows Vista broke some apps when NT version 6 was introduced.
2. The consumer version of Windows 10 could be revealed in January.
Microsoft execs have promised to reveal the consumer-oriented version of Windows 10, which will run on smartphones and tablets, sometime early next year. They've been tightlipped on other details, however, such as what month the consumer version might appear and what kind of devices it will support.
This month, Microsoft COO Kevin Turner offered the slightest of updates, stating at a conference that company execs will discuss the "end-user consumer experience in early spring"; provide more information for developers by early summer; and by "late summer and early fall," release the final versions. Although mostly a retread of execs' past comments, Turner, by referencing separate releases in the summer and fall, reinforced that the desktop and mobile versions of Windows 10 could debut several months apart.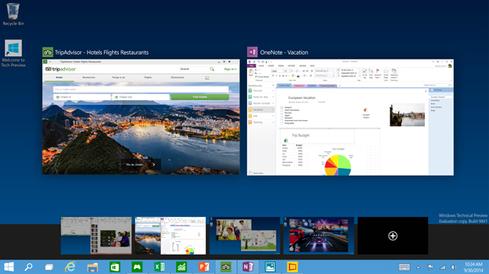 However, several reports, all citing unnamed Microsoft insiders, claim Microsoft will reveal Windows 10 for smartphones and tablets at an event in late January. It's possible Microsoft will reveal the mobile OS in
January but wait a few months to release a public preview.
According to ZDNet's Mary Jo Foley, who has a strong track record for pre-release Microsoft news, the version of Windows 10 revealed in January will be compatible with both ARM-based and Intel-based devices.
3. The next Technical Preview build won't be the consumer preview.
Microsoft is expected to release its next official Technical Preview Build, which will presumably be further along than the leaked Build 9888, in January. Even though the consumer preview is also anticipated in January, it will likely be a separate release. Microsoft execs have said Windows 10 will run on all types of devices, but this refers to a common code base, app model, and so on, not the user experience. Windows 10 will run differently on different device types, hence Microsoft's deliberate separation between a business-oriented desktop version and a mobile-focused consumer version.
The "enterprise" version currently in preview focuses on mouse-and-keyboard features but includes both desktop and touch interfaces, just as Windows 8 and 8.1 do. The consumer version will be touch-focused and reportedly not include a desktop UI. According to Foley, a touch-first version of Office for the consumer version of Windows 10 will likely launch alongside the OS. A new desktop version of Office is expected in 2015 as well.
4. The next Technical Preview build could include Cortana and Continuum.
Current Windows 10 Preview builds include files that indicate Microsoft will soon put Cortana -- the Windows Phone competitor to the iPhone's Siri -- on the desktop. Recent reports bolster this with claims that Microsoft finally will take that plunge early next year. The website Neowin last week published a screenshot of an alleged unreleased Windows 10 build in which Cortana has been activated, and over the weekend, the website Winbeta published a video of pre-release Cortana in action, including voice-controlled Skype calls and calendar actions.
The next Preview build also reportedly will include Continuum, a feature for two-in-one devices that have detachable keyboards such as the Surface Pro 3. Continuum automatically detects whether the keyboard is attached and allows a more seamless transition between touch and keyboard.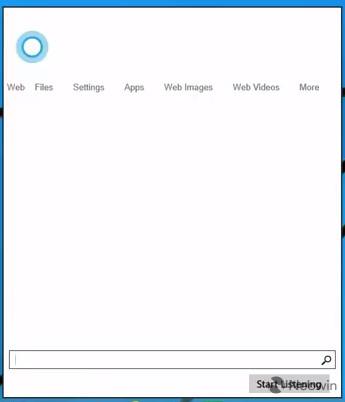 Microsoft also has announced Windows 10 will eventually include OS-level support for FLAC, a popular audio format. The addition might show up as soon as the next Preview build and means FLAC users will no longer need plug-ins or other intermediaries to play their files.
5. Microsoft is still figuring out its Windows release cycle.
With Windows 10, Microsoft plans to embrace a new release cycle, in which new features are deployed frequently, like security fixes, rather than in monolithic packages released every few years. This sort of agile, fast-moving development is more characteristic of web development than operating systems; given the world's billion-plus Windows users, Microsoft will face a balancing act as it tries to implements its new strategy. In the meantime, the Technical Preview gives Microsoft a chance to figure out some of the details.
The Preview's fast and slow rings somewhat mimic the release cycles that many expect Microsoft to eventually adopt: one cycle primarily for consumers that gets updated frequently, and one for businesses that receives updates in larger, less-frequent chunks.
Eventually, Microsoft's frequent Windows updates will have to be stable and polished from the get-go. Right now, however, Microsoft has warned fast-ring users that if they want the earliest look at new features, they'll have to deal with bugs.
Some Build 9879 users have suffered a particularly crippling malady that causes File Explorer to crash, for example. Microsoft quickly deployed a fix, but it didn't work for all users, which made additional workarounds necessary. The problem occurred when Microsoft released Build 9879 to its fast ring. The build has since been extended to slow-ring users and has reportedly been running more stably. Microsoft says its fast ring is only about 10% the size of the slow ring. Even though Microsoft won't release another Preview build until 2015, company reps have promised additional patches before the end of the year. Microsoft recently confirmed that Windows 10 Preview users will be able to upgrade directly to the RTM version of the OS when it's ready.
Get the latest information to migrate your systems, services, and applications to the next level at Enterprise Connect. Cisco, Microsoft, Avaya, and Oracle will lead the keynote lineup, and thought leaders from enterprises and vendors will cover the full range of platforms, services, and applications that will simplify your migration to next-gen communications and collaboration systems. Register for Enterprise Connect with code DIWKAXE to save $100 off the early-bird rate. It happens in Orlando, Fla., March 16 to 19.
Michael Endler joined InformationWeek as an associate editor in 2012. He previously worked in talent representation in the entertainment industry, as a freelance copywriter and photojournalist, and as a teacher. Michael earned a BA in English from Stanford University in 2005 ... View Full Bio
We welcome your comments on this topic on our social media channels, or
[contact us directly]
with questions about the site.