Microsoft Cortana Destined For iOS, Android
Microsoft's Cortana app for Apple's iOS and Google Android will be available for download later this year.
Microsoft has announced that it's expanding Cortana to work across iOS and Android smartphones and other mobile devices. This is the latest in a series of Windows 10 features intended to broaden OS functionality across a range of devices.
When Windows 10 launches later this summer, it will have a built-in Phone Companion app to help users connect their PC to an iPhone, Android smartphone, or Windows Phone. While Windows Phone requires no additional steps, iPhone and Android users will need to download a few extra apps to make their mobile devices compatible with Windows 10.
[Microsoft ATA: Worthy Successor to Patch Tuesday]
Among the apps that Phone Companion will help install across devices is Cortana.
Microsoft's digital personal assistant will be available in the Apple App Store and Google Play so that once they download it, users can continue to access Cortana's features whether they're using their smartphone or PC.
Cortana will have a broad range of functionality on Windows 10 and Windows Phone, and help users with tasks like searching the Internet, managing device settings, dictating email messages and setting reminders. Microsoft is also integrating Cortana into its new Edge browser.
The iPhone and Android app will help users set reminders, track flights, and complete tasks that were begun on a Windows 10 PC. Content stored in Cortana's Notebook will appear across devices, as will changes made to that content on any device.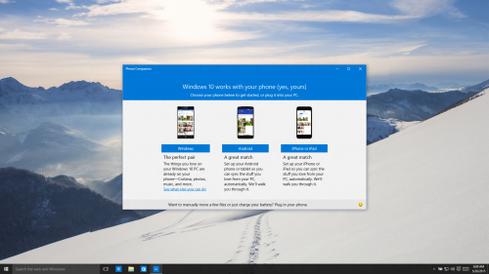 Microsoft notes that because it's "just an app," Cortana for iOS and Android will have limited features compared to the Windows Phone version. Right now the ability to implement certain functions requires a level of system access that Microsoft does not have.
Functions not available at launch will include the ability to toggle settings, open apps, or prompt Cortana hands-free by saying, "Hey Cortana." That's a capability that requires special microphone integration and as a result is only available on Windows Phones and PCs.
Users eager to test the Phone Companion app should be on the lookout for its appearance in a Windows 10 Insider Preview build that will be available "in a few weeks," according to Microsoft. The Cortana app will be available on Android phones by the end of June and on iPhones later this year.
[Did you miss any of the InformationWeek conference in Las Vegas last month? Don't worry: We have you covered. Check out what our speakers had to say and see tweets from the show. Let's keep the conversation going.]
Kelly Sheridan is the Staff Editor at Dark Reading, where she focuses on cybersecurity news and analysis. She is a business technology journalist who previously reported for InformationWeek, where she covered Microsoft, and Insurance & Technology, where she covered financial ... View Full Bio
We welcome your comments on this topic on our social media channels, or
[contact us directly]
with questions about the site.