Oracle Touts Cloud Revenue Growth In Tough Second Quarter
Oracle said that global currency pressure had a negative impact on its total revenues and net profit, which were down for its second quarter. Executives put the focus on the company's relatively small but fast growing cloud revenue instead, at a time when Oracle is moving from its traditional on-premises business to a hybrid cloud approach.
Oracle (ORCL) accelerated its cloud revenue in its second fiscal quarter, the company announced Dec. 16, and promised that momentum would continue for the rest of the year. The cloud news marked a bright spot for the tech giant, which saw total revenue decline and net income fall year-over-year for the quarter as traditional businesses such as software licensing continued to pull back.
The company's total revenue of $8.99 billion declined by 6% in US currency (and 0% in constant currency) compared with the same period a year ago. Oracle cited the impact of global currency issues on all its financials during the quarter. The company's net income of $2.2 billion declined 12% year-over-year.
Co-CEO Safra Katz told analyst during a conference call this week that profitability this year will continue to be impacted as Oracle makes a transition in its delivery model, but that next year would look more positive.
"I believe fiscal year 2016 is a trough year for profitability, as we move to the cloud," she said. "As such, I expect to see strong EPS growth in Q1 and beyond."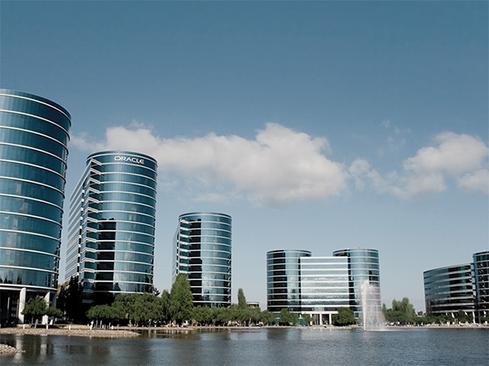 Katz highlighted the positive cloud news during the call. For instance, total cloud revenues grew to $649 million, up 26% in US currency and 31% in constant currency. Breaking it out, Cloud software as a service (SaaS) and platform as a service (PaaS) revenue grew to $484 million, up 34% in US dollars and up 39% in constant currency. Cloud infrastructure as a service (IaaS) revenues grew to $165 million, up 7% in US dollars and 11% in constant currency.
Oracle put a big stake in the ground during its recent Oracle OpenWorld event, promising a hybrid cloud strategy that it said no other vendor could hope to offer. But questions remained about whether it was too little too late.
Oracle's cloud percentage growth numbers stand in stark contrast to Oracle's on-premises software business. While the cloud business is tiny compared to Oracle's on-premises software business, the latter is declining instead of growing. Total on-premises software revenues dropped to $6.4 billion, down 7% in US dollars and unchanged in constant currency, Oracle reported.
Still, the traditional on-premises software business includes many loyal customers who are not in any rush to move their infrastructure to the cloud.
Hardware revenues declined more sharply to $1.1 billion, down 16% in US dollars and down 10% in constant currency.
Total services revenues declined to $861 million, down 8% in US dollars and unchanged in constant currency.
[Oracle's path to a successful cloud business is not without challenges. Find out what the company needs to do to execute. Read Oracle Cloud: 5 Big Challenges.]
"We feel very good about the progress of our cloud transition and clearly customers are rapidly adopting Oracle," Katz said, and she provided guidance, in constant currency, for the third and fourth quarters.
She said that for the third quarter, SaaS and PaaS revenue is expected to grow between 49% and 53%, and cloud IaaS revenue is expected to grow between 3% and 7%.
For the fourth quarter, SaaS and PaaS revenue is forecast to grow between 65% and 69%. Cloud IaaS revenue is expected to grow 1% to 5%. And total revenue growth is expected at 1% to 3%, she said.
Oracle CTO and chairman Larry Ellison told analysts that the company added 857 new SaaS customers and 1,343 new PaaS customers in Q2. Deals closed in the quarter included Blue Shield of California, DHL, McKesson, and Mitsubishi Electric.
**Elite 100 2016: DEADLINE EXTENDED TO JAN. 18, 2016** There's still time to be a part of the prestigious InformationWeek Elite 100! Submit your company's application by Jan. 18, 2016. You'll find instructions and a submission form here: InformationWeek's Elite 100 2016.
Jessica Davis is a Senior Editor at InformationWeek. She covers enterprise IT leadership, careers, artificial intelligence, data and analytics, and enterprise software. She has spent a career covering the intersection of business and technology. Follow her on twitter: ... View Full Bio
We welcome your comments on this topic on our social media channels, or
[contact us directly]
with questions about the site.