Ubiquiti AmpliFi Aims To Fix Home WiFi
Enterprise networking product maker Ubiquiti unveils a line of consumer-oriented routers with the aim of making home networks more reliable.
WiFi started becoming popular around the end of the second millennium. But 16 years later, it remains a work in progress.
The wireless networking issues that plagued tech industry conferences for a few years after the iPhone revolution strained network capacity have become less common. Executives on stage no longer plead with audience members to turn off their phones because their networking provider failed to plan for adequate capacity. But home WiFi networks can still present a challenge, now that so many mobile devices, streaming boxes, and IoT devices demand network access.
Google took a stab at improving home networking last year with its OnHub router. While the company's app-based management, traffic prioritization options, and simple setup deserve praise, its hardware remains a single access point that may not have enough power to prevent dead spots in every home.
Lack of router signal strength can be dealt with using a range extender, but a range extender can have disadvantages. It can reduce bandwidth if it relies on a single radio for both data transmission and reception. It may also operate as a second network, and switching between two networks at home as you move about with a mobile device isn't always seamless.
Eero, a networking startup, has attempted to address the issue by promising "WiFi that actually works." Its approach is to create a unified mesh network with multiple access points, in contrast to a typical home network that has a single router at one end of the house and perhaps a range extender or two.
Now, Ubiquiti, known for its enterprise networking products, is throwing its hat into the ring. On Monday, the company announced AmpliFi, a line of consumer-oriented routers based on the company's well-regarded UniFi enterprise networking technology that emphasizes both simplicity and aesthetic appeal.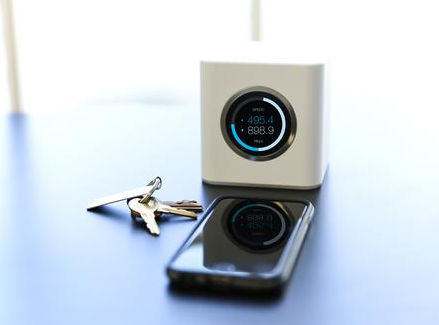 In conjunction with the AmpliFi launch, Ubiquiti said it has opened Ubiquiti Labs, a research lab focused on consumer electronics, in Riga, Latvia. The lab's mission, according to the company, is "solving chronic Wi-Fi challenges now facing the modern connected home." It may also be to ensure that the company can participate in the connection and management of IoT devices as these become more common in households.
The AmpliFi line includes three bundles, available for pre-order: AmpliFi Router and Extender Kit ($199), AmpliFi LR (Super Long Range) Router and Extender Kit ($299), and the AmpliFi HD (High Density) Router and Extender Kit ($349).
[Read Gogo's Faster WiFi Aims to Improve In-Flight Internet Access.]
Each bundle includes a router and two extenders, each of which features MIMO support for more efficient data transmission and reception. The devices are pre-paired out of the box to make setup easier. They're managed using an Android or iOS app, rather than the Web interface favored by many router vendors.
The AmpliFi routers and extenders all support current WiFi networking standards, 802.11b/g/a/n/ac, allowing data rates of up to 1,300 Mbps at 5 Ghz.
The AmpliFi line is scheduled to ship in June. Ubiquiti says a modular home IoT hub is coming soon.
[Editor's note: This article has been updated to reflect the specifications that the company itself updated for supported WiFi networking standards and rates.]
Thomas Claburn has been writing about business and technology since 1996, for publications such as New Architect, PC Computing, InformationWeek, Salon, Wired, and Ziff Davis Smart Business. Before that, he worked in film and television, having earned a not particularly useful ... View Full Bio
We welcome your comments on this topic on our social media channels, or
[contact us directly]
with questions about the site.