Surface 3 Vs. Surface Pro 3: Picking The Right Tablet
The Surface 3, the newest hybrid from Microsoft, packs the hallmarks of Surface Pro 3 into a thinner and lighter device.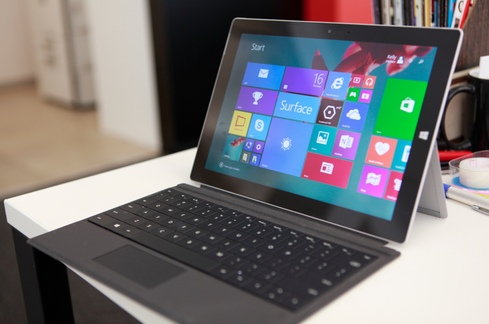 Microsoft is aiming to broaden the scope of its Surface customer base with the arrival of Surface 3, which was announced in March 2015 and will ship in May. The device certainly has potential for universal appeal, with full Windows functionality packaged in a thinner and lighter design.
The Surface 3 was developed as a smaller, more accessible version of its predecessor, the Surface Pro 3, intended for students and mobile professionals who don't need the Pro's extended capabilities. It comes with a thinner screen, a more lightweight structure, and a lower price. Surface 3 will run you $500 to start, about $300 less than the Pro.
If you want to take full advantage of the Surface 3 capabilities, however, you'll have to shell out a bit more. External accessories include the detachable keyboard, or Type Cover, for $130, and the Surface Pen, for $50.
Personally, I don't understand why the Type Cover has to be separate. I can't imagine using either Surface without a keyboard, and isn't this supposed to be a laptop replacement anyway? But I digress.
[Microsoft Zero-Day Bug Being Exploited In The Wild]
A big chunk of the inspiration for Surface 3 came from customers. "[They said,] 'Give me everything that's in the Pro 3 but make it even thinner, even lighter and even more portable,'" said Microsoft's Brian Eskridge, senior manager for the Surface line, in an interview with InformationWeek earlier this month.
On the surface (zing!), there isn't much difference between the two. The Surface 3 has a 10.8-inch display, which is noticeably smaller than the 12-inch Pro screen but offers a 1920x1280 resolution and a 3:2 aspect ratio. The screen has also been revamped to improve digital pen use, Eskridge explained.
Other hardware features were taken directly from the Pro, including USB 3.0 port, micro-USB 2.0 port, microSD slot, and mini DisplayPort. Its type cover has a shorter key-throw, said Eskridge, and comes in a wider range of colors including red, slate gray, burgundy, purple, and light and dark blue.
Surface 3 is a bit slower than the Pro, with 85% of its performance, which isn't a bad trade. I found it to be pretty speedy. It does offer 10 hours of battery life on video playback, said Eskridge, which is more than the Pro can handle.
Microsoft is killing Windows RT with the Surface 3, which will ship running Windows 8.1 with the promise of Windows 10 upgradability later this summer. The less expensive model has 2GB of RAM for $500, but you can upgrade to 4GB of RAM for a $600 device. An LTE version is expected to launch later this year.
Right now, it's time to take a closer look at the Surface 3, both on its own and next to the older Pro model. After you are done with the InformationWeek review, let us know what you think in the comments section.
Kelly Sheridan is the Staff Editor at Dark Reading, where she focuses on cybersecurity news and analysis. She is a business technology journalist who previously reported for InformationWeek, where she covered Microsoft, and Insurance & Technology, where she covered financial ... View Full Bio
We welcome your comments on this topic on our social media channels, or
[contact us directly]
with questions about the site.