Sony Xperia C5 Ultra, Xperia M5 Bank On Camera Performance
While many smartphones are measured by battery life and processor speed, Sony is taking a different approach with the Xperia C5 Ultra and Xperia M5 by focusing on the camera and amateur photographers.
If we look at the last flagship phones from Apple and Samsung -- the iPhone 6 and the Galaxy S6, respectively -- there is a strong trend to improve the image quality of their cameras. People carrying a large smartphone want to use it for everything, and that includes taking high-quality pictures.
Current high-end smartphone users expect the image quality of their devices to match the results of a medium-range prosumer digital camera, especially if they pay $700 to $800 for the phone.
Sony is the undisputed leader is proving sensors for high-end smartphones in the market. Both Apple and Samsung are loyal customers of the company's Exmor RS processors, featured in all Apple smartphones since the iPhone 5, as well as in Samsung's Galaxy S5 and S6 series.
Now Sony is introducing two new mid-range smartphones targeting the imaging market -- the Xperia C5 Ultra and the Xperia M5. The phones are equipped with the latest generation of Exmor sensors, octa-core 64-bit ARM Cortex-A53 processors, and 16GB of storage with microSD expansion support (up to 200 GB).
The two are running the latest Android OS 5.0, souped-up with Xperia applications.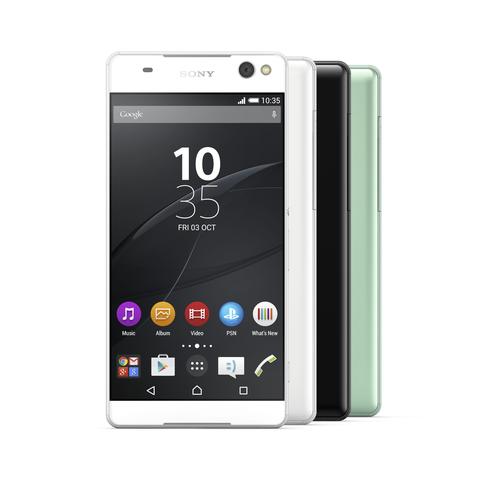 "We are pleased to present two new products that highlight Sony's advances in camera technology," Tony McNulty, vice president of Sony's Value Category Business Management, wrote in an Aug. 3 press release. "We understand that camera capabilities are important to smartphone users, so we ensured that Sony's existing camera brilliance was once again surpassed in the new Xperia C5 Ultra and Xperia M5 without compromising on other features across design and performance."
[Read about Sony and the drone market.]
The main differences between the two are the screen size, battery, and rear-camera resolution. The 5-inch M5 features a 21.5-megapixels rear camera capable of recording 3840x2160 (4K) video with an F2.2 camera lens, Hybrid AF, 5X Clear Image Zoom. It is also waterproof and dust-tight, but lags in battery life against the larger 6.0-inch C5 Ultra. The M5 also has a more powerful processor, the MediaTek Helio X10 with 3GB RAM.
Sony is clearly trying to lure the mid-range smartphone customer that wants superb images, but is not willing to part with half his or her paycheck for a flagship device. The new Xperia M5 offers the same or better camera performance than the iPhone 6 for half the price.
Both models are banking on the popularity of taking "selfies," as they feature a front camera with 13-megapixel sensors and wide-angle lenses, to capture much more than other models.
What's the catch?
In my view, it would be that you won't be pulling out the newest iPhones or Galaxy devices in front of your friends and colleagues. If you are in the market for a smartphone and an Apple fan, too, you'll probably foot the bill for the new iPhone 6s when it comes out, possibility with the same sensor as the newest Sony phones.
The Xperia C5 Ultra and Xperia M5 will ship this month. Pricing has not been officially announced, but it is rumored to be $489 and $549 for the C5 Ultra and M5, respectively.
Pablo Valerio has been in the IT industry for 25+ years, mostly working for American companies in Europe. Over the years he has developed channels, established operations, and served as European general manager for several companies. While primarily based in Spain, he has ... View Full Bio
We welcome your comments on this topic on our social media channels, or
[contact us directly]
with questions about the site.