Microsoft Surface, Touch-First Office Details Emerge
Microsoft will turn to a larger Surface tablet and digital ink to combat iPads and Android tablets, according to new leaks on Tuesday's event.
Microsoft is expected to release new Surface models Tuesday, less than a month after revealing its tablets are still unprofitable. Over the weekend, new details emerged about Microsoft's strategy to turn things around. Several reports claim Tuesday's event will include a Surface Pro model with a larger screen, while a Microsoft Research video teases touch-first Office apps for Windows 8.1 and Windows RT.
Over the last year, a variety of sources have claimed Microsoft has an 8-inch Surface Mini, also expected on Tuesday, in the pipeline. Rumors about a 12-inch Pro have only picked up a few weeks ago, however. Even then, early details remained fuzzy. They largely stemmed from a Surface 3 reference in Microsoft documentation, which the company later called a typo, and reports that Microsoft's Surface event would feature both ARM-based Windows RT and Intel-based Windows 8.1 devices.
More-specific details emerged over the weekend. Microsoft rumors site Windows Phone Central claimed the company will debut five Surface Pro 3 models that range in cost from $799 for an Intel i3-based machine with 4 GB of RAM and 64 GB of storage, to $1,949 for an i7-based device with twice as much RAM and a 512-GB SSD. The site also said Microsoft will introduce new keyboard covers for the Pro 3's presumed larger screen. The accessories allegedly will come in black, purple, cyan, and red, with the red model possibly limited to Microsoft Stores.
[Apple tablets hold strong. Apple's iPad Still Dominates The Enterprise.]
Windows expert Paul Thurrott, who has accurately reported advance Microsoft product news in the past, also claims a new Surface Pro is coming. Citing unnamed sources, he said the device will be larger yet thinner than the current Surface 2. Thurrott speculated the device might feature a thinner case and a repositioned Windows button to accommodate a bigger screen without adding heft.
If the rumored prices are correct, Microsoft will continue to charge a premium for its Pro devices. But laptop-tablet hybridity -- the Surface line's original calling card -- has been so far only a niche appeal. Based on a new Microsoft Research video, the company might use digital ink technologies to help its devices stand out.
Last month, Microsoft briefly demonstrated touch-first Office apps for Windows 8.1's Modern UI but specified neither when the products, codenamed "Gemini," will launch, nor how they'll meaningfully differ from the touch-oriented Office for iPad. The video, as well as an accompanying PDF, suggest digital ink will play a crucial role across all apps, and will even extend into Windows itself.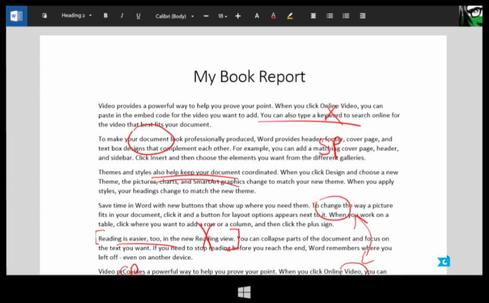 The video describes Microsoft's "Ink Strategy" as a cross-group initiative and offers several examples in which a stylus is used to create notes and annotate documents. The PDF, meanwhile, asserts that tablets and touchscreens offer new opportunities for pen and ink technologies. It states that digital pens should "be as immediate, easy and satisfying as paper and pen," adding that "simplicity trumps complex features." The document says Microsoft will build a consistent user model across Windows, Office, its app ecosystem, and hardware, and that "Office ink content [will appear] everywhere Office renders content."
How will this user model work? According to the PDF, a pen must "always
reliably lay down ink strokes," but can also serve other functions. It notes that if the user pushes a button on the pen's barrel while tapping the screen, he can select and drag objects. It also indicated the pen can offer some functions when it physically touches a device's screen, and others when it hovers just above.
Microsoft published the video last week but subsequently removed it. A few weeks ago, the company similarly published and removed a Microsoft Research video that demonstrated new Live Tile concepts and prompted speculation about Windows 9. InformationWeek asked Microsoft why the videos disappeared, but the company has not yet responded.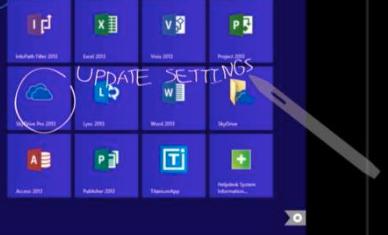 It's not clear if Microsoft will reveal its ink strategy at Tuesday's event. However, rumors have indicated for months that the Surface Mini will focus on digital note-taking and include a high-precision stylus. Whether it's digital ink or something else, the Surface line needs new features and capabilities to help it compete with iPads and Android tablets, a fact Microsoft conceded in its recent Form 10-Q filing with the SEC.
In the 10Q, Microsoft notes the success of integrated hardware and software firms -- an ostensible reference to Apple, though the filing does not say so. "We also offer some vertically-integrated hardware and software products and services; however, our competitors in smartphones and tablets have established significantly larger user bases," the document states. "Efforts to compete with the vertically integrated model will increase our cost of revenue and reduce our operating margins."
Indeed, the company reported last month that Surface margins had improved due to a sales mix that included more of the pricier Pro models, but the product line remains unprofitable overall, and has lost over a billion dollars since launching. Bing, of course, also lost billions of dollars before it became a core Microsoft asset, providing the brain for Windows Phone 8.1's anticipated Cortana, among many other products. Will the Surface line rebound as well? Microsoft noted in its 10Q that it hopes to attract more users by "developing new form factors that have increasingly natural ways to use them, including touch, gesture and voice." We'll know shortly how Tuesday's event will play into this plan.
What do Uber, Bank of America, and Walgreens have to do with your mobile app strategy? Find out in the new Maximizing Mobility issue of InformationWeek Tech Digest.
Michael Endler joined InformationWeek as an associate editor in 2012. He previously worked in talent representation in the entertainment industry, as a freelance copywriter and photojournalist, and as a teacher. Michael earned a BA in English from Stanford University in 2005 ... View Full Bio
We welcome your comments on this topic on our social media channels, or
[contact us directly]
with questions about the site.