LG G3 Packs Big Screen, Kill Switch
LG's latest flagship smartphone boasts quad HD display and laser-aided camera.
LG on Tuesday announced the G3, its 2014 flagship smartphone, at several simultaneous events around the world. The G3 largely carries over the design, shape, and feel of last year's model, but makes significant gains in materials and overall feel. It looks better and feels better to hold and use. The device includes one of the highest-resolution screens available on a mobile device, and brings with it other welcome advancements from the Korean handset maker.
The G3 increases the size and resolution of the screen when compared to last year's G2 and it surpasses the competition handily. The screen measures 5.5 inches diagonally and has 2560 x 1440 pixels, or WQHD resolution. The G3 is the first smartphone to make the jump from 1080p HD to this new, higher resolution. By comparison, the Galaxy S5 has a 5.1-inch 1080p HD screen, the HTC One has a 5-inch 1080p HD screen, the Nokia Lumia Icon has a 5-inch 1080p HD screen, and the iPhone 5s has a 4-inch 1136 x 640 screen. At 5.5 inches, however, the G3 enters phablet territory with a Galaxy S5 killer. The G3 measures 5.76 inches tall by 2.94 inches wide by 0.35 inches thick. That's large, and might be unappealing to some consumers.
[Smartphones outsell "dumber" models. Read Feature Phones Almost Extinct In US.]
Under the hood, the G3 relies on Qualcomm's Snapdragon 801 processor with four cores at 2.3 GHz each, 2 (or 3) GB of RAM, and 16 (or 32) GB of storage, the latter expandable thanks to support for microSD cards. The phone has a massive 3,000-mAh battery, although LG did not say how long it would last on a charge. On the plus side, the battery can be removed.
LG has picked a 13-megapixel sensor for the G3, which is fewer than what's available to the Galaxy S5 and Lumia Icon, but far more than what's available to the One and iPhone 5s. The camera is among the first on a smartphone to make use of laser-assisted focus. LG claims the laser-assist will provide the device with much better distance data, and aid in attaining razor-sharp images. The camera can focus in 274 milliseconds, which is a few milliseconds faster than the GS5 or HTC One. The camera also has optical image stabilization and a dual-LED flash, and can capture 4K video.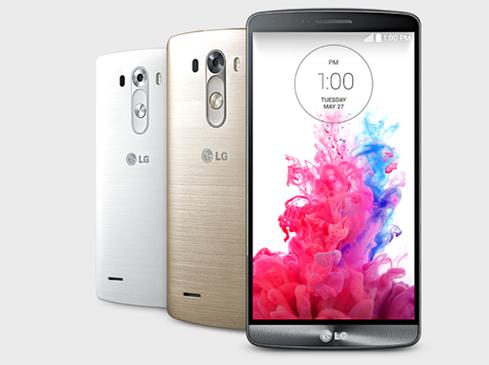 LG took pains to redesign its user interface. The new UI uses warmer colors and softer shapes in what comes across as a mishmash of iOS 7 from Apple and TouchWiz from Samsung. The device offers plenty of security features, including Knock Code, Knock On, and Content Lock. These can be used separately or together to secure the device itself as well as the content on it. Most important, the G3 has a kill switch, which owners can use to remotely lock and disable it their phone permanently, rendering it useless to thieves if stolen. No other smartphone maker has added this feature yet, although the FCC has mandated it.
LG's G3 runs the Android 4.4.2 KitKat operating system and will be sold by all four major carriers in the US, becoming available in the next few months. Pricing wasn't disclosed, but expect it to fall in the $199 to $249 range when purchased with a contract.
What do Uber, Bank of America, and Walgreens have to do with your mobile app strategy? Find out in the new Maximizing Mobility issue of InformationWeek Tech Digest.
Eric is a freelance writer for InformationWeek specializing in mobile technologies. View Full Bio
We welcome your comments on this topic on our social media channels, or
[contact us directly]
with questions about the site.