Lenovo Unveils Project Tango, Moto Z Droid Smartphones
The Phab 2 Pro will help people capture virtual reality content, while the Moto Z Droid and Z Droid Force feature swappable modules.
Lenovo showed off its vision for the future at an event in San Francisco Thursday, and much of it relies on virtual reality. The company debuted two new smartphones, one of which is the first handset based on Google's Project Tango. Lenovo's Motorola brand was on hand, too, with more Droids headed for Verizon Wireless.
The Lenovo Phab 2 Pro is a monstrous Android phablet that features four cameras to capture virtual and augmented reality content. The main camera captures 16-megapixel images, and the selfie camera snags 8-megapixel portraits, but the real magic comes from the secondary cameras that capture motion and depth-of-field information. This duo of cameras allows the Phab 2 Pro to map 3D spaces and then augment them with content from a variety of apps.
Onstage, Lenovo demonstrated how the Phab 2 Pro could map the stage and then set up a virtual series of dominoes and other Rube Goldberg-esque machinations. A lot of the Phab 2 Pro's appeal will be defined by the apps and experiences offered by developers.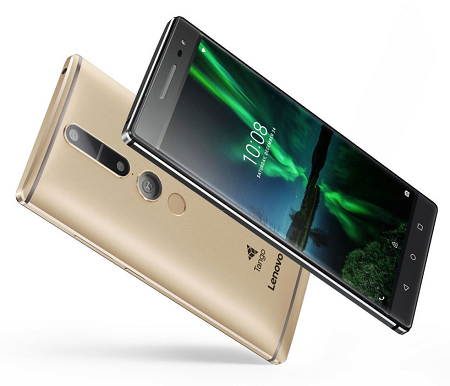 Lenovo announced in January that it would release a smartphone that integrates spatial sensing technology in Google's Project Tango, which was unveiled in 2014.
The device itself is a premium handset. Lenovo crafted the device with an aluminum body and gifted it with a humongous 6.4-inch quad HD display. The phone is powered by a Snapdragon 652 processor with 4GB of RAM and 64GB of onboard storage and has support for memory cards up to 2TB. It relies on the USB Type-C connector and packs a massive 4,000 mAh battery with rapid charging. It runs Android 6.0 Marshmallow.
The device will go on sale in the US come September. It will initially be sold at Best Buy stores, but will reach Lowes home improvement stores (with unique software) by the holidays. It will cost $499.
Lenovo also showed off the Moto Z Droid and the Moto Z Droid Force, phones that adopt a modular design in the same vein as the LG G5. Where the G5 has modules that plug into the bottom of the phone, the Z Droids instead employ magnets on the back so that modules can snap onto the rear of the phone.
Some of the first modules are stereo speakers, a projector, and extended batteries. The Moto Mods, as Lenovo has branded them, can be made by accessory-makers and developers, thanks to a soon-to-come Moto Mods SDK.
[See 10 Tools to Bring Virtual Reality to Life.]
Apart from the Moto Mods, the Z Droid and Z Droid Force are high-end handsets. They each include a 5.5-inch quad HD screen, a Snapdragon 820 processor, a 5-megapixel selfie camera, USB-C, and front-mounted fingerprint sensors.
The Z Droid has a 13-megapixel camera and a 2,600 mAh battery. The Z Droid Force has a 21-megapixel camera and a 3,500 mAh battery. The Z Droid Force also includes Motorola's ShatterShield technology, which means it has a (nearly) indestructible display.
Verizon Wireless is the exclusive carrier of the Moto Z Droid and Moto Z Droid Force. They go on sale later this summer. Pricing of the handsets and the Mods was not disclosed.
Eric is a freelance writer for InformationWeek specializing in mobile technologies. View Full Bio
We welcome your comments on this topic on our social media channels, or
[contact us directly]
with questions about the site.