iPad Air 2 Vs. Surface Pro 3: No Comparison
Comparisons between Apple's iPad Air 2 and Microsoft's Surface Pro 3 are both inevitable and misguided.
Comparisons between Microsoft's Surface Pro 3 and Apple's new iPad Air 2 are inevitable. After all, Microsoft launched its tablets in response to iPads' meteoric rise, a relationship that makes competition with Apple an ingrained part of the Surface story.
Microsoft has continued to encourage the comparison. On Thursday -- not coincidentally, the same day Apple announced its latest iPads -- Microsoft released another video touting the Pro 3 as the "tablet that can replace your laptop," for example.
But comparisons between the Surface Pro 2 and the iPad Air 2 are misguided, somewhat like comparing a smart car to a station wagon. If you're trying to decide which tablet will better serve your needs, make sure you're considering the right factors before you hand over your credit card. The devices overlap in certain ways but generally excel at different things.
[Apple's iPad updates are impressive, but where's the iPad Pro? Read Apple iPad Event: Few Surprises.]
I'm not talking simply about the "productivity device vs. consumption device" argument that many, including Microsoft, use to distinguish iPads from Windows tablets such as the Surface Pro. For a traditional knowledge worker, the Surface Pro 3 certainly offers a more familiar type of productivity, with desktop apps and a keyboard. But for users who are less beholden to tried-and-true workflows, iPads offer plenty of power to get things done in new ways.
During the iPad Air 2 reveal, Apple brought reps from French company Stupeflix to the stage, where they demonstrated a video editing app called Replay that allows users to easily create slick videos with sophisticated graphics. The app supports real-time effects that would have taxed desktop PCs only a few years ago, but despite its power, it sticks to a simple, intuitive interface that lets any novice pick up an iPad and start producing attractive content. Replay might not replace Adobe Creative Cloud apps for design professionals, but it could replace portions of their workflow. Implications for creative professionals aside, the app opens up entirely new possibilities for any type of worker who needs to create beautiful presentations on the fly.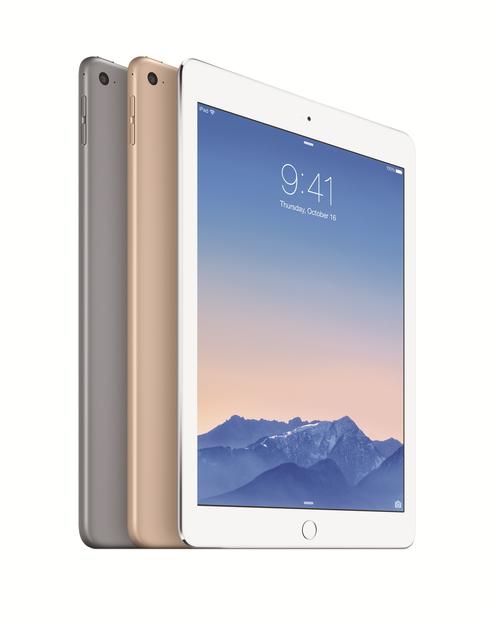 Surface Pro 3 supports more apps like Stupeflix than it used to. Adobe recently revealed touch-first versions of its apps that were rebuilt from the ground up with devices such as the Pro 3 in mind. But the iPad app catalogue features far more tablet-optimized titles -- well over 600,000. Microsoft is still trying to amass developer support for its touch platform, but Apple already has such support in droves. Rather than simply trying to solidify a platform, as Microsoft is still attempting to do with Windows 10, Apple has begun to focus more on behind-the-scenes improvements.
iPad Air 2 looks at first glance a lot like its predecessor. Beneath the hood, however, it includes a new processor and a variety of sensors engineered to take advantage of advances in iOS app development, such as Metal, which lets developers maximize the Air 2's powerful GPU; and Swift, the company's new programming language. It also benefits from the bevy of APIs Apple recently opened, including one for the Touch ID sensors that the newest iPads now feature.
These sorts of advances aren't as flashy as a hardware redesign, but with them, Apple has solidified
that the iPad isn't some kind of PC replacement; it's a new category of device whose uses are still evolving. Yes, iPads support Microsoft Office and Apple's iWork, but the company remains almost stubbornly resistant to the idea of keyboard covers and other accessories that might allow users to mistake Apple's tablets for some sort of ad hoc laptop. The iPad isn't about hunkering down in a cubicle for traditional office work; it's about interacting with the world through a mobile digital interface, consuming content in a more intimate way, and exploring new ways to create and share.
With new unions between OS X Yosemite and iOS 8, iPads also become a more fluid companion for Macs. You probably don't want to tap out a dissertation on an iPad Air 2, but with Continuity, you could type up a few paragraphs on your Mac, pick up your iPad, and have your newly written content immediately available for review as you walk out the door. Windows 8.1 supports content syncing across devices, but whereas Microsoft wants to put tablet and laptop into one form factor, Apple is keeping its devices distinct and instead focusing on ways to seamlessly share data between them.
The Surface Pro 3 can fulfill some of the same purposes as an iPad -- but in a materially different way. The app gap is part of the problem. Modern touch apps available for Windows 8.1 are often less polished and sophisticated than those on iOS, and as mentioned, the iOS library features many more titles. But hardware is part of the problem too.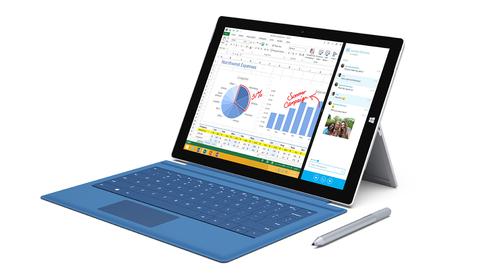 The Pro 3 is thin and light, perhaps the best hybrid device currently available. But hybridity still demands compromise. If you're going to set the Surface Pro 3 on its kickstand to type a report or watch a movie on Netflix, it's a great device. But it won't handle in your hand like an iPad Air 2 and it won't balance in your lap as easily as a traditional laptop. Microsoft's tablet offers a compelling, if still developing, digital stylus experience, and its beautiful 12-inch screen, which feels like a notepad in your hands, is ergonomically suited to this use. But for other tablet use cases, the device simply feels a bit large and unwieldy.
The Pro 3's most satisfying use is as an ultra-light but still powerful laptop. Indeed, rather than choosing between the Surface Pro and a new iPad, most users should probably compare Microsoft's tablet to the MacBook Air. With its 2-in-1 premise, Microsoft's tablet is technically more versatile than Apple's laptop. But with an immature Modern app catalogue and a design that tries to balance somewhat opposing needs, the Surface's laptop use case is much more compelling than its tablet mode. The Air lacks touchscreen capabilities and has a relatively dated screen, but because it has a traditional clamshell design instead of the Pro 3's kickstand, Apple's laptop is easier to balance on your lap. The MacBook Air and Surface Pro 3 might not be perfect comparisons, in other words, but they overlap much more than the Pro 3 and the iPad Air 2.
Ultimately, if you feel torn between an iPad and a Surface, step back and think about how you're likely to use each device. Even ARM-based Surfaces such as the Surface 2, which lacks support for legacy desktop apps, are more useful as small laptops than as hybrid tablets. Surfaces are not tablets in the same "pure" sense that iPads are. For those interested in a true tablet rather than a hybrid, Google's newly announced Nexus 9 is a better iPad alternative than the Surface Pro 3 is.
Even though the Surface and iPad lines have grown more distinct over time, comparisons between the two product families are likely become more intense in 2015. With Intel's new Broadwell chips shipping, the Pro 3 will be due for a replacement sooner than later. Apple, meanwhile, is expected to release an iPad Pro with a 12.9-inch screen.
The Internet of Things demands reliable connectivity, but standards remain up in the air. Here's how to kick your IoT strategy into high gear. Get the new IoT Goes Mobile issue of InformationWeek Tech Digest today. (Free registration required.)
Michael Endler joined InformationWeek as an associate editor in 2012. He previously worked in talent representation in the entertainment industry, as a freelance copywriter and photojournalist, and as a teacher. Michael earned a BA in English from Stanford University in 2005 ... View Full Bio
We welcome your comments on this topic on our social media channels, or
[contact us directly]
with questions about the site.