Cellphones OK For EU Airlines
European regulators allow voice calls throughout flights.
Having all but eliminated legroom, airlines in Europe now have the option to reduce headroom. This does not mean overhead bins will be lowered to create an "economy-minus" class, where passengers sit chin-to-knee. Rather, the term "headroom" refers to the gap between the ambient noise level in an airplane cabin and the point at which passengers' conversations overwhelm all other sounds.
In other words, get ready for noiser European flights: The European Aviation Safety Agency (EASA) last week gave airlines the option to allow portable electronic devices (PEDs) on airplanes, including devices that have not been put in airplane mode and are transmitting signals.
"From the 26 September 2014 EASA has made it possible for airlines to allow passengers to use their PEDs throughout the flight, regardless of whether the device is transmitting or not," the agency said.
The fact that mobile phone calls on European airlines are now possible from a regulatory perspective does not guarantee air carriers will allow in-flight phone calls. Airlines must first ensure their planes are certified as tolerant of cellular signals, and then they must ensure their planes have the necessary equipment to handle in-flight cellular calls.
[Some people still want smartphones with keyboards. Read BlackBerry Sells 200,000 Passport Smartphones.]
After that, airlines must decide whether they want to allow in-flight phone calls, a decision that might hinge on whether there's a business case to do so -- if airlines can make money off in-flight calls, they're more likely to allow them.
Airlines might also choose to weigh the wishes of their customers, many of whom appear to dislike the idea of sitting next to a voluble caller. But in recent years, customer comfort has taken it in the knees as operating profits have reclined to a more comfortable position.
In the US, the Federal Communications Commission's proposal last year to consider lifting the ban on cellphone calls on airplanes met with opposition from the public and from lawmakers.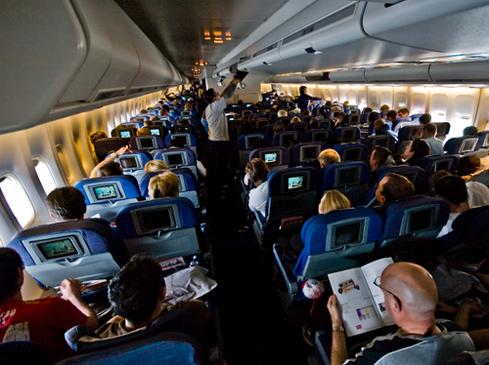 In February, the Department of Transportation solicited comments about whether to ban voice calls on flights within and to the United States. A Department of Transportation determination would supercede the Federal Communications Commission's rules.
A week ago, 77 members of the House of Representatives sent a letter to the agency heads of the Department of Transportation, the Department of Justice, the Department of Homeland Security, and the Federal Communications Commission, urging them to continue to ban voice calls on commercial airlines.
The lawmakers express concern that the inability of passengers to remove themselves from loud conversations conducted by other travelers could spark disputes, forcing cabin crew to mediate and distracting them from other duties. They also worry that the noise level from in-flight calls could hinder passengers' ability to hear instructions from the cockpit or cabin crew. Finally, they fear that wireless technology on planes in general -- not just cellular transmissions -- represent a potential tool for terrorism.
Most of the hundreds of comments submitted to the Department of Transportation oppose in-flight calls. For example, a person identified as "Joseph Toland" wrote, "Use of voice part of mobile phones in the confined area of an aircraft can and will lead to disruptions both verbal and physical. The carrying on of conversations without concern for those around you takes place daily and while on the ground you can remove yourself from the area. This is not possible in the cramped area of a row of aircraft seats."
The Association of Flight Attendants-CWA shares the concerns raised by members of Congress and is seeking to have US rules for in-flight calls subject to multi-stakeholder review rather than the authority of a single agency.
Airlines, however, don't necessarily share the concerns of their customers or their crew. Comments submitted by a law firm representing Virgin Atlantic state that the airline has received only positive feedback about its deployment of in-flight mobile calls. The airline notes that if Department of Transportation rules extend to foreign carriers, it will lose revenue and will be unable to recoup its investment to keep passengers connected.
The Department of Transportation is expected to issue a notice of rulemaking by the end of the year.
Apply now for the 2015 InformationWeek Elite 100, which recognizes the most innovative users of technology to advance a company's business goals. Winners will be recognized at the InformationWeek Conference, April 27-28, 2015, at the Mandalay Bay in Las Vegas. Application period ends Jan. 9, 2015.
Thomas Claburn has been writing about business and technology since 1996, for publications such as New Architect, PC Computing, InformationWeek, Salon, Wired, and Ziff Davis Smart Business. Before that, he worked in film and television, having earned a not particularly useful ... View Full Bio
We welcome your comments on this topic on our social media channels, or
[contact us directly]
with questions about the site.