Can Windows Tablets Break Out In 2014?
One lesson to date: While Apple can still command top dollar, Windows tablets only become widely desirable when they drop to Android-level pricing.
After mostly sitting out the Consumer Electronic Showcase earlier this month, Microsoft touted its Surface tablets last week at the National Retail Federation's Big Show in New York City. But are the devices, which were frequently out of stock during the holiday season, actually making progress? InformationWeek breaks down the good and the bad indicators, both for the Surface line and Windows tablets in general.
The good
Throughout 2013, Microsoft highlighted a number of corporate and institutional Surface deployments. It also established partner programs to build a third-party community around its Surface products. While initial Surface sales were poor, these efforts helped Microsoft to make an important point: Whether for reasons of manageability or utility, the Surface line serves at least some productivity-minded professionals better than an iPad, laptop, or even both.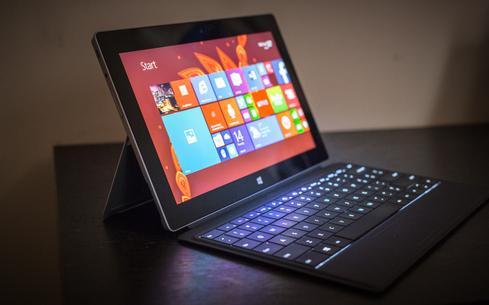 Microsoft furthered this agenda at NRF, where it welcomed AnywhereCommerce and MagTek, both of which make mobile point-of-sale products, into its Designed for Surface program. In a blog post trumpeting Microsoft's Big Show appearance, the company also profiled a new Surface Pro customer, Scandinavia-based retailer MQ.
The Surface Pro allowed MQ to reimagine its store layouts, Surface senior manager Biran Eskridge told InformationWeek in a phone interview. The tablets are installed in kiosks that connect customers to the retailer's warehouses, meaning that if the desired garment isn't in stock, a shopper can summon it to the store by the next day. As a result, MQ keeps less inventory on hand, which Eskridge said has led to less-cluttered stores, greater attention from passersby, and higher revenue.
[Which tablets ruled last year? Read 10 Best Tablets Of 2013. ]
The MQ deployment joins a collection of Surface success stories Microsoft has highlighted in recent months, ranging from Delta using 11000 Surface 2s as "electronic flight bags," to real estate management firm Pedcor choosing the Surface for its entire IT division, to physicians using the tablets to provide more personalized care.
Eskridge said Microsoft probably won't share any Surface sales figures before it reports quarterly earnings on Jan. 23. But he pointed to some public data that shines a favorable light on holiday Surface sales.
Ad network Chitika calculated Microsoft's Surface and Surface 2 snared 2.3% of all post-holiday U.S tablet usage in the United States and Canada. That figure was up from 1.8% before Christmas. It also beat the share of well-regarded rivals, such as Google's Nexus tablet.
Retail analytics firm InfoScout found Surface was a popular Black Friday item, particularly the original model, which was on sale for only $199. It was the top-selling item of any sort that day at Best Buy.
Various online reports have also indicated that certain configurations of the newer Surface 2 and Surface Pro 2 (both which were better received than the first models) were out of stock at many locations throughout the holidays. Eskridge said Microsoft has found that some shoppers who were tempted into stores by the steeply discounted Surface ended up leaving with more expensive models.
Microsoft's customer satisfaction data shows that Surface owners use the device more than they used their previous tablets, Eskridge said, adding, "It validates our point of view."
Outside of the Surface, at least a few new Windows devices, such as Dell's Venue 8 Pro, generated limited buzz during the holiday season.
The bad
Microsoft has clearly made progress, but put in context we're talking about baby steps, not major strides.
Forrester analyst David Johnson told Informationweek that demand for Windows 8 is "pretty flat" in the enterprise. He noted that employee demand for Windows tablets has risen but said businesses still show a "strong preference" for iPads.
The same seems to be true among consumers. In addition to concluding that the Surface was Best Buy's top Black Friday seller, InfoScout found that Apple's $299 iPad Mini was the top seller at Walmart. Target's top three sellers were also iPad models, and all three sold for substantially more than Best Buy's $199 Surface fire sale.
The InfoScout survey is based on data captured from 125,000 North American users, which makes it a limited sample, but if it suggests anything, it's this: Whereas Apple can still command top dollar, Windows tablets only become widely desirable when they drop to Android-level pricing.
"We've seen that limited price promotions will often cause an uptick in sales for our other products," Eskridge said of the discounts, noting that although a Surface might lure a customer into the store, that customer might leave with the more expensive Surface Pro 2.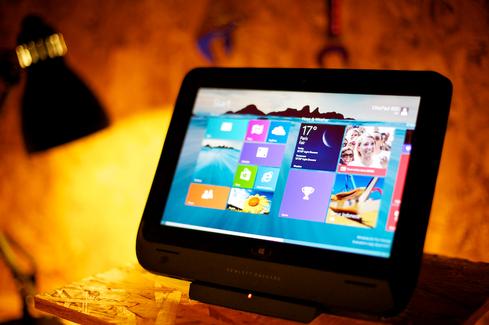 Does that mean Microsoft and its partners will convert some of the most aggressive discounts into permanent prices? Doing so could potentially boost shipment volume at the expense of margins, and perhaps, as Eskridge implied, increase the number of would-be customers who can be up-sold to costlier models.
"It was important for us to have an intriguing offer around such a busy shopping weekend," said Eskridge, not quite answering the question. "We knew we could generate some interest with the promotion."
Unfortunately for Microsoft, the interest doesn't seem to have extended far. On Dec. 30, InfoScout released new numbers that tracked U.S. retail spending between Thanksgiving and Christmas Eve. The 16-GB iPad Mini was the most-bought item during this span and other iPad models occupied the fifth, eleventh, and twelfth slots on InfoScout's list.
Microsoft scored a victory with the Xbox One, which ranked second. But only two Windows 8.1 devices placed among the top 15: HP's Pavilion TouchSmart 14 laptop, at number four, and Microsoft's 32-GB Surface, at 15. Based on these numbers, the Surface Pro 2 and Surface 2 supply shortages might have had more to do with constrained inventory than overwhelming demand.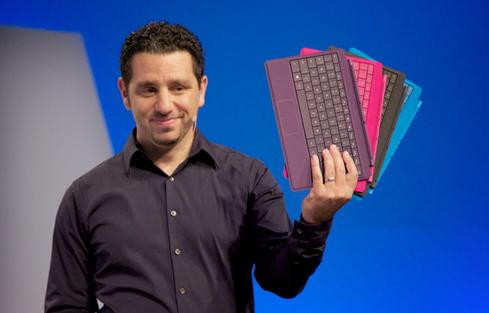 The Chitika data paints a similar story. Yes, Surface tablets gained share while iPads lost some. But the survey still concluded that Apple's devices account for more than three-quarters of all tablet use. In this context, is the Surface's 2.3% share really a victory? It's like a basketball player who makes a flashy shot when his team is already down by thirty points -- notable, but ultimately not very important.
Indeed, yet another survey suggests Apple managed, despite its already massive market share, to improve iPad sales by 8% during the holiday quarter.
This year's Consumer Electronics Show also painted a less-than-rosy picture of Windows tablets' prospects. Longtime Microsoft ally Intel focused more attention at the show on wearable technology than Windows 8.1 devices. And when Windows 8.1 came up, the conversation revolved around Intel's dual-OS platform, which allows Windows 8.1 and Android to run natively on the same chip. The very existence of this technology implies Windows 8.1 isn't appealing enough on its own.
"I think [dual OS] won't be necessary if Microsoft gets its act together," said Carolina Milanesi, who specialized in mobile devices as an analyst at Gartner and now serves as director of insight at Kantar Worldpanel.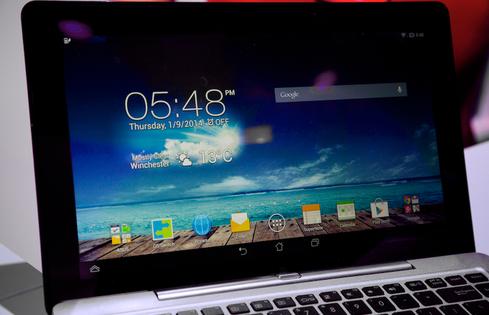 She said a dual OS reinforces that users can continue to use Android for most things, switching over to Windows only when they need legacy software. "What good does that do? How is that helping Microsoft stay relevant?" Milanesi asked.
More likely than not, Microsoft's not thrilled with the dual-OS concept. But the fact that OEMs asked Intel to create the chip speaks to those manufacturers' lack of confidence in Windows 8.1. Most of them are diversifying their offerings to include Chromebooks and Android models. They're still making Windows tablets, too, but it seems Microsoft's devices can't support partners like they used to. At Lenovo's CES exhibit, for example, representatives were much more interested in the proprietary software the company layers on top of Windows 8.1 than in the underlying OS itself.
Microsoft needs to "get in position where customers choose [Windows 8.1]," Milanesi said. "Maybe people still want Android, too, for whatever reason, but they actually choose to spend time with [Windows]."
Indeed, at the low end of the computing market, many customers have chosen Chromebooks and inexpensive Android devices. The iPad is entrenched at the high end, and Samsung's new 12.2-inch, productivity-oriented slate could make a splash there too.
The Surface is a fine device for a certain segment of users, namely people who want a tablet that acts more like a laptop. But these people seem to constitute only a niche group. Some prefer to keep laptops and tablets separate; for some tasks, convergence is more compromise than convenience. Other users seem to have concluded that though Windows 8.1 can handle many tasks, iOS and Android more gracefully handle the tasks that matter most.
The Surface line might be growing modestly, but in such a competitive market, it's hard to see -- barring the introduction of some killer new feature -- how Microsoft's devices, and Windows tablets in general, have enough maneuvering room to break out.
Michael Endler joined InformationWeek as an associate editor in 2012. Michael graduated from Stanford in 2005 and previously worked in talent representation, as a freelance copywriter and photojournalist, and as a teacher.
Incidents of mobile malware are way up, researchers say, and 78% of respondents worry about lost or stolen devices. But while many teams are taking mobile security more seriously, 42% still skip scanning completely, and just 39% have MDM systems in place. Find out more in the State Of Mobile Security report. (Free registration required.)
We welcome your comments on this topic on our social media channels, or
[contact us directly]
with questions about the site.