BlackBerry Returns To Its Roots With Classic
BlackBerry hopes keyboard aficionados will pick up the Classic smartphone in lieu of iPhones and Androids.
BlackBerry thinks it can win over its old-school business customers with the BlackBerry Classic, a smartphone that brings back the physical keyboard and other manual controls beloved by former BlackBerry addicts. The company focused much of its energy at an event in New York Wednesday pitching the enterprise tools available to the Classic, rather than its yesteryear hardware. Despite the baked-in IT tools, the Classic is a questionable choice for businesses.
The phone is a 2011-era Bold 9900 updated with better specs and BlackBerry OS 10.3.1. The phone includes both a touchscreen and a QWERTY keyboard in what BlackBerry claims is the best of both worlds. Users can touch apps and content on the screen for fast navigation, and fall back on the physical keyboard when it comes time to write emails.
Let's not mince words: BlackBerry made it clear the keyboard is the most important part of the phone and was the No. 1 requested feature from its diehard customers. So, too, were the optical trackpad, send/end keys, and back/menu buttons -- all old-school hardware designs meant to help with one-handed use. The screen measures 3.5 inches across the diagonal and includes 720 x 720 pixels. The square shape makes it better for reading email and BBM messages than for watching HD movies or YouTube content.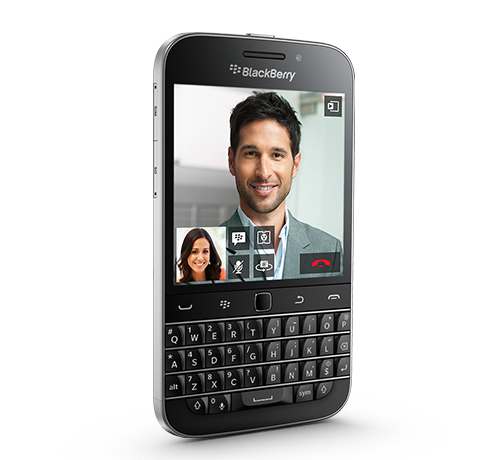 BlackBerry still knows how to make an attractive and well-built phone. It is a conservative device that comes in either black or white. It is rimmed with a metal frame and offers excellent build quality. The keys do feel quite good under the thumb.
The guts of the phone are fairly modern, but fall a bit short of today's powerhouse flagships. The Classic has a 1.5-GHz Qualcomm processor with 2 GB of RAM and 32 GB of internal storage. BlackBerry says the phone supports memory cards up to 128 GB. The phone has a 16-megapixel main camera that can capture 1080p HD video. There's a 2-megapixel user-facing camera for selfies (we all know how vain hedge-fund managers are). It offers a full range of connectivity options, such as LTE, GPS, NFC, Bluetooth, FM, and WiFi. BlackBerry claims the phone's battery offers 22 hours of usage time.
[Can't say no to the holiday cookies? See 7 Tips: Work Fitness Into The Workday.]
BlackBerry CEO John Chen said on stage, "I haven't tested the battery myself, but I'm told it's very good." Chen's comments made it sound like he hadn't even used the phone. That doesn't exactly do the BlackBerry Classic any favors. In fact, BlackBerry spent most of the presentation comparing the Classic to its 2011-era hardware, rather than the Z10, Q10, or Q30, which it released in 2013. It didn't offer any reason to buy the Classic over the Passport, which is bigger (and weirder) and has been available for several months now.
The device runs BlackBerry OS 10.3.1, which BlackBerry says has been optimized for the new hardware buttons. BlackBerry also took pains to increase the security features of the device, which is secure for email, BBM, and other forms of communication. BlackBerry said customers can snag apps through its own app store, as well as through the Amazon App Store. Apps downloaded from the Amazon App Store are based on Android, which BBOS is able to run in a virtual environment. The Classic cannot access the Google Play Store nor Play Store apps.
It's no accident BlackBerry chose an event venue for the Classic mere steps from Wall Street. In fact, the famous "bull" sculpture at the top of Bowling Green Park is just outside the venue's doors. All the partners and customers BlackBerry hauled on stage during the event were from the finance and IT sectors and discussed the importance of the Classic's security and device management functions.
Unlike an iPhone or Galaxy or Nexus, the BlackBerry Classic doesn't pretend to be anything more than a secure business machine. While some verticals still rely on these basics, others have moved on and require more well-rounded hardware and software.
When and where can you buy it? It's available online for $449. BlackBerry is selling it directly unlocked. AT&T and Verizon Wireless have committed to selling the Classic, but neither has announced availability or pricing information.
Want proof that your IT team is special? Apply now for the 2015 InformationWeek Elite 100, which recognizes the most innovative users of technology to advance a company's business goals. Winners will be recognized at the InformationWeek Conference, April 27-28, 2015, at the Mandalay Bay in Las Vegas. Application period ends Jan. 16, 2015.
Eric is a freelance writer for InformationWeek specializing in mobile technologies. View Full Bio
We welcome your comments on this topic on our social media channels, or
[contact us directly]
with questions about the site.