Apple TV Refresh: 9 Wishes
Signs indicate Apple is prepping a new Apple TV. Here's how Apple can make its media player a winner.
Apple created a dedicated shopping category for Apple TV this week, fueling speculation that the media player could be due for a significant upgrade.
The move follows a flurry of reports that Apple could introduce a new version of Apple TV as soon as March. The product's heightened profile in the online story also coincided with Apple's mixed earnings report, in which strong sales numbers were offset by signs of flagging iPhone and iPad growth. Apple still commands revenue streams and margins that most companies would kill for, but after years of excellent-but-incremental product updates, both investors and customers are eager for a new game-changing product.
Steve Jobs, the late Apple founder and CEO, harbored grand ambitions for Apple TV. He famously said he hoped Apple TV would join the iPhone, iPod, and Mac as a fundamental company pillar. Since then, Apple execs sometimes have referred to Apple TV as a "hobby," even as the device has quietly become quite popular.
[What will future Mac vs. PC debates sound like? Read Windows vs. Mac: Desktop Battle Lines Drawn.]
In December, Apple CEO Tim Cook said major product announcements will arrive this year. He reiterated the point this week when the company announced quarterly earnings. If a new Apple TV product is in the cards, here are nine ways, including some rumored to be imminent, that Apple can transform its "hobby" into a game changer.
1. Apple TV soon could boast an iOS-like app ecosystem.
Apple's current Apple TV app catalogue includes essential titles such as HBO Go and Netflix, but the process for submitting new titles isn't very open, and the Apple TV software developers' kit is fairly limited. The iPhone and iPad didn't become popular purely through their beautiful hardware and iOS's intuitive interface; developers deserve credit, too. If Apple gives developers the opportunity to bring their creativity to Apple TV, the company could be poised for another hit product, especially if the next model includes hardware enhancements to give app makers more tools. Numerous online reports, most recently from the website 9to5mac, indicate Apple is likely to follow this route.
2. The next Apple TV might qualify as a gaming machine.
Games have contributed mightily to the success of iOS's app model, and the same could happen for Apple TV. Both 9to5mac and the website iLounge recently published reports, each citing unidentified inside sources, that claim gaming will play a big role in the next Apple TV. iLounge said developers are working on controllers for the device, but did not mention whether these would be standalone units, or, as in the current crop of accessories created via Apple's MFi program, exist as attachments to iPhones and iPads. It's also not clear if games would be stored locally or in the cloud.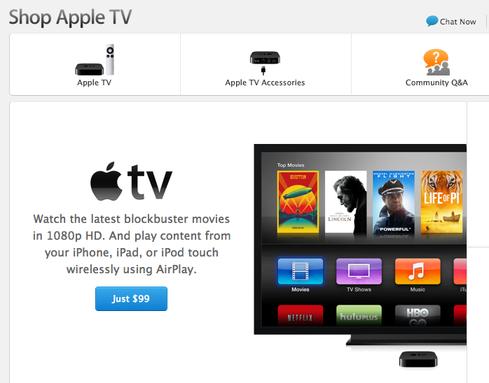 3. Apple TV needs unified search.
Currently, Apple TV users can generally search only within the app they're using. If you want to watch a movie and it isn't available through the current app, in other words, you'll have to jump to another app to continue your search. And if the movie isn't available in that app, you'll have to jump again. The experience would be much more satisfying if Apple TV allowed you to search Netflix, Hulu, and HBO all at once, rather than moving from service to service. A global search function hasn't featured prominently in any recent rumors, but one can hope.
4. Apple TV might integrate motion controls.
The Apple rumor mill has been buzzing about possible Apple TV motion controls since late last year, when the company acquired PrimeSense, maker of the Xbox's Kinect sensor. If Apple were to implement a motion sensor, it would certainly give developers more flexibility to rapidly expand the platform.
5. Apple TV should get cozy with Siri.
The Xbox One's voice controls have met with somewhat mixed marks, but many would welcome an Apple TV equipped with Siri. The iOS digital assistant would be moderately useful if she could obey simple commands, such as "Open Netflix," but if she were to tap into an app-spanning global search function or provide new opportunities for developers, Siri could quickly become a TV star.
6. Apple TV soon could include a built-in TV tuner.
Unlike many competitors, Apple TV cannot control TV stations. 9to5mac's aforementioned report said this could change following an upcoming hardware refresh, which will allegedly deliver Apple TVs that can connect to cable boxes. According to the rumor, TV content will be delivered in an Apple-designed navigational UI. If Apple were to somehow manufacture a way for users to order TV stations a la carte, that would be even better, although it's unlikely to happen any time soon. It's also not clear if Apple TV will include any DVR functionality if a TV tuner is integrated.
7. Apple TV needs a native browser.
Apple TV allows users to easily mirror content from an iOS or OS X device on their television screen. Enabling the feature is quick and simple, but compared to what competing products offer, it's also a roundabout way to access the web through your TV. A native Safari browser would streamline matters. If Apple were to introduce a Siri-equipped version with voice navigation, so much the better.
8. The next Apple TV could double as a wireless router.
9to5mac's report suggests the next Apple TV might include an integrated 802.11ac wireless router, which would further streamline what is already a fairly simple and elegant product. Apple TV doesn't currently give users access to any local storage, so it's anyone guess whether the next Apple TV might also gain back-up functions found in Apple's AirPort Time Capsule -- but they would be a welcome addition.
9. Apple could launch an actual television.
Apple fans have been tempted by the promise of a full-fledged Apple TV set for so long, some of them won't accept anything less. Walter Isaacson hinted at the possibility in his biography of Steve Jobs, and supply chain reports over the last year have indicated Apple still plans to bring such a device to market. But even though a Siri-enabled, motion-sensing Apple TV set with 4K resolution would surely be drool-inducing, one has to wonder if the company perceives enough upside to actually pull the trigger. Television makers don't usually reap particularly appealing profit margins, and higher-than-average margins are a big reason Apple earns more money than its competitors, despite sometimes posting lesser market shares. If Apple believes it can shake up the TV market with the same ferocity it did smartphones, then perhaps a TV set is in the cards. Otherwise, Apple might simply evolve its current model.
Having a wealth of data is a good thing -- if you can make sense of it. Most companies are challenged with aggregating and analyzing the plethora of data being generated by their security applications and devices. This Dark Reading report, How Existing Security Data Can Help ID Potential Attacks, recommends how to effectively leverage security data in order to make informed decisions and spot areas of vulnerability. (Free registration required.)
We welcome your comments on this topic on our social media channels, or
[contact us directly]
with questions about the site.