HTC One (M8) With Windows Phone 8.1: Hands On
Windows Phone fans finally have flagship variety with HTC's One (M8). But it probably won't tempt Android or iOS users to Windows Phone 8.1.
Many commentators have called HTC's One (M8) one of the best Windows Phone 8.1 options currently available. That may well be true. After using the device for two weeks, I've been impressed by the improved OS and the snappy performance driven by the smartphone's class-leading internals.
But overall, the One (M8) simply isn't that exciting. It's a nice Windows Phone option and nothing more.
When Microsoft and HTC sent me a demo unit, I was eager to try it out. For the last six years, I've used mostly iPhones, but the screen on my current model has an epic spider web of cracked glass growing out of the top right corner. I'm also getting sick of its less-than-stellar battery life. I hadn't been overly impressed with my previous Windows Phone experience, on an HTC 8x, but I knew the 8.1 update would be better, and that the One (M8) hardware had charmed many reviewers.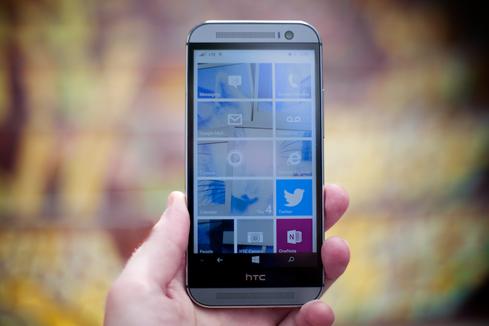 Though I wasn't blown away, there's much to like about the device. Previously, if you wanted a flagship Windows Phone, you were basically stuck with bright-colored, plastic-encased Nokia models. Many of them are fine phones, but compared to the cornucopia of styles available to Android users, the Windows Phone catalogue has lacked variety, especially at the premium end. With a sophisticated, brushed aluminum frame, a powerful Qulacomm processor, and a five-inch, full HD display, the One (M8) gives Windows Phone fans a much-needed hardware alternative.
[Look back at iPhone's path to popularity. See Apple iPhone: 12 Pivotal Moments.]
The screen boasts rich, vibrant colors and excellent viewing angles. Images and text are clear and sharp, thanks to its 441-ppi resolution, which is even more pixel-dense than the iPhone's Retina display. The device's BoomSound stereo speakers offer a satisfyingly rich sound compared to many other smartphone speakers. The One (M8) also easily makes it through the day on a single battery charge.
Though the One (M8) was originally released as an Android handset, HTC and Microsoft have gracefully switched the device to Windows Phone 8.1. It lacks the physical home and arrow keys found on most Windows Phone handsets, but thanks to 8.1's support for soft keys, the OS's distinct navigation remains intact. Compared to the original version, Windows Phone 8.1 is livelier and exudes more personality. Small additions, such as the ability to set a background image, make the OS significantly more customizable. Organization is better due to support for folders. Everything runs without a hitch thanks to the 2.3-GHz Snapdragon 801 processor and 2 GB of RAM inside. The swipe keyboard, which lets you swipe through words instead of tapping out each letter, is surprisingly accurate, though not perfect. The phone synced with my other Microsoft accounts almost automatically -- quite satisfying, since I use Office 365.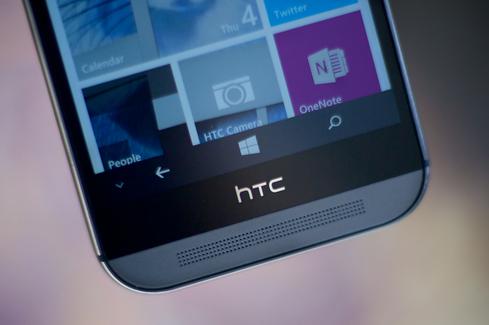 Cortana, Windows Phone 8.1's virtual assistant, is useful and fun; whether the feature is better than the iPhone's Siri depends from task to task, but Microsoft's version has already noticeably improved since its introduction last April, with better responses to spoken queries, and a growing list of sassy personality traits. Microsoft also does a good job balancing Cortana's geolocation services and privacy. Even if such services are enabled, Cortana still makes sure you understand what and how it learns. For example, when it inferred where I live and asked for confirmation, Cortana explained that my phone was often in that location in the evenings.
The device works with HTC's Dot View cases, which allow you to wake the device, check notifications, and invoke Cortana without opening the cover. Also, HTC translated some of its Android devices' unique software features over to Windows. BlinkFeed, the company's social media and news aggregator, is offered as a Live Tile, for instance. The new One (M8) includes the earlier version's Duo Camera, which allows you to create a 3D parallax effect from a still image.
But in many ways, the phone is a mixed bag. While nice, the screen is
a bit oversaturated, and its color calibration is noticeably biased toward reds, sometimes distractingly so. The hardware never felt as comfortable in my hand as an iPhone. The One (M8) has a much bigger screen, so some of this discrepancy surely relates to size. I have medium-sized hands, and found I could just barely operate the One (M8) one-handed. But in other ways, the device just doesn't feel organic in my hand; something about the shape and finish makes me feel like I'm going to drop it. I also wish the power and volume rocker buttons protruded a bit more.
With a Dot View cover on, the device is easier to grip -- but I found the cover itself somewhat frustrating. The first time I attached the accessory, it wigged out, displaying a bunch of gibberish. I haven't been able to replicate that problem, but other aggravations persist. When I swipe down to summon Cortana, for example, the gesture works only some of the time. Others seem to be more satisfied with the Dot View, but after a few days, I started using the One (M8) without it.
HTC's proprietary technology can be fun, but most of it either duplicates something already found in Microsoft's OS, or amounts to little more than a novelty. The rear camera's parallax effect is fun but limited, and though the camera offers a range of manual controls and a variety of filters, its miserly 4-MP resolution produces low-contrast, low-detail shots. The camera also has a 5-MP front-facing camera, which might compensate for the unimpressive rear unit, if you do a lot of Skype or like selfies -- but compared to 16-MP and 41-MP sensors in Nokia Windows Phones, the HTC's photographic tools don't match up. BlinkFeed, meanwhile, does a lot of the same things Cortana does. Moreover, thanks to Cortana's machine-learning capabilities, the virtual assistant does many of these things, such as gathering news that suits your preferences, better.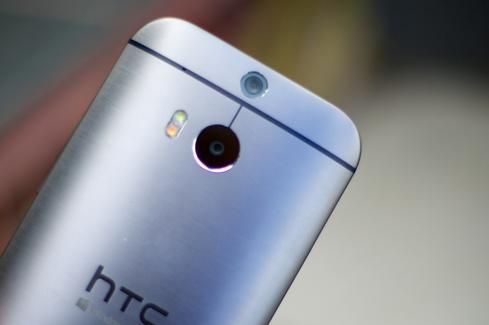 And then there's the ongoing bane of Windows Phone's existence -- apps. Windows Phone 8.1 has access to more than 300,000 titles, less than one-third the total in iOS and Android's respective catalogues. Many major apps have finally made it to Windows Phone, but they're often not as fully featured as those on other platforms. Instagram for Windows Phone lacks the iOS version's ability to shoot video and edit photos, for example. Many apps that are free on iOS and Android also cost a few dollars on Windows Phone.
Ultimately, the One (M8) is a reasonable option for Windows Phone fans. According to a recent survey, Windows Phone users are less likely than Android or BlackBerry users to switch to the upcoming iPhone 6 -- so it's positive for such a loyal group to have more options, and good for the smartphone market to see more flagship competition. But will the One (M8) tempt any Android or iOS users to join Windows Phone? Time will tell, but as for me, I'm probably still going to buy an iPhone 6.
In its ninth year, Interop New York (Sept. 29 to Oct. 3) is the premier event for the Northeast IT market. Strongly represented vertical industries include financial services, government, and education. Join more than 5,000 attendees to learn about IT leadership, cloud, collaboration, infrastructure, mobility, risk management and security, and SDN, as well as explore 125 exhibitors' offerings. Register with Discount Code MPIWK to save $200 off Total Access & Conference Passes.
Michael Endler joined InformationWeek as an associate editor in 2012. He previously worked in talent representation in the entertainment industry, as a freelance copywriter and photojournalist, and as a teacher. Michael earned a BA in English from Stanford University in 2005 ... View Full Bio
We welcome your comments on this topic on our social media channels, or
[contact us directly]
with questions about the site.