How's Your Enterprise Wearables Strategy?
The Apple Watch release in early 2015 will set the stage for wider enterprise adoption of wearables. Here are some scenarios to prepare for.
Wearable devices are slowly but surely making their way into the enterprise.
Forrester asked 2,045 technology decision makers to rank the importance of having a strategy in place to support wearable devices over the next 12 months. Over half reported that wearables were a priority, with 32% replying that wearables are a "critical" or "high" priority.
[The enterprises is the place for wearables innovation, but challenges loom for CIOs. Read Wearables In The Workplace: 3 Realities]
2015 will be a transition year, with IT leaders facing three different wearables scenarios:
Company-owned wearables. Most wearables will be company-owned devices used to reshape how work gets done. For example, ClickSoftware's ShiftExpert app uses the Samsung Gear smart watch to let employees clock in and out from shifts, automatically entering the data into timesheets -- and also sending reminders if the worker is late. Deploying and supporting a wide array of devices -- from Google Glass to smart watches to smart clothing -- will be a rising challenge for technology managers in 2015.
Employee-owned wearables. Workers will inevitably try to expand their work lives onto new wearable devices, like smart watches. Extending mobile device management (MDM) systems and adjusting policies to accommodate these new bring-your-own (BYO) wearables will be a challenge as well.
Customer-owned wearables. Technology leaders will also be asked to support wearable devices owned by customers. For example, when Apple Pay and Apple Watch are released, supporting NFC payments with point of sale systems and software will be a priority for retail businesses. Designing applications, networks, and supporting infrastructure for customer-owned wearables is a chance for tech managers to contribute directly to the bottom line.
The Apple Watch factor
Even as technology managers turn their attention to wearables, Apple's plans to enter the fray in a big way in early 2015 with the Apple Watch will heighten the sense of urgency and awareness.
Apple has a knack for catching emerging waves of technology growth at the right time. The company looks to do the same with wrist-based wearables. In 2014, 42% of online U.S. adults showed interest in purchasing a wrist-based wearable – up from 28% in 2013, and leading all other body locations (see figure below). FitBit, Jawbone, and Samsung have all helped incite this growing interest, but Apple Watch has the best chance of turning wearables into a mass market category.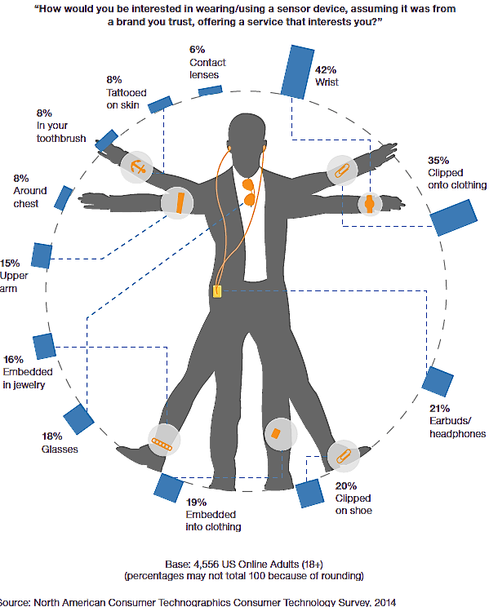 Why is Apple so successful at building new product categories? One reason is its ability to build and extend its ecosystem of partners to create value for customers.
The wearables ecosystem will be built not by tech vendors alone, but by banks, retailers, hotels, hospitals, and brands. The planned Apple Watch app for the W Hotels, for example, will allow customers to check in to the hotel, open their hotel room doors, and pay for goods and services with Apple Pay. Much as Disney has done with its MagicBand wearable, Apple Watch can be
a tool for reengineering customer experiences via partner-designed experiences -- and your company might be one of those partners.
A digital guide to the physical world
The arrival of Apple Watch is not the only key trend to watch in 2015. Wearables will interact with the Internet of Things (IoT) to create new experiences for employees and customers. Smartphones remain an individual's key to unlocking contextual experiences wherever they are. But new physical experiences and behaviors – swiping, gesturing, haptic feedback, and body monitoring, among others – make wearables a potential digital guide to the physical world. A few examples include:
Access. Wrist-based access technologies don't require wearers to pull out a phone. Canadian startup Bionym recently received $14 million in Series A funding for its Nymi authentication band, which analyzes unique heart patterns to identify individual wearers. Nymi can be used to gain entry to rooms and buildings, to get rid of passwords on digital devices, or even to reshape customer interactions. A reference application for Nymi on the Salesforce Wear platform envisions giving the band to VIP high rollers at a casino instead of loyalty cards. Because the wearer is persistently authenticated, the casino can greet her by name, proactively deliver her favorite drink, and gambling chips.
Navigation. Navigating by smartphones has revolutionized travel, but in certain situations hands-free directions are a necessity. Ducere's Lechal smart shoes and Wearable Experiments' NAVIGATE jacket use haptic feedback to offer GPS guidance through subtle signals: The left or right smart shoe will vibrate and the jacket will squeeze your left or right shoulder to indicate turning directions. Apple Watch promises to do the same with signals to the wrist. For employees, haptics allow field workers to navigate completely hands-free, which is crucial in jobs like oil and gas industry engineers who work in places too dangerous to spend time looking at directions.
Payments. Wearables also hold great promise for mobile payments. Disney's MagicBand takes the place of a payment agent at its theme parks. The Lollapalooza music festival now uses wrist-based RFID payment bands. As use of Apple Pay grows, Apple Watch will play a role here as well. For employees (at your company cafeteria) and customers (at your retail outlets), payments will be an important part of your infrastructure to develop and support.
Work with the business to get wearables right
Planning for wearables requires deeper coordination between a company's technology and business leaders. Wearables involve a long tail of devices – worn on the wrist, embedded in clothing, sported as smart glasses – each with its own unique benefits for employees and customers.
For employee scenarios, IT must have a deep understanding of the needs of individual employees, how their work gets done, and how it helps the business – at which point tech managers can choose the right devices. For customers, tech managers will need to keep an eye on how consumers are interacting with wearables – particularly those that facilitate the kind of physical-world experiences that take maximum advantage of wearable devices and apps.
This will all get a lot more interesting when Apple Watch is available early next year.
The Internet of Things demands reliable connectivity, but standards remain up in the air. Here's how to kick your IoT strategy into high gear. Get the new IoT Goes Mobile issue of InformationWeek Tech Digest today. (Free registration required.)
J.P. Gownder is a Vice President and Principal Analyst at Forrester, serving infrastructure and operations professionals. He collaborates with other analysts to create the I&O workforce enablement playbook, which helps companies serve a more mobile workforce. View Full Bio
We welcome your comments on this topic on our social media channels, or
[contact us directly]
with questions about the site.