Google Shoots For Wearables Dominance With SDK
Google thinks Android can do for wearables what it has already done for smartphones.
Google thinks it can corner the market for wearable computing devices with the help of a new SDK it plans to offer to developers within the next two weeks. The SDK will be based on Google's Android platform, so it should include tools familiar to app writers who've already targeted Android smartphones and tablets. Google has a chance to maintain its early lead in a space that has immeasurable room for growth.
News of the SDK came from the South by Southwest (SXSW) conference, which takes place in Austin, Texas, each year. Sundar Pichai, who heads Google's Android and Chrome platforms, told an audience at SXSW Sunday that the SDK be released soon, along with Google's "vision" of what wearables should be.
Google first entered the wearables market with Google Glass -- connected eyewear that can take pictures and record video. Google Glass still costs an unfriendly $1,500, and Google is still being picky about who can purchase one. A less-expensive version of Google Glass is expected to hit the market late this year or early next year. Other companies, including Samsung, are working on their own connected glasses.
[A cool-looking wearable isn't enough to drive the market. See Software Is Key For Wearables In The Enterprise.]
Google is also widely expected to launch its own smartwatch by June. Very little is known about the smartwatch other than it will run Android and will be made by LG, which has manufactured the last two Nexus smartphones for Google. Android is already the world's dominant smartphone platform. If Google can convince developers to stick with Android for wearable devices, it could lead to an ecosystem that offers seamless integration for consumers and their myriad bits and pieces of hardware.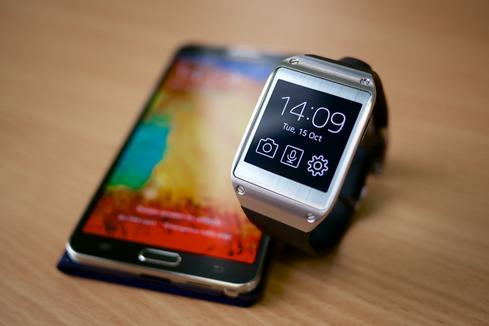 Android has taken an unlikely lead in the smartwatch space, but it's unclear how long that lead will last. Samsung used Google's Android platform in the Galaxy Gear smartwatch, which was the best-selling smartwatch of 2013. But Samsung dropped Android in favor of Tizen (its own operating system) for the second-generation Gear smartwatch.
If the Gear 2 sells in better numbers than the original Gear, then Tizen could replace Android as the world's leading smartwatch platform. The Gear 2 is a more-attractive, less-expensive device than the Galaxy Gear, and offers a better mix of features, so this is a very real possibility. Let's not forget competitors, such as Pebble, Sony, Huawei, Lenovo, and others, that are making their own smartwatches.
But connected glasses and smartwatches are hardly the only devices in the wearables space -- and that's exactly the reasoning behind Google's plan to release an SDK. It hopes developers will take the SDK and run with it, using what they already know to create new and interesting product categories. For example, Pichai, spitballing a little bit, said that Google's wearable SDK could be used to create a "smart jacket" rife with sensors. In other words, the sky's the limit here, and Google wants developers to reach for the stars.
The SDK should be available for download before the end of the month, which gives developers nearly three months to play with it and offer Google feedback before Google's annual I/O developer conference.
InformationWeek is conducting a survey to determine the types of measures and policies IT is taking to ensure the security of the full range of mobile assets on cellular, WiFi, and other wireless technologies.Take part in the InformationWeek 2014 Mobile Security Survey and be eligible to win a great prize. Survey ends March 14.
Eric is a freelance writer for InformationWeek specializing in mobile technologies. View Full Bio
We welcome your comments on this topic on our social media channels, or
[contact us directly]
with questions about the site.