Vegas Geeks: What Happens Here, Stays Here
The best places for geeks to go in the surprisingly geeky city of Las Vegas.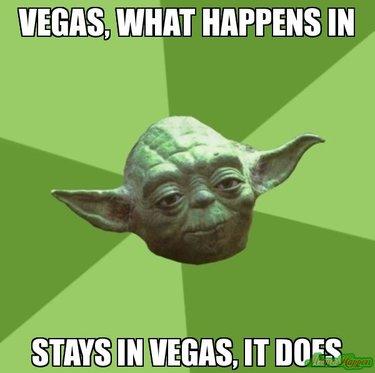 Everyone knows about Las Vegas' status as the IT conference capital of the world -- or at least the Western US. In fact, I'll be there, along with many of my colleagues, for the Interop conference, which starts April 27 and runs through May 1. If you are there, too, you might be looking for something to help get your geek on while weaving your way through yet another casino or conference center.
We know just because you leave home doesn't mean you leave your inner geek behind.
IT, like geekery, is a lifestyle. The best part about going somewhere else is to see how geeks do it there. And believe it or not, beyond the glitz, geeks do it here a lot.
In fact, before we go on, it seems only fair we remember perhaps the geekiest place on Earth, the now defunct Quark's Bar at the Las Vegas Hilton. The Star Trek-themed bar and virtual experience left many a geek drooling, and left this geek nearly speechless as he stood on the bridge on the Enterprise. Let's raise a glass of Romulan Ale to its memory.
That little bar may have triggered something pretty cool in Vegas. It is has always been a place of big dreams. Whole castles, pyramids, and Roman cities have been built there. If you want to be a geek there, you can pick your flavor. That's why there are so many great little geek enclaves in Vegas.
In this list, I tried to stay away from the usual suspects like Hoover Dam or the Neon Light Museum. It isn't that those things aren't cool. I just figure you know of them. The graveyard was on CSI and I think even an episode of Dr. Who. It isn't that they aren't cool, though. There's a good list of those on our sister site, Network Computing.
What I tried to do was find the off the beaten path, made by geeks for geeks, type of experiences. Check out the list. Tell us which ones you'll be checking out on your next trip to Vegas, and let us know how you get your Vegas on.
David has been writing on business and technology for over 10 years and was most recently Managing Editor at Enterpriseefficiency.com. Before that he was an Assistant Editor at MIT Sloan Management Review, where he covered a wide range of business topics including IT, ... View Full Bio
We welcome your comments on this topic on our social media channels, or
[contact us directly]
with questions about the site.