Tesla Details 'Bioweapon Defense Mode' For Air Filter
In a blog post, Tesla engineers detail how the company's high-tech vehicles are using a filtration system robust enough to scrub the dangerous toxins from the interior atmosphere.
Tesla Motors is known for designing cars with futuristic styling cues, impressive performance specs, and, of course, Ludicrous mode, but lesser known is the company's dedication to air filtration systems.
The company is looking to change all that starting with a May 2 blog post that details its high-efficiency particulate arrestance (HEPA) filtration system, which is designed to strip the outside air of pollen, bacteria, and pollution before any of those enter the cabin. It also systematically scrubs the air inside the cabin to eliminate any trace of these particles.
Tesla has previously put the air filtration to the test in real-world environments ranging from rush-hour California freeways, to smelly marshes, landfills, and cow pastures in the state's central valley, to major cities in China.
Now the company is taking the testing process a step further by putting a Model X in an environment where Tesla could precisely control and carefully monitor atmospheric conditions.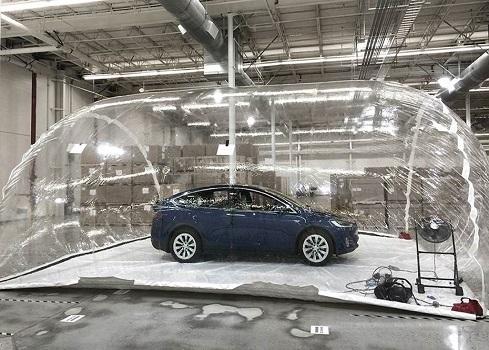 Not only was the Model X's HEPA system able to scrub the car clean in under two minutes -- allowing Tesla engineers to remove their gas masks while being surrounded by a polluted outdoor environment -- the system actually began to vacuum the air outside the car as well, reducing PM2.5 levels by 40%.
[Read more about the Tesla Model 3.]
Inside the car, the HEPA filtration system was so effective that it reduced the level of pollution to such a level that it was rendered undetectable by Tesla's instruments.
"In other words, Bioweapon Defense Mode is not a marketing statement, it is real. You can literally survive a military grade bio attack by sitting in your car," according to the blog post. "Moreover, it will also clean the air outside your car, making things better for those around you."
The blog post also noted Tesla plans to continue improvements in the micro-geometry and chemical passivation defenses in the primary and secondary filters, which are also replaceable.
There was no mention of whether the company's recently announced Model 3 would come with the technology, but the filtration system is available for the Model S and Model X.
Thanks to a recent tweet by company CEO Elon Musk, however, Tesla fans have found out the Model 3 will come with the optional Ludicrous mode, an upgrade that allows for superfast acceleration.
The acceleration option is already available for the Model X and Model S.
Tesla claims Ludicrous mode for the Model S decreases 0-60 mph time by 10%, to 2.8 seconds, and says the time to 155 mph is now 20% faster than the performance of a standard Model S.
With a five-star safety rating, Tesla boasts the Model 3 will also be the safest car in its class. It features supercharging for long distance travel; it can seat up to five adults; and it boasts Autopilot safety features.
Nathan Eddy is a freelance writer for InformationWeek. He has written for Popular Mechanics, Sales & Marketing Management Magazine, FierceMarkets, and CRN, among others. In 2012 he made his first documentary film, The Absent Column. He currently lives in Berlin. View Full Bio
We welcome your comments on this topic on our social media channels, or
[contact us directly]
with questions about the site.