New York Auto Show: Cool Cars With Hot Tech
The 2015 New York Auto Show was a hotspot for new cars and in-car technology from Cadillac, Lexus, Nissan, Chevrolet, and others.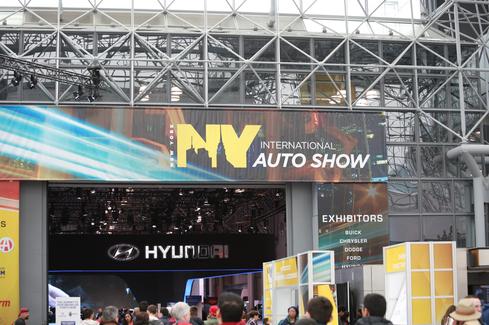 For car lovers, auto industry execs, car tech enthusiasts, and wealthy people who like to keep their garages full, it's the most wonderful time of the year. The New York International Auto Show (NYIAS) is open to the public from April 3 through April 12 at NYC's Jacob Javits Convention Center.
Over these two weeks more than one million people will swarm Javits to catch a glimpse of 60 new automobile models on display, all boasting upgrades that range from subtle to flashy. Manhattan's show is a hotspot for industry giants to show off their most important, luxurious, and expensive cars.
"New York is a fantastic consumer show and a ton of the media is already here," said Scott Keogh, head of Audi's US sales, to Newsday. "I see New York getting stronger and stronger, and it seems to be taking on a new position in the luxury corner of the market."
Luxury brands certainly had a presence on the show floor. Brands such as Rolls Royce, Maserati, and Porsche all had glossy new vehicles to spotlight. That said, the Lamborghinis of the auto world were sharing the floor with mainstream brands like Nissan, Chevrolet, and Toyota.
Of course, the cars showcased at NYIAS are more than just pretty designs. We took a look inside to get a glimpse at the new technologies being integrated in future models. The new Cadillac CT6, for example, contains an upgraded touchscreen that users can control via touchpad on the console located next to them, a design feature intended to minimize distracted driving.
It seems that in-car touchscreens are here for the long haul. The global growth of smartphones, tablets, and other devices, combined with advancements in touch technology, is spurring increased demand for in-vehicle touchscreen displays. Users want to be able to control navigation, temperature, energy efficiency, and entertainment through touchscreens, according to research from IHS, Inc.
Safety technology was another key trend at this year's show, but on a more subtle level.
It seems like capabilities such as night vision, automatic braking, and pedestrian-collision warning systems are no longer breakthrough advancements, but features that are almost expected to be included in modern cars. Some makers have set their sights on a younger target audience, making technology specifically designed to keep teen drivers safe.
InformationWeek took a field trip to Javits this week to check out NYIAS 2015 in person. If you're local to Manhattan or happen to be in town, I highly recommend it. If not, we put together a photo guide of the coolest cars at this year's show. Read on and take a look at what's hitting the highways throughout next year and beyond.
Kelly Sheridan is the Staff Editor at Dark Reading, where she focuses on cybersecurity news and analysis. She is a business technology journalist who previously reported for InformationWeek, where she covered Microsoft, and Insurance & Technology, where she covered financial ... View Full Bio
We welcome your comments on this topic on our social media channels, or
[contact us directly]
with questions about the site.