Holiday Gift Guide 2015: What Techies Want
Need to show your appreciation for the techies in your life? Back away from the knockoff Bluetooth speakers and consider these can't-miss gift ideas.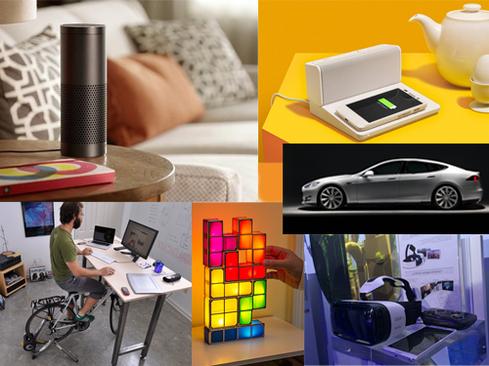 Shopping for a techie can be nerve-wracking. Who hasn't gotten "the look" and later found that digital picture frame dumped in the junk drawer?
Never again.
I asked some of InformationWeek Reports' top technologist contributors what's on their holiday wish lists. A few themes emerged: You can't go wrong with best of breed. Cool doesn't have to be expensive -- but no one will turn down a Tesla. And definitely consider the techie's spouse when deciding whether this fabulous iron throne toilet decal is acceptable.
"I would like the Kindle Fire Stick, Apple TV, and a Chromecast, plus coffee, lots of coffee, to help me figure out how to put them all together so I can screencast from multiple device types in all of my organization's conference rooms," says Jonathan Feldman, CIO of the City of Asheville, NC. "Alas, this capability doesn't exist, and the only thing I'd get would be caffeine jitters, packaging all over my conference room floor, and a well-deserved rep for OCD. Santa, won't you go give Apple and Google a lump of coal for not playing well with others and requiring an iDevice or an Android or a specific app to stream to a screen-casting device? And don't get me started about Miracast and Intel's WiDi, which requires an Intel graphics card. More lumps of coal for all!"
On my list for Jonathan: A Matchstick once the Kickstarter is done. Plus coffee.
Melanie Seekins, mobile systems architect with Altria, has her eye on the Moto 360, the Samsung Gear S, and the Halo Master Chief Edition. "And what's better than a drone?" says Seekins. "One that transforms into a bracelet." Sadly, the Nixie is still in development. Maybe next year. "For the parent of a high-tech kid, bring on Anki Drive," she says. "You can use your smartphone to drive and battle the vehicles."
I can think of a few high-tech big kids who would have fun with the Anki.
If a drone is on your radar, make sure it's hackable. Contributor Kurt Marko has classified plans (that he assures me don't involve covert surveillance) for the Iris+ model with a gimbal camera mount and GoPro Hero 3. "I'll first learn to program the thing to fly autonomously on pre-mapped routes and then figure out how to hang sensors, besides a camera, to record data," says Marko. "I wouldn't need real-time feedback, although that could be achieved with an LTE dongle." Let's hope pending FCC rules don't put a crimp in his plan.
Don't feel you need to spend big bucks. Thoughtful but inexpensive options include the $34.99 Coffee Cup Power Inverter, a power source cleverly disguised as a reusable mug that coverts a car's DC power into two 120-volt AC outlets, and stylish Elven ear clips for a mere $14.99.
OK, I added that last item.
Whatever you do, don't buy one of these eight "tech turkeys." In particular, a cheap tablet might be a gift that keeps on giving, and not in a good way. Bluebox purchased and analyzed 13 inexpensive Android tabs, stacking them up against the $399 HTC Nexus. Testers found that most of the low-end devices shipped with vulnerabilities and security misconfigurations. Four had backdoors. Only Samsung's Galaxy Tab 3 Lite ($99) got a clean bill.
Finally, you can always go retro. "Give them an actual book, it will throw everyone off," says Mike Healey, CEO of Yeoman Technologies. Healey suggests "Race Against the Machine: How the Digital Revolution is Accelerating Innovation, Driving Productivity, and Irreversibly Transforming Employment and the Economy," or "Rebels Against The Future: The Luddites And Their War On The Industrial Revolution: Lessons For The Computer Age."
Read on for other wish list items from our contributors, from least expensive to, well, slightly outrageous. There's something for everyone.
Lorna Garey is content director of InformationWeek digital media. View Full Bio
We welcome your comments on this topic on our social media channels, or
[contact us directly]
with questions about the site.