8 Doomsday Predictions From Yesterday And Today
We've long been frightened of the potential for technology to go wrong, and that doesn't seem likely to change.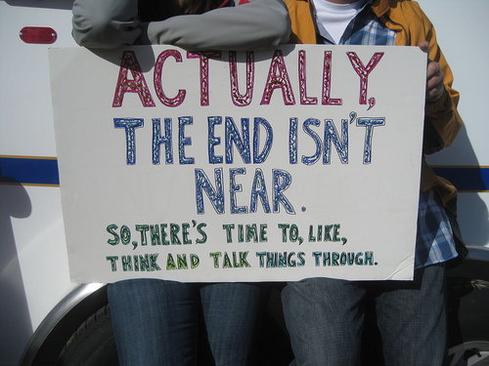 Doomsday predictions are lots of fun... unless they come true. One of the most recent has been about an Ebola epidemic in the US. While some people staunchly said Ebola was no threat to the US, it was a major campaign issue in the midterm elections and remains a concern for many people. Many were convinced that Ebola would be a seious challenge to our healthcare system and our safety. Just a few weeks later, America has been declared Ebola-free.
No doubt new cases will crop up. And sadly, the epidemic will continue in places with less developed healthcare systems. But because of hard work by medical professionals and the difficulty of actually passing Ebola, the October Ebola outbreaks did not become widespread.
The history of mankind's relationship with technology is chock full of bad predictions. Steve Ballmer famously predicted the iPhone would be a failure. Lots of people said humans would never fly. There was once something called a sound barrier for a reason. It is easy to predict the demise of a technology.
But what about the entire world? History has some famous moments where someone predicted that a failure in technology, or a technology itself, would destroy life on the planet as we know it. It takes some serious guts to make a prediction like that, especially since by definition every one of those predictions is still wrong.
In case you missed it, we're all still here. Yet, that doesn't keep people from making predictions. And we still hear frequent prognostications that technology will destroy life on Earth.
Will it? Maybe. You have to figure that, if we keep guessing, one of these times someone will be right. On the other hand, history tells us that we can deal with all that stuff that we believe is so dangerous -- either because the technology isn't as scary as we thought or we work hard to get around the threat when we discover it.
So, before we look at the three current biggest technological threats to our human existence, let's have a look at the past to see what was supposed to get us. Click the arrow below to start the slide show, and then tell us in the comments which technologies keep you up at night.
(Source: futureatlas.com)
David has been writing on business and technology for over 10 years and was most recently Managing Editor at Enterpriseefficiency.com. Before that he was an Assistant Editor at MIT Sloan Management Review, where he covered a wide range of business topics including IT, ... View Full Bio
We welcome your comments on this topic on our social media channels, or
[contact us directly]
with questions about the site.