7 Gift Ideas For Larry Ellison's 70th Birthday
Larry Ellison recently turned 70, and you've no doubt been scratching your head over what to get for the man who could buy anything -- along with the country it came from. Here are a few suggestions.
Oracle co-founder and CEO Larry Ellison turned 70 recently, a milestone that must be marked with a gift. But what do you buy a man who is listed by Forbes as the third-wealthiest man in America and the fifth-wealthiest person in the world, with a net worth reported at $48 billion?
Ellison owes the bulk of his wealth to his years leading the company he co-founded as Software Development Laboratories in 1977. After a brief stint as Relational Software, the company was renamed Oracle in 1982. It went public in 1986, when its annual revenue was $55 million. That figure is well below Ellison's annual compensation these days, but then, Oracle has turned into a $37-billion-annual-revenue behemoth.
Ellison's total haul was nearly $153 million in 2013, making him one of the highest-paid execs in the US, but it also sparked a bit of a backlash. For two years in a row, Oracle shareholders have opposed the company's executive compensation plans, so the company's compensation committee has responded by cutting Ellison's salary to $1, reducing his cash bonus, and this year more than halving the real annual prize by cutting stock option grants from 7 million in 2013 to 3 million for 2014.
[From superhero-themed city tours to Dr. Who's watering hole, here are some of Gotham's top geek hotspots: Geek's Guide To NYC Travel: Interop Preview.]
Don't cry for Ellison. He already owns it all, including fancy mansions in Malibu, Woodside, and Rancho Mirage, Calif.; an estate in Newport, R.I.; and fleets of fast cars, private jets, and fancy yachts. To top it all off, Ellison bought Hawaii's sixth-largest island, Lanai, in 2012, reportedly paying between $500 million and $600 million.
Even at age 70, Ellison shows no sights of slowing down, and there's no talk of retirement. His interests extend beyond Oracle, with hobbies famously including America's Cup yacht racing and flying (he owns a decommissioned Russian Mig-29). He owns a majority share of NetSuite and has stakes in Salesforce.com, Quark Biotechnology, and Astex Pharmaceuticals.
In 2010, Ellison joined Warren Buffet's Giving Pledge, a campaign to get billionaires to donate the majority of their wealth to charitable causes. More recently, Ellison, who has been married and divorced four times, helped his girlfriend, the animal activist and philanthropist Nikita Kahn, raise more than $600,000 for the California Wildlife Center. He previously funded the Ellison Medical Foundation, which supports biomedical research on aging and age-related diseases and disabilities.
Alas, we can't grant Ellison immortality or give him monopoly control over the database and enterprise applications markets, so what birthday gift could we possibly bestow? Here are seven ideas we thought he might like.
Hasso Plattner bobblehead doll
Ellison and Hasso Plattner, chairman of SAP, were on friendlier terms way back when, but that was before Oracle introduced financial applications in the late 1980s that became the Oracle E-Business Suite. Relations went from bad to worse in 2005, when Oracle acquired the ERP vendor PeopleSoft and, with it, JD Edwards. SAP customers still use Oracle's database more than any other, but SAP has been trying to take a bite out Ellison's business with its Hana in-memory platform and Sybase ASE.
We think Ellison would enjoy seeing Hasso's head bobbing up and down on the dash of his Audi R8 or swaying in the breeze on his 288-foot ship Masashi, as if saying, "Yes, Larry, we know we'll never beat you."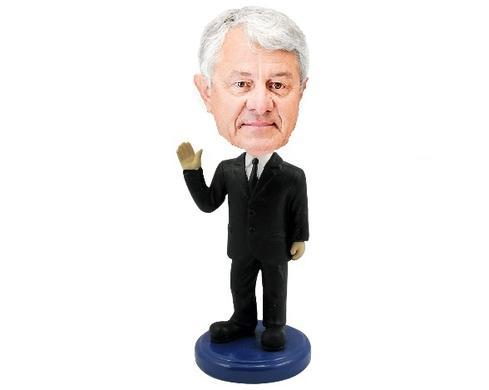 The shrunken head of Bernie Schmelvin
Bernie Schmelvin, a lawyer with the firm of Dewey, Missim & Howe, drew up Marc Benioff's Oracle noncompete agreement back in 1998, before Benioff left to launch Salesforce.com. I guess you can't blame Bernie for not foreseeing the possibilities for cloud computing back then. But Bernie also wrote a Swiss-cheese noncompete clause for John Wookey, who joined SAP a few years ago before moving on to Salesforce.com. You had it coming, Bernie. Rest assured, we took extra care to preserve your toupee.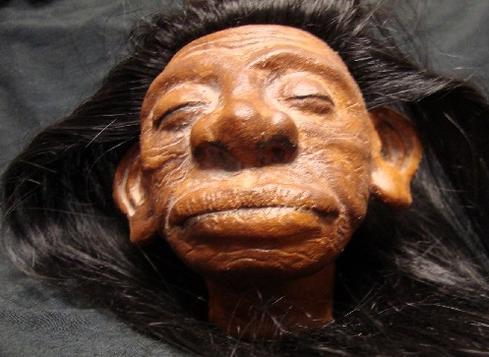 Sumner Redstone superhero poster
Succession planning is for sissies. Ellison intends to follow in the footsteps of his corporate hero, Sumner Redstone, who at age 91 is still chairman of the theater chain National Amusements. Redstone also happens to have majority control over CBS Corporation, Viacom, and
tiny holdings including MTV Networks, BET, and the film studio Paramount Pictures. Sumner may be worth only a paltry $6.2 billion, but Ellison admires his stick-to-it ways as a corporate leader. If he follows Redstone's example, Ellison will still be chairman of Oracle in 2035. Yikes!
Oracle licensing Magic 8 ball
Ellison still meets with big customers from time to time, so what better way to break the tension of final negotiations that to whip out the Magic 8 Ball, Software Licensing Edition? Hilarious responses include "Time for an audit," "Oops, that feature's optional," and "How much can you afford to pay?" Maybe we'll even throw in a few copies of the madcap Madlibs, License Contract Edition.
Oracle presidents Russian dolls
Some of Oracle's long-ago corporate history may be starting to get a little hazy, so here's a simple way for Ellison to remember that he was CEO and president of the company until it reported its first loss in 1990. He's the big doll on the outside; they get successively smaller from here. Oracle hired Ray Lane as COO and president to bring some corporate control to the fast-growing company, but he left in 2000 after growing tired of playing second fiddle. In 2003, Ellison hired Morgan Stanley veteran Charles Phillips as co-president to lead the company's increasingly aggressive acquisition strategy. Tabloids were busy in 2010 as both Phillips and Mark Hurd then CEO of HP, resigned from their posts. Ellison quickly snapped up his frequent tennis partner, Hurd, to be Oracle's next co-president. Safra Catz has soldiered on as CFO and the other co-president since 2004.
Personal star
We know this "personal star for the man who has everything" gift idea isn't terribly original, but we think Ellison would approve of using the Staracle.com star naming service. Inspired by Oracle's marketing department, we thought of the name "The Oracle Larry Ellison Commemorative Birthday Star," but then we came up with something even more obvious: Exa Centauri! Hey, why kick a winner?
Disco-era cameo footage
As Ellison fans well know, he had a cameo appearance in Iron Man 2. Robert Downey Jr. even took notes from him on how to play a megalomaniacal technology executive. What fans probably don't know is that Iron Man 2 wasn't Ellison's first star turn: He was actually the dance scene stunt double for John Travolta in the 1977 film Saturday Night Fever. Unfortunately, the beard made it too difficult for special effects artists to impose Travolta's baby face on to Ellison's cavorting body, so he was let go. Later that year, Ellison co-founded the company that would later become Oracle, and the rest is history. But we managed to resurrect the forgotten footage from the archives of Paramount Pictures.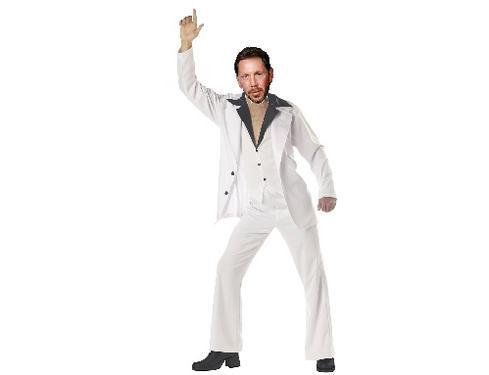 We hope Ellison will like these belated birthday gifts, but if you've come up with something even better, by all means add your ideas in the comments area below.
In its ninth year, Interop New York (Sept. 29 to Oct. 3) is the premier event for the Northeast IT market. Strongly represented vertical industries include financial services, government, and education. Join more than 5,000 attendees to learn about IT leadership, cloud, collaboration, infrastructure, mobility, risk management and security, and SDN, as well as explore 125 exhibitors' offerings. Register with Discount Code MPIWK to save $200 off Total Access & Conference Passes.
Doug Henschen is Executive Editor of InformationWeek, where he covers the intersection of enterprise applications with information management, business intelligence, big data and analytics. He previously served as editor in chief of Intelligent Enterprise, editor in chief of ... View Full Bio
We welcome your comments on this topic on our social media channels, or
[contact us directly]
with questions about the site.