10 Geekiest Beach Reads Of 2015
Fiction, non-fiction, youth fiction, and even self-help. Here are 10 new books every geek should bring to the beach this summer.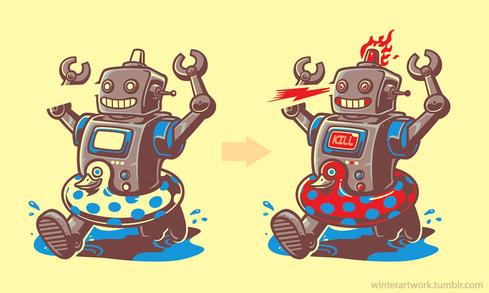 Happy summer to Geeks everywhere (well, at least in the Northern Hemisphere). 'Tis the season to grab a book and a deck chair and get a little sun on our bodies after being trapped in data centers and office cubes all year. Beach reading, even if it happens in your backyard with your toes in a kiddie pool, calls for lighter fare. But we Geeks aren't content to totally slack off. We still need our fill of robots, drones, and other worlds to keep us going.
Our beach reading list for Geeks aims to fit the spirit of the summer and still maintain Geek sensibilities. You don't find too many beach books about robots having a summer fling, though those of you looking for something provocative can turn to the 2007 hit Love and Sex with Robots: The Evolution of Human-Robot Relationships. Likewise, murder mysteries where the Butler did it with a smartphone are rare, though there is a great mystery set around Charles Babbage's Difference Engine.
This list offers sci-fi, narrative non-fiction, and a sprinkling of young adult books for sharing with the kids in your life. There's even one self-help book for those looking to kick-start the summer with a new attitude or maybe a new career. Every book on the list is new this year to either hardcover or paperback. And of course, nearly all of them have e-versions.
Here's one admission I'll make: The list is painfully short of female authors. I picked the titles based on topic alone, and didn't pay any attention to the mix of authors until the end (definitely an error on my part). I find I woefully failed in that department, and I feel that it means in part that our publishing industry has failed woefully as well. Rather than go back and change my list, I thought it might be more effective to admit the problem and ask you to help me fix it. You're welcome to tell me about your favorite authors, regardless of gender, but I especially want to hear who your favorite female writers are.
Please check out the list of what I'll be reading this summer. Add to the list for me. Tell me in the comments section below what you can't wait to kick back and read. And have a safe, relaxing, and informative time at the beach.
David has been writing on business and technology for over 10 years and was most recently Managing Editor at Enterpriseefficiency.com. Before that he was an Assistant Editor at MIT Sloan Management Review, where he covered a wide range of business topics including IT, ... View Full Bio
We welcome your comments on this topic on our social media channels, or
[contact us directly]
with questions about the site.