MTM's Kleyman: Embrace the Coming Internet of Things
Interop speaker Bill Kleyman sees security as one component of the Internet of Things, which all companies are going to have to embrace.
At Interop May 17, MTM Technologies CTO Bill Kleyman plans to break the Internet of Things down into six high level components. That will allow members of his audience to think about implementing their own IoT, an exercise that he believes all his listeners will soon need to undertake.
In his opinion, "the future is a fascinating, connected place," Kleyman said in an interview. Every company moving into the digital economy will implement an Internet of Things and transform its workers and the workplace using its own IoT ecosystem, Kleyman said in an interview.
Kleyman is scheduled to speak at Interop ITX in Las Vegas on Wednesday, May 17, from 2:10 to 3:10 p.m. on How IoT Impacts Your Cloud Security Strategy. "The whole concept here is that you can't escape the Internet of Things. This topic is not 5-10 years out. It's here today," he said.
No matter what type of company you are, your customers are going to be using mobile devices and connecting their devices to your devices to obtain more services. Long isolated analogue devices are going to be instrumented with sensors that allow their hosts to "breathe the digital air" and join the digital economy. To have no strategy on how your company plans to incorporate these devices into the business will be a severe drawback, he warned.
Want to see how security can be implemented on the IoT? See Kill Chain and the Internet of Things.
The Internet of Things for some people is a GE jet engine generating data in flight as it operates on an airliner somewhere. But it will also be part of banks and financial services as they do transactions or execute trades based on messages from phones, tablets and possibly a host of other devices.
Sensors on ATMS will tell banks who's using them at what time of day, as well as video-cams that capture who's walking through the door into the building. If matched up to a customer database with pictures, the bank's IoT can tell a teller who the next customer is approaching the counter.
"Every company becomes a technology company. Every company becomes a security company. Every company becomes a digital entity," he expects to tell his audience May 17.
The Internet of Things is composed of compute devices, connectivity, security, analytics of the data collected, an ecosystem and services that can flow out of that ecosystem, he said. Security on the IoT will have to consist of privileges, assigned in a dynamic process that allows them to be changed on the fly.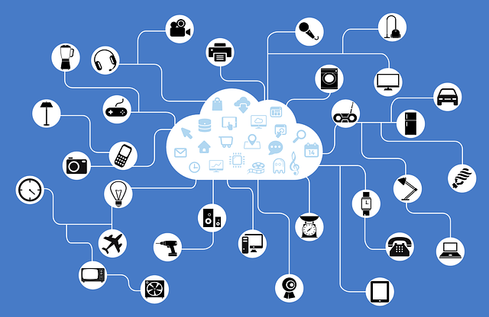 He will also describe the IoT "edge," the place where data is collected and aggregated before being pushed into a more centralized analytics system in the cloud or an enterprise data center. Kleyman said he will spend enough time on blue tooth, Wi-Fi and other protocols to illustrate how devices are likely to be connected but actual implementation details are not the goal of his talk.
"How does a shipping company connect a crane to the network?" he asked rhetorically. By doing so it can better calculate how long it takes to fill a container, load a container onto a ship and project its correct arrival time at its destination.
An interesting startup he'll talk about is Recovery Force. As its contribution to the Internet of Things, it's producing clothing that can apply compression as needed to different sore-muscle parts of the body. The nickel-titanium fibers in the clothing can change shape and retain memory of desired shapes without using bladders, motors or cords. It will offer back massage "performance wear" in the fourth quarter.
And Kleyman will have examples of the IoT being put to work in some unexpected places, such as a traditional IBM data center, where a robot anyone could have pressed into service does work for IBM that was not anticipated by its manufacturer.

Charles Babcock is an editor-at-large for InformationWeek and author of Management Strategies for the Cloud Revolution, a McGraw-Hill book. He is the former editor-in-chief of Digital News, former software editor of Computerworld and former technology editor of Interactive ... View Full Bio
We welcome your comments on this topic on our social media channels, or
[contact us directly]
with questions about the site.