HP Links SDN, OpenStack In New Application
HP has released a new application that integrates OpenStack with its SDN controller. The company also launched a new service offering and switch line.
HP today announced a new SDN application, Virtual Cloud Networking (VCN), that integrates with Helion, HP's own distribution of OpenStack. HP also announced a new switch line, the FlexFabric 7900, and a new service offering to help organizations transition to software-defined networking.
VCN runs on HP's Virtual Application Networks (VAN) SDN controller. The VCN application aims to make it easier for organizations to roll out private and hybrid clouds by simplifying the creation of virtual networks.
HP says VCN is an enhancement to the OpenStack Neutron plug-in, which is the network component of the OpenStack project. Neutron talks to the VCN application to request network services, which the controller then configures.
Network administrators use the VAN controller to create policies that describe network resources available to applications. This allows a Helion administrator to automatically provision individual networks based on those pre-defined resources.
"When an application owner requests a VM to get spun up, he gets that network automatically configured along with compute and storage," said Jacob Rapp, Senior Manager, SDN Marketing, HP Networking. "But the network administrator still has some control over what the physical network looks like."
HP uses OpenFlow 1.3 to configure switches, but the VAN controller and VCN also support the VXLAN and NVGRE protocols to enable the creation of network overlays. Network administrators can thus give Helion the option to request a VLAN on the physical network or an overlay.
HP may be ahead of its enterprise customers with this integratation of SDN and OpenStack. While there's much discussion around OpenStack as a cloud orchestration tool, it has yet to make much of an impact outside of cloud providers and the largest Web companies.
According to a recent InformationWeek survey on datacenter convergence, only 17% of respondents had formal standards around private cloud stacks, including OpenStack and VMware's vCloud.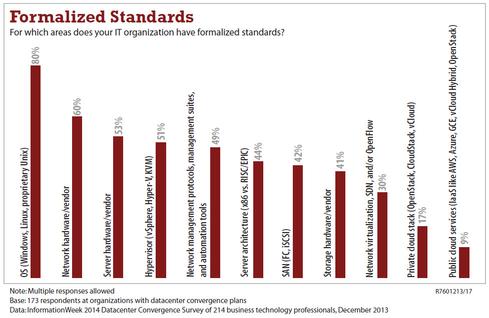 "I don't hear a whole lot about [OpenStack] in the enterprise, outside of the big financials," said Mike Fratto, Principal Analyst at Current Analysis. That's because the orchestration platform still requires either deep pockets or significant amount of internal talent to run.
HP is clearly aware of challenges around OpenStack adoption, which is why the company has also announced the Trusted Network Transformation service. According to an HP press release, the service provides "strategy, assessment, design and deployment, as well as management tools, customized support, training and complete life cycle program management across all transformational elements."
"There's still a lot of hand-holding to deploy OpenStack," said Fratto. "This stuff is complex because applications are complex. There are dependencies in place that need to be anticipated if you're going to deploy it."
"HP is trying to provide the templating," said Fratto. "They can do scoping and scaling, get a good understanding of the types of applications that are being deployed and the dependencies and how it might be modeled in OpenStack, which is pretty important."
HP also announced the FlexFabric 7900 data center switch series, which supports 10/40/100GbE interfaces. HP says the 7900 starts at $55,500.
The VCN application is scheduled to be available in August as part of the HP Helion OpenStack distribution. HP did not provide pricing details. HP also noted that it will release a version of VCN in early 2015 that will integrate with an independent OpenStack distribution.
Drew is formerly editor of Network Computing and currently director of content and community for Interop. View Full Bio
We welcome your comments on this topic on our social media channels, or
[contact us directly]
with questions about the site.