Inside Intel's Museum: 10 Must-See Exhibits
The Intel Museum, located at the chipmaker's corporate headquarters in Santa Clara, Calif., reveals fascinating facts and insights into the company and its technology, including how processors are actually made, the history of these chips, and what the future holds.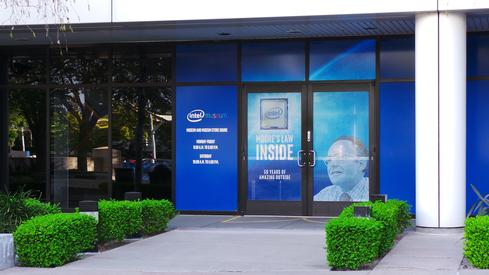 Housed in the first floor lobby of its corporate headquarters in Santa Clara, Calif., the Intel Museum is more than just a gallery celebrating one company's history. It is also a place where the evolution of an entire disruptive industry is chronicled.
Nearly every device today contains microprocessors and other semiconductor chips. Intel was one of the pioneers of this technology in the 1960s. And that technology became the underlying building block of every subsequent computer, mobile phone, tablet, and console game. The chips are also now in many more varied devices today, including refrigerators, cars, HVAC systems, and electricity meters, to name a few.
It all started in Silicon Valley with chip makers such as Intel.
From Intel's beginnings as a startup in the 1960s with just about 100 employees in Mountain View, Calif., to its position today as a multibillion dollar company pushing the technology envelope in multiple disciplines from chip design to big data, this company's history parallels the development of the personal computer industry.
[See Intel Developer Forum: Spiders, Flying Sharks, and Drones.]
At the Intel Museum visitors will see some of the first wearables created, some early versions of Intel's memory chips and processors, and learn about why Intel transitioned from manufacturing memory chips to processor chips instead. Museum-goers will also find out how Intel makes chips, what materials are used, and what the manufacturing process is like. They'll also learn about some of the early products that incorporated Intel chips, from calculators to hobbyist personal computers.
The museum itself was founded by longtime Intel employee Jean Jones, who started working for the company in 1968, retired in 1996, and passed away last year on March 18, 2015.
Until you can make it to the museum during your next trip to Silicon Valley, here's a look at some of the rich history and technology that this museum offers. Take the tour and let us know what you think. Are there other tech museums we should know about? Tell us in the comments.
Jessica Davis is a Senior Editor at InformationWeek. She covers enterprise IT leadership, careers, artificial intelligence, data and analytics, and enterprise software. She has spent a career covering the intersection of business and technology. Follow her on twitter: ... View Full Bio
We welcome your comments on this topic on our social media channels, or
[contact us directly]
with questions about the site.