HP EliteBook Gets Sure View To Block 'Visual Hacking'
Privacy screens on the HP EliteBook 1040 and HP EliteBook 840 will keep shoulder-surfers from spying on your machine.
We've all been there. You're sitting on plane or in a coffee shop working on your laptop and you get the distinct feeling someone is staring at your screen. A quick glance around tells you the person sitting next to you is in fact peeking over at your machine.
What do you do? Turn your laptop? Change seats? Stare down the offending peeper? If you have one of HP's new laptops, all you need to do is press a button to ensure privacy.
HP Thursday announced HP Sure View, a new option for its EliteBook 1040 and EliteBook 840 laptops. Sure View, developed in cooperation with 3M, is an integrated privacy screen that can be turned on and off at will. It negates the need to bring third-party screen guards with you, which can be awkward or cumbersome to use (especially on an airplane).
A quick press of the f2 button transitions the screen to privacy mode, reducing 95% of visible light when viewed at an angle. This makes it difficult or impossible to see information on the screen unless viewed head-on.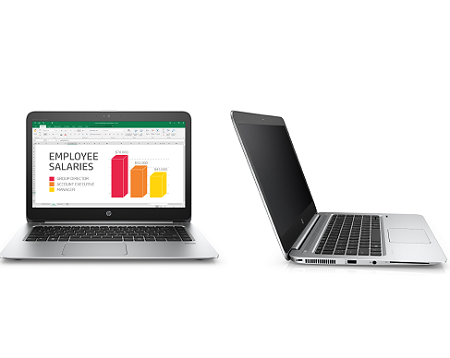 "As the threat of data privacy evolves, more and more organizations are taking the issue of visual hacking seriously," said Makoto Ishii, vice president and general manager of the display materials and systems division of 3M. "HP Sure View helps address the concern of protecting sensitive information through a solution made for open work environments and for the mobile worker."
It might be easy to write off the risks of visual hacking as something that only happens in the movies. Don't.
A recent study showed that 91% of visual hacking attempts are successful. That means that nine times out of ten the hacker walked away with sensitive data. Employee screens represent the greatest risk, with 52% of sensitive information hacks taken visually from employee laptops or tablets.
Visual hacking is quick, too, with about half of the attempts taking less than 15 minutes. The same study shows that employees are often timid about confronting visual hackers.
This particular study was carried out in an office environment. In other words, it represents what's possible when your coworkers spy on one another due to the nature of the modern workplace -- cubicles, open floor plans, etc. About 60% of today's employees take their work out of the office, where the risk is even greater.
[See HP Spectre, Envy Updated: Powerful Processing, Luxurious Touches.]
"While visual hacking is often considered a low-tech threat, the repercussions can be just as detrimental as a high-tech cyber attack," said study author said Dr. Larry Ponemon, founder of Ponemon Institute and chairman of the 3M-sponsored Visual Privacy Advisory Council.
(It's worth pointing out that 3M, the company behind the Sure View technology, paid for this study.)
HP claims building a screen protector directly into its laptops gives mobile employees the option to protect their privacy and security when working in public locations. This is particularly important for companies that must comply with regulatory requirements, such as healthcare and finance.
HP Sure View will be available to full-touch and non-touch versions of the EliteBook 1040 and EliteBook 840 in September. HP didn't say how much the option costs, but the 1040 starts at $1,300.
Eric is a freelance writer for InformationWeek specializing in mobile technologies. View Full Bio
We welcome your comments on this topic on our social media channels, or
[contact us directly]
with questions about the site.