23andme, FDA Walk Toward Reconciliation
Seven months after the FDA told the Google-backed 23andme to stop marketing health results to customers, the government agency agreed to accept the company's first premarket notification report.
The Food and Drug Administration and 23andme took their first step toward reconciliation last week when the government agency agreed to accept the first 510(k) premarket notification health report from the genetic company.
The submission focuses on one rare but serious inherited condition -- Bloom syndrome -- but if 23andme clears this hurdle, it will help the two organizations "establish the parameters for future submissions," Kathy Hibbs, chief legal and regulatory officer at 23andme, wrote in a company blog post.
"More importantly, for our customers, it marks a baseline on the accuracy and validity of the information we report back to them," she wrote. "The submission includes robust validation data covering major components of our product such as the genotyping chip, software, and saliva kit."
[Can big data improve patient compliance? See Analytics Help Patients Follow Doctors' Orders.]
This is only the beginning of what could be a multi-step process, Hibbs wrote.
While we are still in the very early stages of this regulatory review process, we remain committed to transparency and keeping our customers as informed as possible. This by no means is the end of the process even for this one condition. It is likely that 23andMe will hear back from the FDA regarding the material we gave to them, and, we in turn will have to respond to those questions as we move forward. We are pleased to be moving forward with the FDA and committed to our company mission of empowering individuals with their genetic information.
That mission has been bumpy. In November 2013, the FDA ordered 23andme to stop marketing its $99 genetic testing service. At that time, the agency chided the Google-financed company for taking too long to comply with applicable rules. In its letter, the FDA recounted 14 meetings, hundreds of emails, and dozens of written communications between July 2009 and November 2013 as part of its efforts to encourage 23andme to provide it with proof the personal genomics test had been validated analytically or clinically.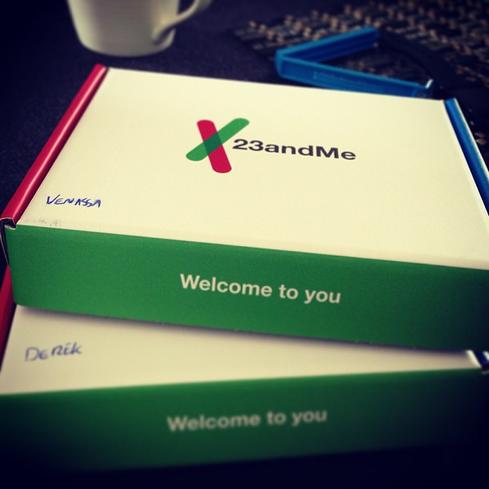 After the FDA letter, 23andme stopped providing US customers with health data. It continued offering services such as its ancestry product -- which tells clients where in the world their DNA originated -- since that does not include FDA-regulated health-related information.
"Having the FDA come and shut that down has had a significant impact on the business," Anne Wojcicki, CEO of 23andme, said after a keynote presentation at South by Southwest Interactive in March, Re/code reported. "The potential for 23andme is really to massively change the way we are approaching our own health in terms of the prevention side and really change the way that we're doing research. I hope in 10 years we can have a society where people are proactively managing their health and getting information that helps them avoid disease."
Clearing the FDA hurdle is vital, since the health-related genetics reports were 23andme's most popular product. By September 2013, the company had 400,000 customer profiles, according to BusinessWeek, versus 180,000 customer profiles a year earlier.
While 23andme has been kept out of the market, competitors have been busy. Hoping to avoid 23andme's regulatory problems and provide a better context for patients' genetic information, BaseHealth works with doctors, not consumers. And the 14-year-old FamilyTreeDNA, which accepts data from 23andme, looks into family, maternal, and paternal genetic origins.
InformationWeek's June Must Reads is a compendium of our best recent coverage of big data. Find out one CIO's take on what's driving big data, key points on platform considerations, why a recent White House report on the topic has earned praise and skepticism, and much more (free registration required).
Alison Diana is an experienced technology, business and broadband editor and reporter. She has covered topics from artificial intelligence and smart homes to satellites and fiber optic cable, diversity and bullying in the workplace to measuring ROI and customer experience. An ... View Full Bio
We welcome your comments on this topic on our social media channels, or
[contact us directly]
with questions about the site.