Athenahealth CEO's Book: 'Where Does It Hurt?'
To fix US healthcare, we must embrace the free market messiness of the Internet economy, argues Athenahealth CEO Jonathan Bush.
Jonathan Bush wants you to get religion about tearing down the temple of American healthcare and rebuilding it.
"This is the bible," the Athenahealth CEO joked in an interview about his book, Where Does It Hurt? An Entrepreneur's Guide to Fixing Health Care (Portfolio Hardcover, 2014), co-authored by business journalist Stephen Baker.
The book, due for release on May 15, distills Bush's keynote stage rants about how much better the system could be if it operated more like the Internet economy. Athenahealth provides doctors with a combination of Internet applications and back-office services to simplify their businesses and clinical practices, and Bush is an evangelist for disruption on a larger scale.
In his vision, an expensive university hospital would never provide a service that could be performed less expensively somewhere else. The truly excellent hospitals would specialize more in what they are truly great at, flying in patients who need those specialties. As an early example, he cites a deal that the home improvement retailer Lowe's made to send heart patients to the Cleveland Clinic, flying them in if necessary. Lowe's employees will get better care, and even with the cost of travel, Lowe's saves money with a 25% discount for bulk business.
[The new picture of health? Read Health Systems First To Combine Radiology, EHR.]
One Internet-enabled change that's already happening: Digital medical images captured in one place can be read by radiologists located anywhere -- that way, images can be sent to a radiologist who may specialize in interpreting images of a particular body part or a particular disorder. However, in some places, that model is hobbled by laws requiring everyone involved in a patient's care to be certified in that state. In general, Bush argues, our laws tend to preserve the status quo, protecting the monopolies of the tertiary hospitals that pull in business on a regional basis. Though these are often nonprofits, they exert some of the most extreme lobbying leverage.
Where Does It Hurt? starts with the story of Athenahealth's origin (some of which I heard in a previous interview), including the time he spent driving an ambulance in New Orleans, followed by a stint as an Army combat medic training for duty in Operation Desert Storm (which ended before he could be sent to Iraq). After spending time consulting in the healthcare industry for Booz-Allen, he and another consultant, Todd Park, decided to reinvent the economics of maternity care with a chain of clinics organized around a small number of doctors supervising a much larger number of midwives. While struggling to get insurance claims paid for their services, they created the software that became the basis of today's Athenahealth.
The book is less about technology than it is about free market economics. While Bush is part of a famous political family (he's the nephew of President George H.W. Bush), he makes an effort to stay above the partisan fray, in favor of being suspicious of government intervention in general. One chapter -- "Government (or How My Cousin, the President, Almost Killed My Company)" -- deals with his panic over legislation from the George W. Bush administration that could create an advantage for competitors selling software over what we now call cloud software. He insists he couldn't simply pick up the phone and call his cousin, because it would have been embarrassing for both of them. Still, he had the confidence and connections to navigate the halls of Congress and get the language changed to "software and Internet services."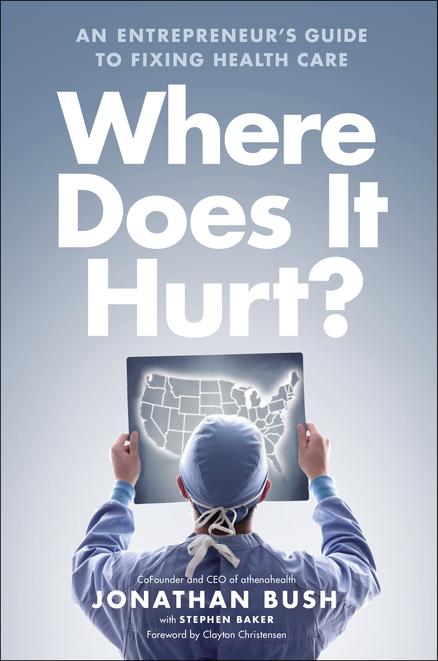 "But let's consider this process for a moment," he writes. "It has nothing to do with innovation or satisfying customers or delivering great results. It has everything to do with cultivating influence among politicians and regulators. To create a modern, caring and efficient health care economy, we have to create more spaces where entrepreneurs can compete in the marketplace -- and not in the corridors of Capitol Hill."
Bush doesn't like Obamacare, though he faults its political opponents for failing to offer a better alternative. Though the law encourages some consumerization of healthcare, "it's a trend toward the highest deductible allowed by law, which is not high enough for real shopping to occur." Since even a brief hospital stay will exhaust most deductibles, "it means the hospitals are immune from shopping, and that's not good."
If he writes another book, he says, it will be on what's wrong with the financing of healthcare. In his view, too much of the current, paternalistic thinking is based on a Rand Corp. study on the effects of healthcare cost sharing conducted in the late 1970s and early 1980s, prior to the possibilities opened up by the Internet and new ways of shopping.
"We've neutered healthcare's ability to be creative about getting people's money," Bush says. When medical professionals have to be creative, they learn the game of product management and product improvement. "Just look at the cost of braces and quality of braces from 1980 to today. An even better one is laser vision correction, which is largely not covered [by insurance]. We've gone from $3,000 per eye to $200 an eye for surgical correction of vision -- because there were so many people out there who didn't need glasses, and if they could be coaxed into it, they would get the procedure."
The trick is to achieve change without scaring people, Bush says. "Even Obamacare was too big a shock to the system. It wasn't that major a shift, right? It wasn't as big of deal as we made it, but look at how many headlines we made."
Here are some other highlights from our conversation:
IW: Is this an optimistic book? You talk a lot about barriers to change.
Bush: The early drafts of the book were more negative. I was appalled when I was working with Stephen Baker, who's the real author -- who took my outlines and my stories and did the interviews with me, really did the work of putting sentence structure around it -- that in my early sessions with him, what he came back with sounded really negative.
There is a lot of energy in me that wants to see forward motion. One of the great ironies in healthcare is the amount of incredibly well-meaning resources that go into freezing forward motion. The government is the most obvious and hilarious example, but there are a lot of other examples. Employers really don't stand up for what they believe to be right for employees. It's not just government that is doing this well-meaning neutering of the demand curve and of progress. It's all of us. And there are good reasons for it. It's not that government is doing this, or government is evil, or there are people with ulterior motives. This is scary, complicated stuff, and we're afraid of the harm. It's very much related to the Hippocratic Oath, which is a good oath.
The goal was a positive book, because the only way government will let go is if we ask them to, and if we start to make genuine forward progress in the health status and the cost of health status of people.
IW: This isn't really a book about technology, is it? You have one chapter, "Software Wars," that talks about what it's like to compete and coexist with Epic.
Bush: Even that one isn't really about Epic; it's what the customers of Epic are asking Epic to do. I don't fault Judy [Faulkner, Epic's CEO] for doing what her customers want, which is to create big iron systems that are impossible to refer outside of.
The question is, why are hospitals doing that? We're spending so many millions of dollars tracking primary care into more expensive venues. That's not a noble enough use of their time and capital. I'm making a case for everybody to allow or incent or to foment, to cause, disruption.
One of the reasons now is the time for this book -- and last year or 10 years ago or 20 years ago wasn't -- is that before, there was no Athena network, no Epocrates, Doximity -- no national networks positioned to enable instant, secure flow of health information.
IW: Even though you have a family partisan connection, I noticed the first story in the book is about legislation initiated under your cousin's administration that posed an existential threat to your company.
Bush: The issue is the scale of the government, regardless of which party you're in. The point of that chapter was to illustrate the scale of the impact of unintended consequences. We live in an ocean of unintended consequences. We create unintended consequences by the best intentioned of policies. Think of the hundreds of thousands of Mexicans killed as a result of the war on drugs. It's not a Republican or a Democrat thing.
IW: Your biggest foil in the book is really the big university research hospital.
Bush: Toward the end of the writing process, I started to get ideas that the foil should have been the third-party payment system. I now see an avenue for university hospitals, as well, which is the notion of super-regionalization. I started doing calculations on the cost of a small community hospital versus the cost of a helicopter, instead of doing secondary care at a tertiary medical center, stealing tertiary care from other tertiary care hospitals, and adding the cost of an airplane.
The opportunity for academic medical centers to be good guys in this book is greater than I thought. In fact, [Dean] Jeffrey Flier recently invited me on to the board of Harvard Medical School, and I accepted. I feel weird, like I'm sleeping with the enemy. I'm going to be the one in those meetings arguing that the story of Harvard Medical School is not the same as the story of [Harvard-affiliated] Partners Healthcare, and the story of Partners Healthcare is not the story of 18 community hospitals feeding three overpriced hospitals.
IW: Beyond helicopters, you also outline a role for jets with the Lowe's-Cleveland Clinic example.
Bush: Yeah. This is where, while Mass General and Brigham and Women's are too big for eastern Massachusetts, they're not too big for the United States. Even if you cut out 80% of what those two institutions do and refilled it with the 20% of the things they do in a truly unique, sensationally better way, they still would not be that big.
If you look at septal defect repairs on newborn children, there's only 4,000 babies born [with this defect] who live through birth, who live long enough to have heart defects repaired. You know, you can't have that many hospitals doing that. We probably have 40 in the United States, and we probably need three. You could do four, so that they're hungry.
Every tertiary medical center has the potential to be 10 times as big and profitable as it is today, 10 times as good at this rare work, 10 times as attractive for fellows and research, and yet one-half the impact on the cost [per patient]. This is the brave thing that hospital executives need to do, and 99% of them won't. But 1% of them -- maybe a little bit because of this book, and more because the healthcare Internet made it possible to market in the medical records supply chain where it wasn't before -- there will be a couple of kooks, a couple of crazy ones, where, when we look back in 25 years, ended up the geniuses -- ended up the Steve Jobs of healthcare.
Download Healthcare IT In The Obamacare Era, the InformationWeek Healthcare digital issue on changes driven by regulation. Modern technology created the opportunity to restructure the healthcare industry around accountable care organizations, but ACOs also put new demands on IT.
David F. Carr oversees InformationWeek's coverage of government and healthcare IT. He previously led coverage of social business and education technologies and continues to contribute in those areas. He is the editor of Social Collaboration for Dummies (Wiley, Oct. 2013) and ... View Full Bio
We welcome your comments on this topic on our social media channels, or
[contact us directly]
with questions about the site.