DARPA Robotics Challenge Gets Tougher
Robots competing in DARPA's disaster relief test must show some autonomy, will face surprise challenge.
The Defense Advanced Research Project Agency is extending the preparation time by six months for finalists competing in the DARPA Robotics Challenge (DRC) because the agency has decided to make the challenges even harder.
"It turned out that things went better than we expected at the trials," which were held in December in Homestead, Fla., said Gill Pratt, DARPA's director, in a press briefing Thursday. "Because of that success, [we're] changing the scope of the program a little bit and capitalizing on that success."
The DRC kicked off in October 2012. The objective of the challenge is for teams to develop robots that can successfully complete a series of tasks that simulate working in a natural or manmade disaster. The idea for the structure of the challenge arose from the Fukushima Daiichi nuclear reactor disaster in 2011, when workers had to flee the facility in the aftermath of earthquake, tsunami, and meltdown.
"The state of the art is not capable of having robots do work on their own in these dangerous environments," Pratt said. The goal of the DRC is to help develop robots able to work at human direction but in difficult conditions, where the human operators would be some small distance away, he said.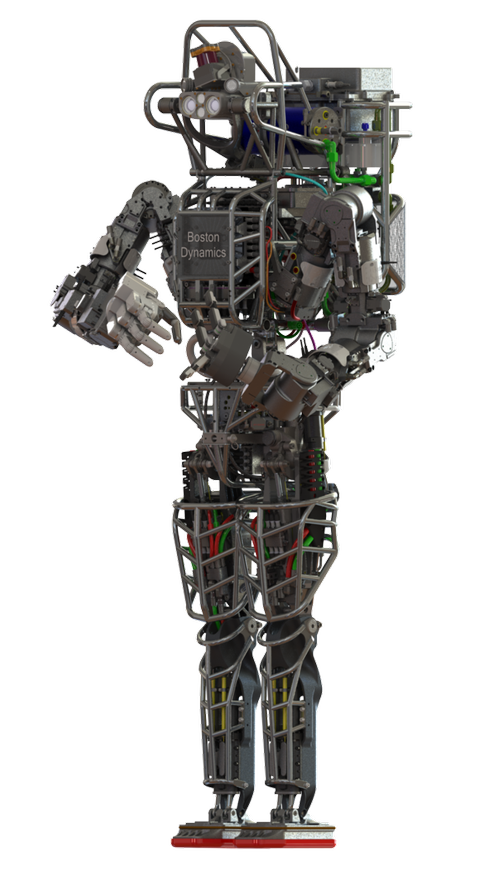 The first round was a software-only contest, the Virtual Robotics Challenge, to allow teams without the robotic resources to compete through simulation. The winners of that round won both funding and an Atlas robot to work with in preparation for the next round, the DRC Trials. Of the 16 teams that competed in Florida, 11 teams have pre-qualified for the final round, to be held June 5 through June 6, 2015, at Fairplex, a 480-acre complex in Pomona, Calif.
While the trials required robots to complete eight tasks that are commonly required in disaster relief efforts (driving a vehicle, climbing a ladder, or turning a valve, for instance), the robots were allowed to be plugged in to external power sources and be directed through wired network connections. Each task was standalone, and the robots were allowed 30 minutes to complete a task. Because communications networks are usually hard-hit in a disaster, DARPA artificially stressed the competitors' communications channels to the robots, degrading their bandwidth and increasing signal latency.
The competitive finale will be much tougher. "Instead of eight separate tasks done slowly, we'll put them in sequence, more in line with what has to be done" at a disaster site, Pratt said, and "this time we're actually going to try to have all the tasks completed within one hour."
As an added hurdle, the robots will have to operate off of internal -- i.e., battery -- power, and can only send and receive data wirelessly. If a robot falls, part of the challenge will be for it to right itself without outside physical assistance.
Another curveball, Pratt said, is that DARPA will further stress competitors' ability to communicate with their robots by turning off their communications networks on an irregular basis, forcing the teams to program their robots to operate at a higher level of autonomy.
There is one more twist, which might be the biggest: "In general we're going to be giving teams less prior information on what all the tasks are going to be," he said, but "one of the tasks will be a surprise task," one they will have no information for, just as in a real disaster one can't anticipate all the obstacles.
To offset some of the new difficulties, Pratt said that teams will be allowed to use as much computer power as they want, and to draw on all the outside expertise they want -- they just will have difficulties communicating to their robots off and on.
The DRC is a major DARPA initiative. The agency has allocated a budget of $95 million over the course of the entire competition. A number of the teams that have qualified so far through the trials will each receive $1.5 million in funding to cover their development costs during the 18 months from the end of the trials to the final round next year. Some teams, such as corporate and national teams, are self-funding.
The competition remains open to new teams, provided they can demonstrate to DARPA their robots can pass the challenges included in the trials. There will be a qualification event on February 2, 2015, for teams that did not participate in the earlier rounds. Pratt said teams from the European Union, Japan, and South Korea have already indicated they will be applying. He said that DARPA estimates that about 24 teams will participate, though that is not firm and the agency is prepared for a larger number.
New standards, new security, new architectures. The Cloud First stars are finally aligning for government IT. Read the Cloud Hits Inflection Point issue of InformationWeek Government Tech Digest today.
Washington-based Patience Wait contributes articles about government IT to InformationWeek. View Full Bio
We welcome your comments on this topic on our social media channels, or
[contact us directly]
with questions about the site.