Workday Q&A: COO Talks Oracle, SAP
Workday COO Mike Stankey claims his firm has a three- to five-year tech lead on Oracle and SAP because the cloud is "more than a destination and a pricing model."
Workday reported yet another double-digit gain late Wednesday, with a 74% year-over-year increase for the company's second quarter ended July 31. It also beat Wall Street estimates and raised its forecasts yet again.
Mind you, the eight-year-old, cloud-based human capital management (HCM) and financials app vendor expects to reach $760 million in revenue this year. That's a tiny fraction of the size of Oracle and SAP, but that hasn't stopped these larger rivals from calling out wins against Workday. Oracle CEO Larry Ellison even cited Workday, along with Salesforce.com, as one of the "modern" cloud apps companies his company is competing against.
Workday COO Mike Stankey doesn't mind the attention. "I thank them for every mention, because each time we get called out, our website traffic goes up," he told InformationWeek during a one-on-one interview last week in New York.
[Want Oracle's take? Read Oracle Turns Cloud Corner.]
Stankey came to Workday five years ago from venture capital firm Greylock Partners (where he and now Workday CEO and co-founder Aneel Bhusri were both partners). Previously Stankey was chairman and CEO of PolyServe, a storage virtualization firm sold to HP in 2007. And for nine years, Stankey worked for PeopleSoft, the company co-founded by Workday chairman and co-founder Dave Duffield.
Stankey is clearly an insider, and the word from the company is that he's going to take on a more visible role as a company leader. He's certainly not shy about making Workday's case. Read on to hear his confident reasoning as to why Fortune 500 companies will soon be choosing Workday financials as well as Workday HCM.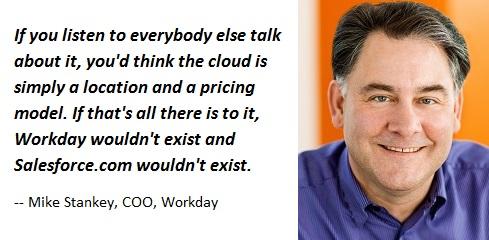 InformationWeek: What's your role at Workday, and how does that differ from CEO Aneel Bhusri's?
Mike Stankey: I help the teams that acquire customers and make them happy. Aneel is the smart, flashy product and company strategist, and he deserves all of the credit that he receives. I try to work in the background, lead operations, and make this stuff come true.
IW: One of Workday's emerging stories is Workday Financials, which is supposed to follow in the footsteps of the HCM app and start serving Fortune-500-plus companies. How's progress?
Stankey: We've exceeded the performance goals we laid out, and we now have our first, official Fortune 500 Financials customer in UNUM [the insurance and benefits management firm]. We also have Cushman & Wakefield [real estate management], which is a private company based here in New York, but one at large scale. Other large public companies that are in production using Workday Financials to close their books include Netflix and Lifetime Fitness, both of which are multibillion-dollar companies.
These are proof points that the market has been waiting for, and the product continues to advance in terms of scalability, functionality, and, as importantly, localization as required by large companies operating in different countries.
IW: Are there new performance goals, given that you've surpassed the old ones?
Stankey: We just keep stretching it. We're going for larger and larger organizations, and the functionality for financials tends to be added for new industry directions. Banks, for example, you need average daily balance. Healthcare organizations require intricacies around inventory management, lot traceability, and controlled substance tracking.
We're building all of that out as we go to penetrate these industries. We previously addressed people-intensive industries including software and technology, education and government, and business services, and we're adding the banking functionality with Workday 23, which we'll announce in early September.
IW: Workday is getting attention from Oracle and SAP these days, and they're always quick to point out that you're not as strong outside of North America. How quickly are you closing that gap?
Stankey: We're still 90% or more US, but we're gaining rapidly now in Europe and Asia. The only reason they talk about us is that they're worried about us and we're starting to beat them. That has happened with increasing frequency in Europe. We've announced Philips Electronics, which has 125,000 employees, as an in-production customer for Workday HCM, and we're running there alongside SAP, which runs their supply chain.
We also have Primark, with 45,000 employees, out of Ireland; Sanofi, the French pharmaceutical company with 120,000 employees; and GlaxoSmithKline, out of the UK. These are all in-production Workday HCM customers that are running SAP or Oracle in other parts of their businesses, so those vendors are worried about us. Our Financials application will mature first in the US, but we're entering the UK, The Netherlands, and Australia, and then we'll expand into other countries.
IW: According to Oracle and SAP, they're constantly beating Workday in competitive deals. Are they slowing you down now that they've shifted so much attention to the cloud?
Stankey: It's tough to compete with claims. You have to compete with products and successful customers. I can go across almost any industry and point to successful customers running our products at scale with a very broad footprint. What are usually claimed by Oracle and SAP are fragments of a
footprint, like a compensation system or a recruiting system, as a win against Workday. Most of the wins against Workday are preservations of existing SAP, PeopleSoft, or Oracle footprints. We call that a "loss to do nothing," but each quarter, about 20% of our wins are resurrections of previous losses to do nothing.
IW: What's a loss to do nothing?
Stankey: That's when a customer simply defers the decision to replace their core system of record and just augments it with a small edge application. They're just deferring the inevitable for another couple of years. Eventually they will come back around, and they will attempt to fix the larger mess. When they do that, we win.
[Want SAP's take? Read SAP Reports Cloud Computing Tailwind.]
IW: Two years ago, all Oracle and SAP could offer was edge apps, but hasn't that changed with all their acquisitions and Oracle's launch of Fusion Applications?
Stankey: They claim to have complete footprints in the cloud, but when we try to find reference customers running the complete footprint at scale, we can't find them. You have to start with the core employee record, which is the basis for any accounting or HR system for hiring, onboarding, pay increases, transfers -- all the nuts and bolts of any HR organization and operational efficiency. Recruiting and performance management are edge applications. If you try to find customers that have done the core plus edge applications, which is what our product represents, you don't find them among our competition. You'll typically find the edge or, if you find the core, you'll find it in a small company.
IW: What's the "mess" you mentioned and why does it exist?
Stankey: Companies that have grown via acquisitions typically have multiple core systems of record. They may have two PeopleSofts, three Oracles, or four SAPs running their core applications. They'll have just as many performance-management systems and compensation-management systems. They may have an onboarding system from a different vendor, or SAP or Oracle may have acquired those applications and tried to stitch them into their legacy systems.
When companies try to figure out how many employees they have, how many contractors they have, the cost of those workers, and the performance and capabilities of those workers -- so they can do human capital optimization -- they're left with that mess to try to divine the answers.
The fix for the mess, historically, has been data warehouses. You dump all of that data into a warehouse, but it's immediately stale, and it isn't normalized across countries, businesses, or job types. It also hasn't solved the problem. That's the problem that we're attacking.
IW: Can the cloud really solve the problem created by accumulating multiple systems through mergers and acquisitions?
Stankey: Systems tend to become obsolete is in terms of technology and architecture. We're now on our third major version of technology used to deliver the Workday user experience. When Workday was founded, a mere eight years ago, HTML4 was the dominant user interface technology, and it was implemented using Ajax. The market then migrated to Flash for a richer user experience, and we made that move about six years ago. HTML5 then became the technology direction, and we just completed our migration to that.
In each case we migrated our customers, and the only infrastructure requirement on their end was having reasonably up-to-date browsers. We break our architecture up into services, and as technology changes, we're able to advance with it and insulate our customers from technology change.
We update our customers twice a year with new versions, and as things change in countries, whether it be data-privacy laws that have to be enforced in the software, or changes in business processes around works councils in Germany or France, or whether there is some other data requirement placed upon us, we're able to evolve the architecture and deliver it to our customers. Since every customer of Workday uses the same version of the software, we do it once for the benefit of many. We're able to move faster [than on-premises deployments], and our customers move faster.
IW: We've talked to Workday customers, like Brown University, that have spent a year or more deploying the technology. And we've talked to on-premises customers, using SAP Rapid Deployment Solutions, for example, that have taken a similar amount of time to deploy. Is cloud agility overblown?
Stankey: They're using templates and methodologies that say, "Let me make my product fit your industry," but if you want to change the way it works, it's still a customization. You can go live fast, initially, but when you want to roll out and become more sophisticated, the cost- and time-penalties hit you. We're trying to go in fast initially and preserve the agility and the cost advantage. Anybody can build concrete forms and pour in the concrete fast, but when you need to change it, you have to chip out the old stuff, and it's a mess. That isn't the Workday story.
We're building products that are easier to implement. If you listen to everybody else talk about it, you'd think the cloud is simply a location and a pricing model: It runs at somebody else's site, and you can buy it on a subscription basis. But if that's all there is to the cloud, Workday wouldn't exist and Salesforce.com wouldn't exist, because that problem -- location and subscription -- was solved 25 years ago with application service providers. "Your mess for less" doesn't solve the fundamental business problem.
Integrating your private cloud with public clouds can provide agility, security, and control. But getting the minutia right is daunting. Get the new Hybrid Cloud: Details Matter issue of Network Computing Tech Digest today. (Free registration required.)
Doug Henschen is Executive Editor of InformationWeek, where he covers the intersection of enterprise applications with information management, business intelligence, big data and analytics. He previously served as editor in chief of Intelligent Enterprise, editor in chief of ... View Full Bio
We welcome your comments on this topic on our social media channels, or
[contact us directly]
with questions about the site.