Oracle CEO Hurd Stays Ellison's Course
Oracle flexes its muscle with a wave of SaaS releases and high-profile customer interviews. But is it leading or following in the cloud?
No vendor is bigger, broader, or better than Oracle. That's the message Oracle CEO Mark Hurd sent at Oracle OpenWorld on Monday as he rattled off impressive numbers, chatted with big customers, talked up the company's size and scope, and declared the company to be on track.
"We feel great about our strategy, we feel great about our product portfolio, we feel great about our position in the market, and we have one focus, and that's winning," Hurd said, dismissing a suggestion that the company's direction might change now that he and Safra Catz have taken over the CEO role from Larry Ellison.
By the numbers, Oracle has announced 173 new SaaS applications this year, including 32 in vertical industries, 29 in marketing, 20 in supply chain, 16 in human capacity management (HCM) cloud, and 14 in enterprise resource planning (ERP). There's an all-new Analytics Cloud offering that will bring reporting and real-time analysis to the HCM, ERP, and customer-experience clouds. Oracle now claims 62 million users and 23 billion transactions per day in the cloud. It recently added two new cloud data centers in Germany (SAP's home turf), bringing its global total to 19 in eight countries.
[Want more on Oracle OpenWorld 2014? Read Oracle CTO Ellison Claims Cloud Supremacy.]
Hurd chatted onstage with innovative CIOs hailing from giant companies including Walgreens, GE, Procter & Gamble, Xerox, and Intel. "The common thread is that they're all big companies, they have big legacy environments, and they need to innovate and transform by moving to the cloud," said Hurd. "They know Oracle is a serious partner who can help them do just that."
What Hurd didn't mention, but more than one CIO let slip out, is that they're also working with Oracle's rivals. GE, for example, uses Salesforce.com apps and has invested more than $100 million in big data and cloud infrastructure rival Pivotal. Walgreens, Procter & Gamble, Xerox, and Intel also work with Salesforce.com.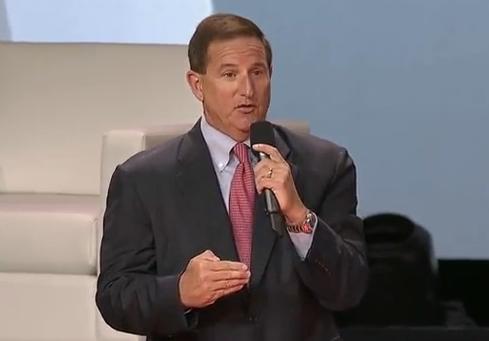 What's more, on closer inspection, some of this week's cloud announcements could be interpreted as catch-up moves. In the public sector and educational market, for example, Oracle announced new cloud-based grants-management and accounting features of the kind rival Workday announced back in 2012. In the customer experience arena, Oracle announced a Data-as-a-Service for Sales offering that sounds strikingly similar to the Data.com service based on Salesforce.com's 2010 acquisition of Jigsaw. In enterprise performance management (EPM), cloud-based vendors like Adaptive Insights and Host Analytics have been poaching Oracle Hyperion customers for years (and SAP, too, has stepped up with cloud offerings), yet 2014 marked Oracle's launch of its EPM cloud.
Is Oracle simply responding to rivals like Salesforce.com, Workday, and SAP in established cloud markets, or are there areas of the cloud where Oracle is innovating on its own? InformationWeek put that question to Hurd during a
press conference. His initial response was to put the competition in its place, calling SAP a "legacy company that hasn't rewritten much of anything for the cloud" and referring to Salesforce.com and Workday as "US-centric, one-app companies in the cloud."
How is Oracle different?
"We bring a suite of applications to the cloud -- marketing, HR, ERP, EPM, customer experience," Hurd said. "The result is both best of breed at the app layer and there's the ability to interconnect those apps into a suite. None of those three companies can even remotely make those claims."
[Want more on Oracle OpenWorld 2014? Read Oracle CTO Ellison Claims Cloud Supremacy.]
Hurd went on to say that customers can extend Oracle cloud apps with Oracle platform-as-a-service capabilities including Java middleware services and Oracle Database services, so "Oracle is unique in its depth and breadth of capabilities."
You can quibble with Hurd's characterizations of the competition. If and when SAP completes its $8.3 Concur acquisition, it will be on a $2.3 billion cloud revenue run rate to Oracle's $2.0 billion. Both companies are well shy of Salesforce.com's $4 billion in revenue in its last fiscal year, earned not from one app but from a battery of sales, service, marketing, and collaboration apps sold globally (though, yes, mainly in North America). Workday is definitely US-centric, but it offers HCM and ERP suites that, by Oracle's counting methods, would count as many cloud-based apps.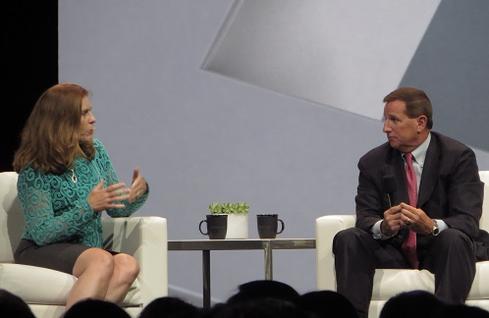 What you can't quibble with is that Oracle's scale, scope, and strategy do matter. Larry Ellison's change of heart on cloud computing notwithstanding, Oracle has since been nothing if not consistent about its plans and goals. Gaps in the Fusion portfolio are closing and those years of waiting are slowly paying off. We hear consistent messaging, year to year, even if it amounts to pre-announcing and then re-announcing products and capabilities planned and later made available.
Oracle invests some $5 billion in R&D annually, and it has also acquired more than a few innovative companies. Intel CIO Kim Stevenson praised Oracle's acquisitions of Eloqua and BlueKai, cloud-based marketing apps that have helped Intel cut the time and cost of acquiring qualified leads, she said during her on-stage interview with Hurd.
When Oracle isn't first, best, or most innovative, it usually builds or buys its way to relevance. It gets in competitor's faces and accumulates customers, sometimes not by their choice, through its many acquisitions. In short, it's a great big force in tech that can't be ignored, and it keeps adapting as the industry changes.
Loved? Not always. Respected? Sometimes begrudgingly, yes.
Avoiding audits and vendor fines isn't enough. Take control of licensing to exact deeper software discounts and match purchasing to actual employee needs. Get the Software Licensing issue of InformationWeek today.
Doug Henschen is Executive Editor of InformationWeek, where he covers the intersection of enterprise applications with information management, business intelligence, big data and analytics. He previously served as editor in chief of Intelligent Enterprise, editor in chief of ... View Full Bio
We welcome your comments on this topic on our social media channels, or
[contact us directly]
with questions about the site.