Why VMware Is Embracing OpenStack
VMware is going to unusual lengths to work with open source cloud technology at the same time that it's trying to establish its own hybrid cloud service. What's going on?
VMware has launched a multi-pronged effort to capitalize on its customers' interest in cloud computing. To do so, it's relying on a new partnership with Docker for Linux-container formatting and with OpenStack for private-cloud provisioning.
VMware's greater reliance on open source is an indication of how it is struggling to advance on many fronts and its determination to succeed. As a company, VMware has always been adroit at maintaining its proprietary products while working with open source code. Linux was the first operating system it virtualized under ESX Server, with Windows second.
But in this case, VMware is going to unusual lengths to work with cloud open source at the same time that it's trying to establish its own proprietary cloud service. VCloud Hybrid Service, recently renamed vCloud Air, is still adding data centers around the world, even as VMware is reaching an accommodation with OpenStack.
So what's going on? VMware has made no commitment to convert its vCloud Air hybrid cloud service into an OpenStack cloud. Rather, it's the other way around. Its distribution of OpenStack will be VMware-specific for on-premises use. Instead of recognizing the default hypervisor, KVM, in OpenStack, it will instead offer an OpenStack that provisions its own ESX Server virtual machines.
[Want to learn more about VMware's OpenStack moves? VMware: Run OpenStack On Our Infrastructure.]
CEO Pat Gelsinger said at a media event at VMworld Monday that his firm's distribution, VMware Integrated OpenStack, will make the OpenStack APIs readily available to enterprise developers looking to build cloud applications. With its OpenStack distribution, VMware can address developers who want the cloud as the basis for their next-generation apps.
"OpenStack is a framework for delivering cloud services" that can accommodate different virtual machines, he continued. After OpenStack provisioning has been set up, there's still a need for management tools to monitor and move around the VMs that have been created. The integration of vSphere and other core software will enable an OpenStack on-premises user to do that with their familiar management tools, he said.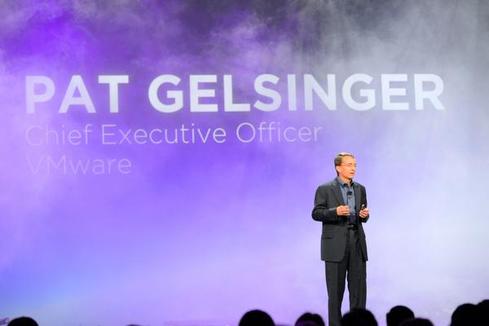 And in case anyone remained in doubt about the value of VMware's contribution, VMware president Carl Eschenbach explained further: "It's a fallacy that OpenStack is free. You still have to build everything around it" to manage OpenStack workloads after they're deployed. You will either invest extensively in your own staff time to set up an OpenStack cloud or you will hire consultants to do so, he said.
So who needs VMware's help in doing that? According to the opening keynote address, the Massachusetts Institute of Technology IT staff does. Garry Zacheiss, MIT's senior manager for server and system administration, said his staff was impressed with OpenStack as a project but was skeptical that they'd want to go deeply into its Neutron network virtualization. They turned to VMware, with its Nicira SDN brain trust, and found "network virtualization was absolutely critical if you're going to use hybrid cloud." It's relying on VMware's version in its OpenStack implementation.
Zacheiss concluded: VMware's "software-defined data center is how we expect to future-proof our data center."
VMware Integrated OpenStack is still in a state of qualified beta, meaning many customers may sign up to use it. VMware will selectively choose those that it wants to allow to test drive its offering until it becomes available in the first half of 2015. As long as it's a viable alternative, VMware customers will have one more reason not to turn to Amazon, Azure, or Compute Engine. They'll have one less reason to seek to reduce expenses by grafting on more and more Windows Server's Hyper-V.
Does VMware's OpenStack initiative show a lack of confidence in its own, getting-started hybrid-cloud service? The answer, I think, is both yes and no.
The midsized and hardcore VMware customers, which rely heavily on VMware technical support, are likely to turn to the VMware-based public cloud service for hybrid operations. An OpenStack distribution gives them a private cloud operation that works with their existing VMware data centers and, for the most part, existing VMware licenses. In short, they may get something that works without great additional expense.
Larger virtualization users that have their own cloud expertise and are wary of a further commitment to VMware may turn to Amazon Web Services or other public providers and find ways to make hybrid operations work with them. Or they may find the VMware OpenStack option is attractive enough and open source-based enough to go another round with VMware.
Regardless of what type of customer is involved, VMware's OpenStack gambit risks something in exchange for holding many customers in the VMware fold. Red Hat's KVM is OpenStack's default hypervisor, and once customers are familiar with the cloud software, they may decide to get familiar with the hypervisor.
VMware's vSphere management platform has found it necessary to recognize and support Microsoft Hyper-V. But in all its OpenStack hoopla, there's not a single reference to KVM or its possible future support. Customers going down the VMware OpenStack route will risk that it will always be so, and there will be a hypervisor barrier to them working with other OpenStack clouds.
On the other hand, enterprise developers are impatient with the limitations of virtualization and eager to get to more of a DevOps approach. References to some form of DevOps kept popping up at VMworld Monday, even though they always seemed somewhere just over the horizon. Gelsinger, in his keynote, referred to a future "continuous-delivery-as-a-service," but there was no VMworld document that referred to it. When might such a service become available?
Much more concrete was VMware's newfound enthusiasm for Linux containers and Docker. VMware has previously announced that it is working with Google on the Kubernetes open source container provisioning project. It's working with Docker on enabling the Docker container formatting engine to work vSphere provisioning workflows so that Linux containers may be built and launched in VMware virtual machines. Docker and VMware will work on allowing interoperability between their products and Docker Hub, with its catalogue of open source, preconfigured container software stacks. (See more information here.)
In short, it may once have appeared that VMware's role was to consolidate legacy applications in the enterprise data center, then get left behind by a new generation of cloud applications. Instead it is pedaling furiously to catch up. Instead of doing so by itself, it's astride a bicycle built for two: VMware and whatever may be its latest open source partner.
Interested in shuttling workloads between public and private cloud? Better make sure it's worth doing, because hybrid means rethinking how you manage compliance, identity, connectivity, and more. Get the new New Tactics Needed For Hybrid Cloud Security issue of InformationWeek Tech Digest today. (Free registration required.)
Charles Babcock is an editor-at-large for InformationWeek and author of Management Strategies for the Cloud Revolution, a McGraw-Hill book. He is the former editor-in-chief of Digital News, former software editor of Computerworld and former technology editor of Interactive ... View Full Bio
We welcome your comments on this topic on our social media channels, or
[contact us directly]
with questions about the site.