Microsoft TechEd: Cloud Updates, Windows 10 Details
Microsoft announced a wide variety of Azure and Office 365 advances, new details about Windows 10.
Last week, Microsoft CEO Satya Nadella argued that his company offers the most complete cloud platform, not only with scale that only Amazon and Google can match, but also with a strong hybrid strategy and a willingness to run virtually any workload. As though to prove Nadella's point, Microsoft on Tuesday revealed a barrage of new cloud products at its TechEd Europe conference in Barcelona. For good measure, the company also threw in a few new details about Windows 10.
"We want to deliver the most complete cloud," said Mike Schutz, a GM with Microsoft's Server and Tools Division, in an interview. He characterized some of Microsoft's competitors, such as Amazon, as a "one-way street to the cloud" and others, such as VMware, as "all virtualization that keeps things on-prem."
But he said Microsoft is different because its emphasis on hybrid cloud products allows customers to find the right blend between the immediate control they enjoy in their data centers and the economies of scale available via Azure, Microsoft's cloud platform. Increasingly, the company's on-premises and cloud products share interfaces and features, enabling customers to more agilely handle either environment.
"Whatever the customer's onramp to the cloud, we want to support it," said Schutz.
[Are alliances key to battling Amazon and Google in the cloud? See IBM, Microsoft Cloud Partnership Examined.]
How does all this translate into new products? For starters, Microsoft announced three new cloud services at TechEd.
Azure Batch, announced as a preview, is designed to wrangle massive scale-out jobs, such as the risk calculations that banks and insurance companies perform or gene sequencing projects in the pharmaceutical industry. Schutz said Batch isn't just about spinning up thousands of computing cores so that customers can avoid infrastructure costs. "It's a finished service that puts the job scheduler in the cloud," he said, adding that without Batch, customers would have to build or rent a cloud scheduler in order to manage virtual machines.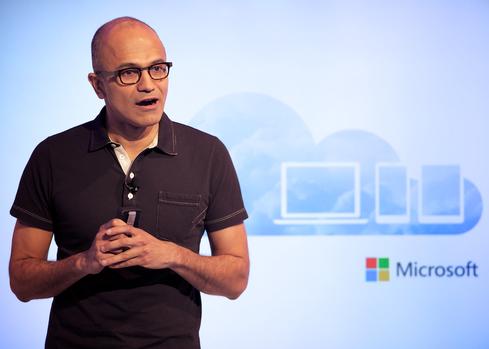 Microsoft also announced Azure Operational Insights, a new business intelligence product that will be available as a preview in November. It brings together Azure, HDInsight, and Microsoft System Center to collect and analyze machine data across cloud environments. "It gathers all the exhaust coming off servers and devices, and provides [IT admins] with real-time operational intelligence," said Schutz, who added the server "is Azure-based but reaches down on-prem to provide an end-to-end view."
Azure Automation, another new service, will allow IT professionals to automate time-consuming tasks by transferring their PowerShell skills into a hybrid environment, according to Schutz.
In addition to new Azure services, Microsoft announced several advances for its most mainstream cloud product: Office 365. The Office news is headlined by new REST-based APIs that will allow Android, iOS, Windows, and web developers to integrate Office 365 content -- such as calendar data -- into apps. Microsoft says its new mobile SDKs will enable developers to more easily use Office 365 APIs to create apps
for any platform and with whatever tools they prefer.
The new APIs add to a busy week for Office 365. On Monday, Microsoft announced all Office 365 subscriptions will soon include unlimited OneDrive storage -- a significant upgrade that raises stakes for cloud storage competitors such as Dropbox, Apple, and Google.
Beyond the new APIs and SDKs, Microsoft also announced that Office 365 will feature built-in mobile-device management (MDM) features sometime next year. The addition should help IT admins manage not just mobile devices, but also the corporate data those devices contain. Integrated into Office 365 via Microsoft Intune, the MDM tools let admins manage not only Windows Phone devices, but also iOS and Android models. Intune will gain a range of other new features "in the next few months," according to Microsoft.
Microsoft also announced that its data loss prevention (DLP) technology will be added to SharePoint Online and OneDrive for Businesses "over the next few months." In other security-related announcements, Microsoft launched three enhancements for Azure VMs and service: support for multiple network interface cards, so customers can use their own networking and security appliances; new Network Security Groups that let admins set more granular policies and exert more control over network topology and traffic flows; and anti-malware services that run in the cloud.
As Microsoft's recent earnings report demonstrated, its cloud products are growing rapidly. Windows revenue continues to be a mixed bag; with Windows 8 still a flop two years into its lifecycle, Microsoft's long-term OS growth will rely in no small way on Windows 10, the desktop version of which was recently released as an early Technical Preview. At TechEd, corporate VP Joe Belfiore demonstrated several new features that will appear in future Preview builds.
Windows 10 will soon gain new trackpad gesture support. Users will be able to swipe down with three fingers to minimize all active windows, and to swipe up with three fingers to maximize them, for example. As some commentators have pointed out, similar functionality is already supported in Apple's OS X. Nevertheless, the new features demonstrate that after arguably overinvesting in touch interfaces with Windows 8, Microsoft wants to refine the keyboard-based PC experience with Windows 10. Belfiore also revealed that Windows 10 will gain improved app snapping for multi-monitor setups.
Microsoft customers will be waiting to see how Windows 10 pans out, but in the meantime, Azure has given them many new opportunities. Adam Salvo, a DevOps manager with Trek Bicycle Corp., said in an interview that after some growing pains years ago while Azure was still in preview mode, Microsoft's cloud products have been performing well.
"During public preview, we didn't have an SLA in place, and Microsoft was rebooting our VMs quite a lot, pushing platform updates behind the scenes," he said. "But after [officially launching], it's been rock solid."
Trek currently uses Azure for development and testing workloads, but Salvo said he is intrigued by new products such as the recently announced "G-series" virtual machines, which support up to 448 GB of RAM and 6.5 TB of SSD storage. "We're looking forward to larger VM sizes, and persistent storage will enable us to move more workloads out to Azure," he told us.
If you just look at vendor financials, the enterprise storage business seems stuck in neutral. However, flat revenue numbers mask a scorching pace of technical innovation, ongoing double-digit capacity growth in enterprises, and dramatic changes in how and where businesses store data. Get the 2014 State of Storage report today. (Free registration required.)
Michael Endler joined InformationWeek as an associate editor in 2012. He previously worked in talent representation in the entertainment industry, as a freelance copywriter and photojournalist, and as a teacher. Michael earned a BA in English from Stanford University in 2005 ... View Full Bio
We welcome your comments on this topic on our social media channels, or
[contact us directly]
with questions about the site.