Secrets Of NBA Stephen Curry's Shooting Hidden In Data
When FiveThirtyEight and ESPN Sports Science turn their analytics on Stephen Curry's stats, surprising things show up.
After the Golden State Warriors beat LeBron James and the Cleveland Cavaliers on Christmas Day, there was a fresh round of morning-after sports writing and ESPN SportsCenter analysis. Yes, the Warriors are an "unselfish" team with "a perfect chemistry" between team members.
But few commentators seemed to know what the big data about the Warriors' Stephen Curry actually says.
The Golden State Warriors won the NBA finals last June over the Cavaliers, with two of the Cavaliers' best players out. Warriors non-fans in Atlanta and Los Angeles -- read opposing coaches -- said it wasn't a fair contest, and by the way, the Warriors were lucky they hadn't met up with the Hawks or the Clippers on their way to the finals.
These comments were supplemented by the inimitable Charles Barkley, former NBA great and now a SportsCenter commentator, who couldn't resist casting doubt on the Warriors as a "jump-shooting" team.
So, if the Warriors had their fans leading up to the Christmas Day game with the Cavaliers, there was still a substantial amount of disbelief that the team really possessed the skills to sit atop the league for long. The Warriors won that game, 89-83.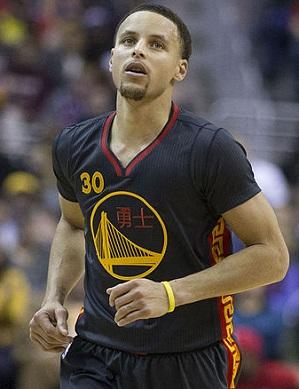 Given the skeptics, perhaps it's time to see what the big data says about the Warriors and in particular the team's point guard, sharp shooting Stephen Curry. The Warriors are now 28-1 with over a third of the season gone, and the critics have been taken aback at this performance. LeBron James had a little respect in his voice when he commented on the Warriors win as he left town Christmas Day.
The big data begins to spell out why.
The Moneyball Era
The sports world has been crazy about player data ever since the book Moneyball showed how Billy Beane, general manager of the Oakland Athletics, used statistics to find baseball players who made their teams better in ways that were not readily visible. The number of hits with men on base was a much more important statistic to him than number of home runs.
Such statistics can also be used to recognize an already highly-valued player like Curry, but they also show that at least part of his value lies in unexpected areas.
One things that's no surprise is that the stats show Curry is an excellent shooter from the three-point line. Larry Bird and Ray Allen were great three-point shooters who preceded him, but he beats their averages at the arc. Bird shot an average 37.6% from the three point line; Curry this season is shooting 44.5%, according to this summary from the NBA statistics site.
No surprise there. Curry has been known throughout his college and NBA career as a penultimate three-point shooter. What the big data also shows is that Curry's average barely goes down as he retreats back from the three-point line to 28 or 30 feet from the basket.
The stats on this long-range shooting come from the data analysis site FiveThirtyEight.com, the same site where Nate Silver accurately forecast the 2012 election down to the final outcome in the 50th state. Long before Nate turned to politics, he loved statistical analysis in relation to sports, and the FiveThirtyEight staff has done lots of it as the NBA season opened this year.
"Stephen Curry's Bombs Are Too Good to Be True," wrote FiveThirtyEight staff writer Benjamin Morris on Dec. 10.
By "bombs" he meant something different from the three-point line, which is at just under 24 feet straight out from the basket. When pressed, Curry lofts long-range "bombs" from further away that appear to fall out of the sky. Like everyone else, his average goes down as he moves further out. Unlike everyone else, his average doesn't go down very much. At 26 to 28 feet out, his average at the time of Morris' writing was 43%. At 28 to 42 feet, his average was 42%.
Forty-two feet from the basket reaches almost to the mid-court line. Most of his long range shots are not taken at the extremity of this range, but the data shows that Curry maintains his consistency further out than other shooters. Keep in mind the fact that at 30 feet out, if the shooter misaligns the release of his shot one-eighth of an inch off the center of the basket, the ball will arrive at the hoop one foot away from its center.
Needless to say, the result will be a miss.
Another stat that is contrary to expectations is Curry's shot record while being guarded. Three-point shooters in the NBA make 44% of their shots when defenders are 12 feet away or more. When guarded, the average drops to 35%. Curry makes 44% with the defender 4 to 6 feet away, and 45% with the defender 2 to 4 feet away, which is defined by the NBA as "tight" defense, Morris wrote. That is, his percentage goes up when tightly guarded.
No such claim is made for any other NBA player.
Curry, 27, looks like he may have just gotten into college with his baby-face looks and diminutive 6"3' height. But he refuses to be dominated by the giants of the league. The Pelicans' 6"10', 220-pound Anthony Davis was flying at him as the last three seconds wound down in game three of last May's playoffs in New Orleans when Curry took the three-pointer that tied up the game. Curry's quick release and willingness to impart a high arch made it impossible for Davis to prevent the shot, even though his hand was in its path with the ball still in the frame. (See the video clips embedded in Business Insider's story.)
After its release, Davis plowed into Curry, knocked him down, and fell on him. Curry had his eyes reflexively closed against the impact of that collision. Business Insider reported in a review of the event that it was possible that Curry's eyes were closed during the shot. As unlikely as that sounds, the ball was still in-frame as Curry was shown with eyes tightly shut. The evidence is at least debatable.
This incident prompted a review of other last-second Curry shots at FiveThirtyEight, which found that, like other players, his average goes down as time on the clock diminishes. He takes many three-pointers with more than sufficient time and makes his highest percentage with plenty of time on the clock. On the other hand, his worst time frame is with 12-16 seconds left. After that, "he somehow shoots better and better as the clock runs down," Morris wrote, again contrary to shooter efficiency expectations. Little time usually leads to desperate and less frequently made shots.
A Different Kind of Player
More stats come from ESPN's SportsCenter Science and Info analysts, such as that from John Brenkus. Together they build a composite picture of Curry, not just as a great shooter in the NBA, but as a new kind of player who thrives on passing, maneuverability, and quick shooting. That is, his diminutive size, four inches shorter than the NBA average, has been turned from a disadvantage into an advantage on a team that emphasizes multiple passes, teamwork, and opening up a shooter.
Brenkus assembled data on Curry's shot and concluded that from start to finish Curry releases the ball in .4 second, compared to .54 second on average for most players. "That means his shot is 12 feet above the floor by the time most players are getting theirs off," said Brenkus in a Facebook posting.
The further they are from the basket, the more effort other players put into the jump that launches the shot. At the 30-foot mark, the typical shooter is trying to add 25% to his jump to ensure the ball reaches the hoop. Curry jumps the same amount from the three-point line or several feet behind it. Instead of getting lift from the jump, his shoot is propelled the greater distance by his forearm and a flick of the wrist. While other players take more time to make a long shot, going into a deeper crouch, Curry's time varies only by .03 of a second when he's 30 feet and farther from the basket.
[Read more about how big data is changing professional sports.]
The stats used for this analysis were gathered up until Dec. 7 of this season. Since then the Warriors have played two games in which Curry's three-point percentage dropped and his total amounted to 16 against the Utah Jazz Dec. 23 and 19 against the Cavaliers Dec. 25, or far below his 30.8 points per game average. Teams may yet figure out how to defend against the Warriors' sharpshooter.
But as the San Francisco Chronicle reported, acting coach Luke Walton, in a rare complaint, said after those two games Dec. 28, "Teams are grabbing him and holding, which in my opinion, those are fouls. We've got to get him off the ball, space the floor and let it be seen when he's being held …"
That could be sour grapes on an inevitable pair of poor shooting nights.
On the other hand, there's one more stat that I'd like to share before signing off on the subject. FiveThirtyEight simulated the rest of the season to address the question of whether the Warriors can win as many games as the championship 1996 Chicago Bulls did in their prime with Michael Jordan. Again, opposing teams like the Milwaukee Bucks, Cavaliers, and Jazz have shown a better ability at restraining the Warriors scoring recently than partial-season statistics may allow. But the projection is, they'll at least match that record.
Can they break it? "There's a damn good chance they can," concluded FiveThirtyEight analyst Kyle Wagner.
**Elite 100 2016: DEADLINE EXTENDED TO JAN. 15, 2016** There's still time to be a part of the prestigious InformationWeek Elite 100! Submit your company's application by Jan. 15, 2016. You'll find instructions and a submission form here: InformationWeek's Elite 100 2016.
Charles Babcock is an editor-at-large for InformationWeek and author of Management Strategies for the Cloud Revolution, a McGraw-Hill book. He is the former editor-in-chief of Digital News, former software editor of Computerworld and former technology editor of Interactive ... View Full Bio
We welcome your comments on this topic on our social media channels, or
[contact us directly]
with questions about the site.