Kiosks are Looking at You, Too
Customer-facing kiosks are taking on a new look, and providing retailers, restaurants and other businesses with new functions, such as sizing up potential customers.
Kiosks and display advertising signs equipped with cameras are sizing you up. They may be estimating your age, recognizing your gender, your size, hair length and even clothing. If you are thin, for instance, a restaurant kiosk could give its salad options prominence over its bacon cheeseburger.
Kiosks are also getting larger, above 32 inches, as well as flatter and more powerful. Increased panel size, along with more compute power thanks to systems-on-a-chip, creates capability and room for video and animation displays. Shrinking panel depth means kiosks can be mounted on walls not unlike your home TV.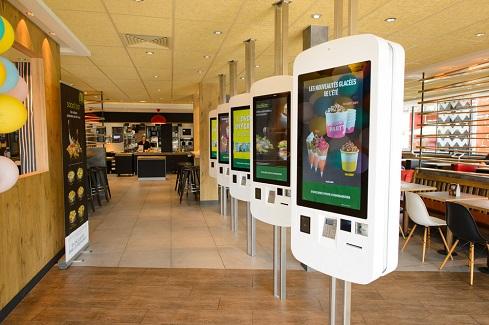 For IT managers, kiosks and digital advertising signs are likely to become important devices to support. They have potential to deliver rich data streams about their customers based on real data. Face recognition capability is on the horizon. Kiosks are turning into a platform for creative thinking about customer engagement as well as a potential privacy war zone.
Kiosks are getting a public makeover, thanks to McDonald's. It announced earlier this year plans to install large self-ordering kiosks at 20,000 locations, including the US. The kiosk screen in use by this chain appears about double the typical size of airport ticketing kiosks. Whether it has cameras or not to observe patrons is not clear. McDonald's didn't respond immediately to a query.
Interactive digital displays includes advertising. One firm, Outernets, has created large, digital, advertising signs, up to 120 inches. The displays can be placed in store windows facing the street. They have cameras that can collect data points on the people who pass by the sign.
Outernets took thousands of photographs of people and tagged them to teach its system to identify people by certain demographics, such as age and gender. If someone turns and looks at the that sign, the advertising display -- depending on what what the client wants -- can produce relevant content.
For instance, a woman wearing a red dress who stops to look at the digital sign may see it display a hat or scarf that matches her dress, said Omer Golan, the founder of Outernets.
Outernets isn't using facial recognition or photographing people.
"There's no spying on anyone," said Golan. But what the system can do is collect demographic data on the people who walk by the sign, providing accurate marketing information on the traffic flow, he said.
This market is "trending toward a level of interactivity that it hasn't seen before," said Chris Feldman, a product manager at NEC Display Solutions of America.
People who use mobile apps or desktops to order services have agreed to share some data about themselves. But that isn't necessarily the case with systems on the street or in stores. Identifying repeat customers in these environments is "dealing with privacy and that's a very uncomfortable conversation to have right now," said Feldman.
But there is industry acceptance about generic data collection. Typically, these systems try to identify gender and estimate age based on four to five different tiers, such as whether someone is between the ages of 30 and 45, said Feldman.
Camera-equipped systems can also use metrics such as eye-spacing, hair length and hair color. When the systems see someone looking at an advertising sign for a certain period of time, five seconds or so, it may customize an ad, said Feldman. The data collected will likely go into a cloud and be available for analytics, he said.
Feldman expects more creative uses of this technology. For instance, movie theaters may replace movie posters with interactive screens. A customer can walk up to the poster-like display and order tickets directly from it.
Ananda Chakravarty, an analyst at Forrester, said retailers want to give customers the ability "to really interact with the store," as opposed to just walking in and picking out products.
Chakravarty points to Sephora, a cosmetics store, which using both in-store systems and now mobile apps to let customers try out products. It's Virtual Artis technology can allow users to try on makeup and lipstick, virtually using the Web or mobile apps.
The market is still young, said Chakravarty. If these systems begin to identify people, there will be privacy constraints either "through backlash in the industry, backlash by the customer, or backlash by the regulation authorities," but for now this industry is "experimental and exploring."
Patrick Thibodeau is a reporter covering enterprise technologies, including supercomputing, workplace trends and globalization. His work on outsourcing and H-1B visa issues has been widely cited, read on the floor of the U.S Senate, and has received national awards for ... View Full Bio
We welcome your comments on this topic on our social media channels, or
[contact us directly]
with questions about the site.