10 Mobile App Favorites For Business
We pick 10 compelling mobile apps of the moment for your work -- handy for everything from reminders to travel.
Apple and Google each offer more than a million apps in the iTunes App Store and Google Play, respectively. The Windows Phone Store has about 250,000 apps, and more apps are released every day.
That kind of volume makes it difficult to find the gems among the dross. It doesn't bode well for developers, either: Earlier this year, Gartner predicted that by 2018, fewer than 1 in 10,000 consumer mobile apps will be considered a financial success by their developers.
Nonetheless, amid this abundance there's plenty of innovation. Here's our take on the 10 most compelling business apps at the moment.
1. Genius Scan (Free/$6.99) for Android, iOS, and Windows Phone
There are quite a few good scanning apps out there. Frankly, any mobile phone with a camera will suffice in a pinch. But Genius Scan does the job particularly well and comes with all sorts of useful features, such as image enhancement, PDF support, and exporting via email or (in the paid version) to cloud-based services.
[Are Twitter's best days behind it? Read Twitter User Growth Stalls.]
2. ETA ($1.99) for iOS
Google Maps and other mapping applications can predict travel times between two points, figuring in traffic delays. But ETA does so elegantly, with less effort, once it's set up. ETA also lets you track driving times (or walking times) to multiple locations. It's a simple idea, well executed.
3. Launch Center Pro ($4.99) for iOS
With Launch Center Pro, you can create shortcuts to features in other iOS apps. Contrast, the company behind the app, likens its software to speed dial for everyday tasks. The app allows you to set up a button to email or dial a friend, for example. It's not quite a full scripting system but it's a definite time-saver for tasks that might otherwise take too much tapping.
4. Rheti (private beta) for Android
Rheti is an app that lets you make apps. How cool is that? Very. It's what Launch Center Pro could be if Apple imposed fewer restrictions on what developers can do. It should be available shortly -- the company is promising a big announcement soon.
5. Duolingo (free) for Android, iOS, Web
Here's an elegant, fun app that can help you learn French, Spanish, German, Italian, or Portuguese. It doesn't cost anything but time and dedication. If you can spare those, you're sure to improve whatever language you're studying.
6. Refresh (free) for iOS
Refresh is refreshingly different from most intelligent agent software. It delivers just-in-time information that is actually useful. The app culls social media data about people you're going to meet and presents
a dossier beforehand, a far better experience than typing search queries about an individual on a phone at the last minute.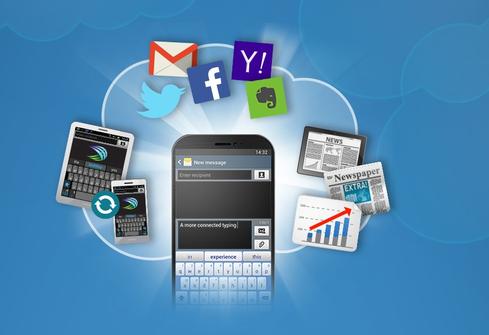 7. SwiftKey Keyboard ($3.99) for Android
No one really likes typing on a tiny virtual keyboard. But when you must do so, try the SwiftKey Keyboard. Features such as SwiftKey Flow, which combines tapped typing with gesture typing, make text entry much faster. Plus there's an SDK.
8. Quip (free/$12 per month/undisclosed enterprise pricing) for Android, iOS, OS X
Quip aspires to be Microsoft Office for the mobile age. Although the arrival of Microsoft Office Mobile for iOS earlier this year might frustrate that ambition, that doesn't change the fact that Quip is a compelling productivity app in its own right. It's a great way to share lists and other informal documents among a group of people.
9. Uber (free, ride pricing varies) for Android, iOS, Windows Phone
There are other online car services, such as Lyft and Sidecar. The experience will depend on the driver. Pay attention to ratings. Uber seems to be more formal than other services, and so better for business usage. (Sorry, Lyft, but the pink moustache doesn't work for me.) As far as design goes, the Uber app is elegant and functional. Seeing where your ride is while you wait is priceless.
10. Fantastical 2 ($4.99 iPhone/$9.99 iPad) for iOS
If you're looking for a great calendar and reminders app, you can't go wrong with Fantastical 2. It syncs to cloud services such as iCloud and Google Calendar. It lets you search events. It also lets you add new events by voice.
Do you have a favorite app? Tell us what it is and why you love it in the comments section.
IT is turbocharging BYOD, but mobile security practices lag behind the growing risk. Also in the Mobile Security issue of InformationWeek: These seven factors are shaping the future of identity as we transition to a digital world. (Free registration required.)
Thomas Claburn has been writing about business and technology since 1996, for publications such as New Architect, PC Computing, InformationWeek, Salon, Wired, and Ziff Davis Smart Business. Before that, he worked in film and television, having earned a not particularly useful ... View Full Bio
We welcome your comments on this topic on our social media channels, or
[contact us directly]
with questions about the site.