Qlik Takes On Tableau In Data Visualization
Qlik Sense complements QlikView data discovery with a self-service visualization toolset. Here's what's right and what's missing in the 1.0 release.
Analytics and business intelligence vendor Qlik late last month unveiled its next-generation product, Qlik Sense, at the company's first-ever global user conference, held in Orlando, Fla.
Qlik Sense, previously code-named QlikView.Next, was previewed in 2012. Qlik promised it would be as disruptive to the BI market as its flagship QlikView data-discovery application, a product that has taken off over the last seven years. But along came Tableau Software, boasting an easier, prettier interface, and a successful IPO -- with accompanying cash and publicity to feed a frenzy of interest and growth.
QlikView.Next was then delayed, and customers got jittery about the prospect of migrating from QlikView to a new application. Can Qlik Sense recapture a market that Qlik once dominated and reignite the enthusiasm of loyal customers and partners? Judging by initial reaction to Qlik Sense, the answer is "yes," in part because Qlik is no longer asking customers to migrate from QlikView.
[So how did Howson fare in her predictions for this year? Take a second, year-end look at 5 Big Business Intelligence Trends For 2014.]
With the release of Qlik Sense, Qlik announced a two-product strategy, repositioning Qlik Sense not solely as a next release but rather as a self-service visualization tool. QlikView, meanwhile, is positioned as a platform for developing dashboard applications or, as Qlik calls them, "guided analytics."
I agree with this new positioning (see our detailed Qlik Sense product review) and have long said that QlikView is best described as a next-generation dashboard application. QlikView is different from data-visualization options like Tableau, TIBCO Spotfire, and SAP Lumira. Customers consistently cite QlikView's in-memory engine and its ability to act as a kind of data mart as key buying criteria.
Qlik's two-product strategy also addresses customer migration concerns. With this approach, existing QlikView customers can run Qlik Sense applications on the same data models (QVD files) built within QlikView. This provides a powerful and relatively painless transition strategy. To this end, Qlik has committed to keep supporting and enhancing QlikView for as long as there is customer demand. New releases will start with a QlikView 12 in 2015.
First take
First impressions matter, particularly when trying to win over new users, and here, Qlik Sense gets it right. The user interface is clean and intuitive. The visualizations have some baked-in smarts, such as automatically labeling outliers, rather than every data point, which would make for a busier chart. There is smart use of color in the charts -- visualization concepts that come from Qlik's 2013 acquisition of the small, innovative firm NCom VA. Qlik has also tapped design thinking from UsTwo.com, winners of the Apple design award for its Monument Valley app.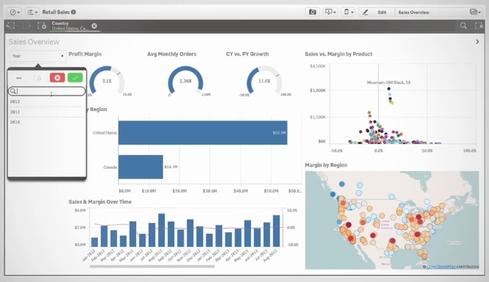 Qlik Sense also has a more modern architecture than the one behind QlikView. The key difference is that it offers plentiful Web APIs, which will make it easier for Qlik's strong partner network to tap into Qlik Sense and add customizations.
Qlik didn't get everything right in Qlik Sense 1.0. Out-of-the-box mapping capabilities show room for improvement, and crosstabs and printing are absent. Qlik has a number of improvements on the roadmap, and it expects to offer three upgrades a year. The beta of Qlik Sense cloud was also released, but it's currently available only for US customers. The cloud version supports sharing of Qlik Sense applications that you develop on premises, but you can't author new applications online. Thus, Qlik Sense Cloud is strictly for exploring and collaborating around data visualizations.
Qlik customers got a dose of star power at Qlik's two-day user conference. Adam Savage, from the TV show MythBusters, keynoted on the convergence of art and science. Asked during a Q&A what we can do more to recruit women in high tech, Savage was blunt: "I don't know. It's hard when the Internet is ruled by a bunch of white dudes." (Here's my view on that question.)
Apply now for the 2015 InformationWeek Elite 100, which recognizes the most innovative users of technology to advance a company's business goals. Winners will be recognized at the InformationWeek Conference, April 27-28, 2015, at the Mandalay Bay in Las Vegas. Application period ends Jan. 16, 2015.
Cindi Howson is the founder of BI Scorecard, a resource for in-depth BI product reviews based on exclusive hands-on testing. She has been advising clients on BI tool strategies and selections for more than 20 years. She is the author of Successful Business Intelligence: ... View Full Bio
We welcome your comments on this topic on our social media channels, or
[contact us directly]
with questions about the site.